Non-Disclosure Agreement signed with Lankan partners under NWS Holdings-Bansei Group facilitation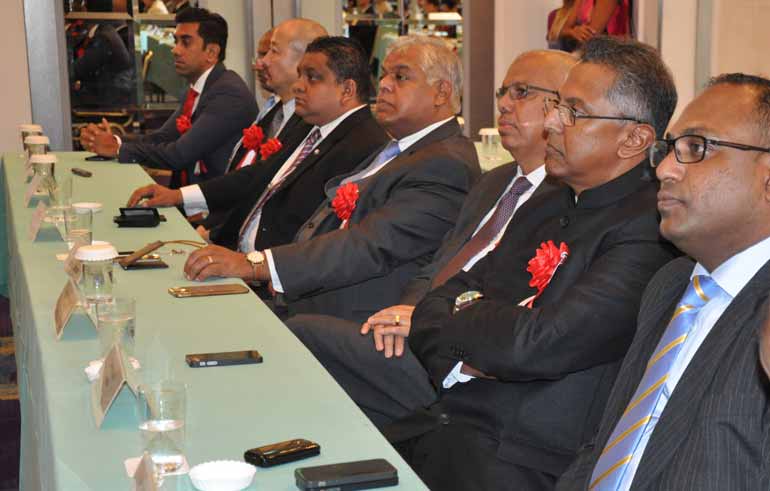 Some of the members of the Sri Lankan corporate contingent at the Sri Lanka Investor Forum organised by NWS Holdings and Bansei Securities in Tokyo earlier this week. From right: NWS Holdings Group Managing Director Viraj Malawana, Jetwing Group Chairman Hiran Cooray, Micro Holdings Chairman and CEO Dr. Lawrence Perera, Indocean Developers Ltd./Altair Director and President Sales and Marketing Pradeep Moraes, SriLankan Airlines Japan Country Manager Fawzan Fareid, Head of Sales Keiichi Kawasaki, Just In Time Group Chief Technical Officer Navin Seneviratne and Spa Ceylon Director and CEO Shalin Balasuriya
By Nisthar Cassim in Tokyo

Japanese firms have expressed interest to invest in two city hotels cum leisure projects with talks and follow-up efforts underway with local partners.

"The parties concerned have signed separate Non-Disclosure Agreements (NDAs) and are progressing with follow-up work," NWS Holdings Group Managing Director Viraj Malawana told the Daily FT on the sidelines of the successful Sri Lanka Investor Forum the company organised in Tokyo on Monday.

Both projects are by companies which are privately owned. One project is a business hotel and the land has been identified with the local partner contributing to the joint venture with the freehold land. The other project is a city hotel and/or a leisure project on existing free-hold land in Colombo.

Malawana said that Japanese investors were identified by NWS Holdings partner Bansei Securities and NWS in turn brought together the Lankan parties which have land in Colombo.

"We have seen growing interest by Japanese investors. The successful conclusion of the sixth Sri Lanka Investor Forum in Tokyo early this week with around 300 investors confirms that this interest is gathering momentum," he added.

Japanese...

NWS partner Bansei despite being a financial services specialist in Japan, was first to seize the opportunity in prospects for tourism in Sri Lanka. In 2014 it invested Rs. 500 million to acquire an 80% stake in Coral Rock Hotel, now Bansei Royal Resorts Plc, which owns a 30-room resort in Hikkaduwa and managed by Jetwing.

Encouraged by the potential as well as Bansei's own confidence, more Japanese firms have expressed interest to benefit from the rebound in tourism in Sri Lanka, hence the development of two investors signing the NDAs.

At this week's forum, NWS and Bansei further gave a boost to the tourism sector in partnership with SriLankan Airlines. Lucky participants won three return air tickets from the National Carrier.

Tourism Minister John Amaratunga who was the Guest of Honour also pitched to woo more Japanese investments in addition to tourists.

Japanese Foreign Minister Fumio Kishida who delivered the keynote address at the forum urged his country's private sector to contribute to future development of the island nation.

He said powerful initiatives of the private sector together with the effort of the Government make it possible to achieve greater economic ties and cooperation between Sri Lanka and Japan.

"I expect that many Japanese companies including Bansei Group will contribute to economic development promoted by the new government through brisk and lively business activities, and consequently a bond between people in SL and Japan will be stronger," the Japanese Foreign Minister added.