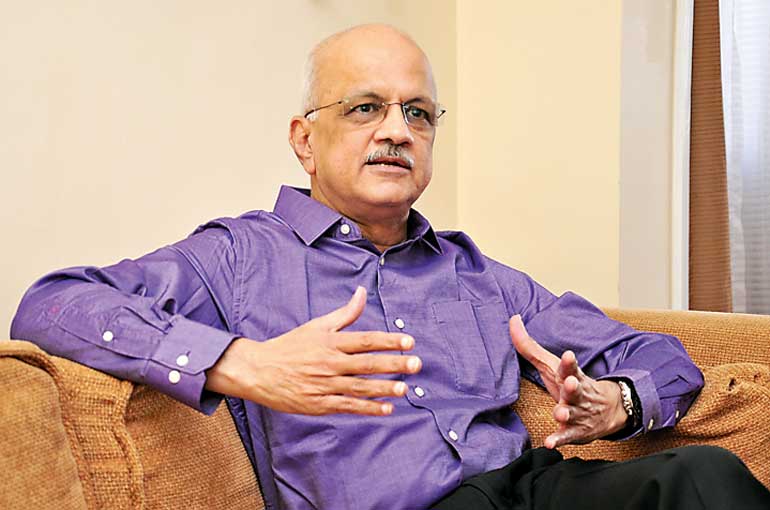 NASSCOM President R. Chandrashekhar – Pic by Sameera Wijesinghe
By D.C. Jayasundera

India's top IT industry body that commands 55% of the total global outsourcing market has called on its Sri Lankan counterpart to visit and discuss the proposed Economic and Technology Cooperation Agreement (ETCA) in an effort to build trust and find a mutually-beneficial way forward.

India's National Association of Software and Services Companies (NASSCOM) President R. Chandrashekhar in an exclusive interview with Daily FT assured that the association would accommodate and encourage engagement between IT communities of India and Sri Lanka.

"I think there would be immense opportunities to join forces for mutual gain and benefit. The most important first step is to really understand the opportunities that exist. We would be happy to have the Sri Lankan IT professional bodies visit us, familiarise themselves with what is available and seek complementary areas and conversely we will be happy to facilitate the visit of Indian companies to Sri Lanka, so they can assess the investment environment and collaborative opportunities for business," he said.

Giving voice to the Indian IT sector's perception of ETCA, Chandrashekhar professed that the Indian IT industry looks at every market opportunity from a global perspective and encouraged Sri Lanka to do the same. He added that this is perceived from two points of views. The first is the supply angle, mainly revolving on skilled work force as well as R&D capabilities, and the second is potential markets which could be used to cater unaddressed needs and demands.

NASSCOM is the premier professional body which represents 95% of the total Indian IT/BPM industry. The Indian industry recorded revenue of $ 143 billion in 2015 and it is estimated to grow at 10-12% in the next five years. It currently holds a mammoth share of 55% of the total global outsourcing market. An estimated one million engineers also enter India's labour force annually.

The President insisted protectionist attitudes and unwarranted fears should not be allowed to dominate the discourse and the decision making process in implementing ETCA.

Chandrashekhar pointed out with the current global skills shortage in high-technology, opening the gates for free movement of employment would enable huge benefits for the Sri Lankan IT sector. He said: "In the digital age, skills should also adapt with continually evolving technologies. The presence of foreign workers generally increases the skills and competencies of the local employees."

Detractors of ETCA have pointed out a sudden influx of Indian IT professionals could create a downward pressure on salaries and a potential unemployment situation which could mainly affect the junior and mid-level IT employees. Prime Minister Ranil Wickremesinghe speaking in Parliament on several occasions has assured that ETCA will not allow the free migration of labour between the two countries in an effort to allay industry concerns.

Chandrashekhar also concurred that the long-term pay-off would be much higher to the total economy. In highlighting the market liberalisation of India in 1991, he said: "It took a long time for India to reap the expected benefits but as a result of it the country did better overall."

He stressed that by holding onto protectionist barriers, Sri Lanka would be moving away from long-term advantages.

He opined there might also be a scenario where employees in the lower hierarchy in the IT sector were commanding a huge premium due to the artificially-created low supply as a result of protectionist barriers.

The NASSCOM President noted his body would continue to observe the progress of negotiations on ETCA between India and Sri Lanka.
US think tank lists Sri Lanka among Asia's top 10 FDI hotspots
The United States-based think tank IHS Global Insight has listed Sri Lanka as one of the top 10 foreign direct investment (FDI) destinations in Asia.

The other Southeast Asian countries that are also projected by IHS to be the FDI hot spots in the region, are China, India, Bangladesh, Indonesia, Vietnam, Myanmar, Malaysia, The Philippines and Thailand.

"Over the next decade, Asia Pacific is forecast to be the fastest growing region of the global economy and the region that offers the biggest potential gains for foreign direct investment," IHS said in a release Thursday.

"The Asia Pacific region will grow at an average annual rate of 4.5% per year, boosted by rapid growth in consumer spending in China, India and Southeast Asia," said IHS Chief Economist Asia Pacific Rajiv Biswas.

"A key source of strength for Asia Pacific is the rapidly growing size of the economic region, which now accounts for around one-third of world GDP, generating strong intra-regional trade and investment flows."

Amongst the South Asian economies, Sri Lanka and Bangladesh are expected to show rapid growth over the next decade.

According to the think tank, the new Sri Lankan government has embarked on sweeping economic reforms, with its first budget containing considerable economic liberalisation measures.

The Sri Lankan economy is projected to grow at an average annual pace of 5.6% per year over 2016-2020 while key growth industries are expected to include logistics, tourism, agricultural products, IT-BPO industries and construction.