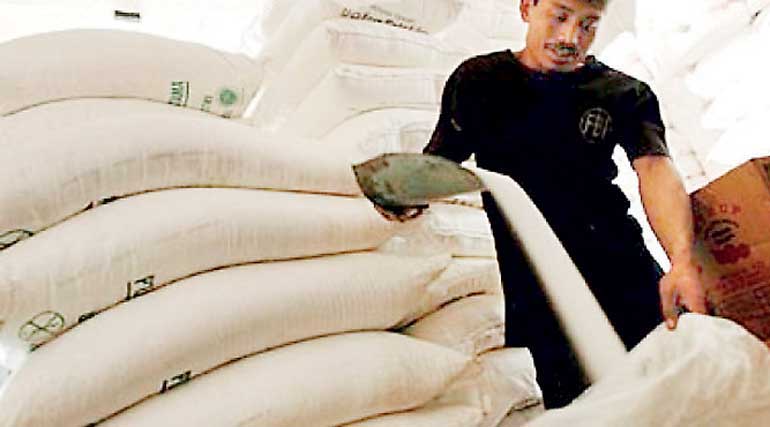 By Charumini de Silva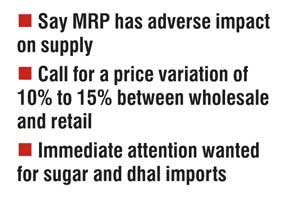 Food importers are lobbying the Government to remove maximum retail prices on essential commodities insisting standard prices are impractical in an environment of changing international markets and currency fluctuations.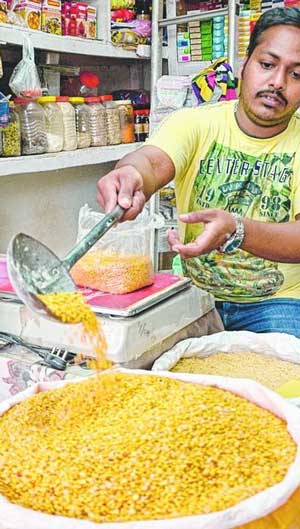 The Essential Food Commodities Importers and Traders Association said maintaining long term price controls on imported essential food commodities introduced by the Government is fraught with practical difficulties and could result an adverse impact on the continuity of supply and availability in the immediate future.Stakeholders therefore urge the Government to do away with the restrictions/imposition of maximum retail prices (MRP) for imported essential food commodities opining that it is unreasonable to have controlled prices on essential commodities.
"Our primary concern with regards to the maximum retail price (MRP) at arbitrary price points are the possible adverse impact it can have on the continuity of supply and availability of essential items like white sugar, wheat flour (unpacked), green gram, canned fish, coriander, black gram, Maldives fish, turmeric, chilies, sprats, dhal, dried fish, chick pea and milk powder items," they said.

The stakeholders pointed that for distribution countrywide to be efficient and economically viable, a realistic variation in prices of around 10% to 15% should be reflected between wholesale and retail prices.

"World market prices are subject to fluctuation, but authorities must also understand that importers have to make advance bookings based on forward price to ensure food security by continuity of supply and at the time of clearance the import tariff applicable on rate of exchange are also significant and considerable factors," they stressed.

The Association said the immediate attention is on sugar and dhal imports. Sri Lanka requires 40,000 tons of sugar per month and the local production is only 10%, which is currently over as well.

They suggested that it is important for the Government to understand the situation and either remove the MRP imposed on sugar or to do away with the duty imposed. However, in the case of dhal imports the Government does not have two options, but to do away with the MRP.

Lamenting on the difficulties the sugar importers face the association said they only enjoy a very thin margin of 1% to 1.5% compared to other commodities that are enjoying huge margins from both retail and wholesale.

Further they pointed out that in an open market economy price controls are by and large removed and market forces determine prices.

"We as direct importers and wholesale traders of all food commodities to the entire nation have always ensured that no shortages have ever occurred in the supply of essential food commodities," a spokesman for the Association emphasised.

Noting that the association has always catered to the market with a clear objective of ensuring continuous and consistent supply of essential food items at a fair price, it is surprising that the very concept of price controls would be considered when one looks at the current price volatility of food items produced locally and internationally.

Despite conducting several meetings with the Ministers and authorities the association still has not received a positive response from them. "The finance Minister verbally assured that he will look into the matter, but no one seems to be taking any action on the long-term aspect of it."

Soon after the festive season, the association is planning to have a media briefing to voice their plight to the general public.