Cabinet paper presented by Mangala given green light
Bond sales after necessary approval from Central Bank
Govt. expects to attract more foreign exchange and create alternative fund source
By Uditha Jayasinghe

International Finance Corporation (IFC), which is a unit of the World Bank group, has been given the Cabinet green light to issue Sri Lanka rupee denominated bonds in offshore markets, top officials said yesterday.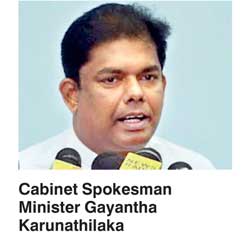 If approved by the Central Bank of Sri Lanka and other relevant bodies, the bonds will be sold in offshore markets and the proceeds will be used for lending in Sri Lanka, Cabinet Spokesman Minister Gayantha Karunathilaka told reporters.

In the Cabinet paper Finance Minister Mangala Samaraweera had noted Sri Lanka would have the advantage of having the backing of the World Bank, encourage more international investment to flow into the country and create alternative fund sources for the Central Bank and attract more foreign exchange with this measure.

The IFC has sold local currency denominated bonds of a number of emerging markets as part of an effort to develop bond markets of different currencies. Sri Lanka Government rupee bonds are already sold to foreign investors.
In 2013 IFC started selling Indian offshore bonds with the launch of a $ 1 billion bond to strengthen India's capital markets and attract greater foreign investment.

This was followed in late 2014 by an onshore program to deepen the country's capital markets and open up bond markets, in addition to boosting the infrastructure sector.

With a portfolio of $ 4.7 billion, IFC's highest exposure is in India.

"IFC's strategic priorities in the country seek to provide counter-cyclical support to infrastructure, promote financial inclusion and enhance access to quality and affordable healthcare to the underserved," IFC said in its website.

Over the years, IFC has issued bonds in 13 local currencies, including the Brazilian Real, the Chinese Renminbi, the Nigeria Naira and the Russia Ruble.

When issuing local currency bonds, IFC has said it works closely with regulators and market participants to refine the regulatory framework, encouraging greater participation in the local markets and providing a model for other international issuers.

IFC has provided over $ 10 billion in local currency financing across 58 currencies using a variety of financing tools - more than any other international finance institution.

In late 2014 the former Sri Lankan Government under previous President Mahinda Rajapaksa considered tapping the Chinese offshore bond market.