During previous regime, Ministry officials had produced forged certificates to obtain Rs. 28 b from NSB
Road development projects granted without competitive tender procedures
Alleged frauds and corruptions to be investigated and exposed to general public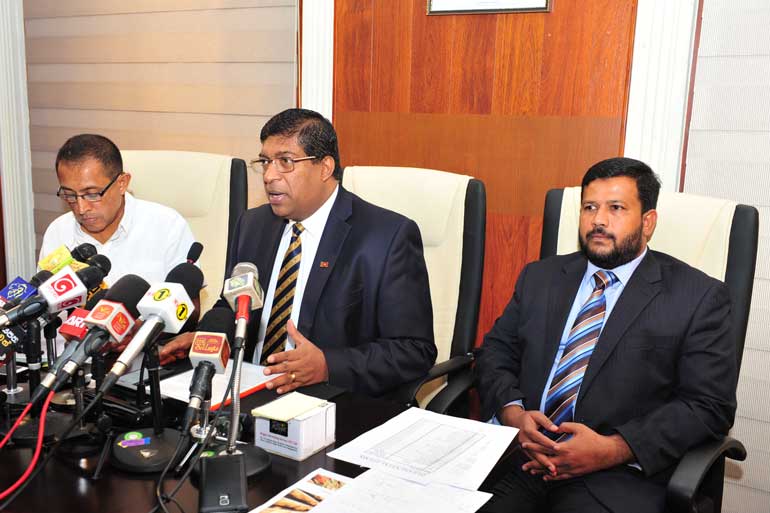 Finance Minister Ravi Karunanayake (centre) flanked by Highways and Investment Promotion Minister Kabir Hashim (left) and Industry and Trade Minister Rishad Bathiudeen at yesterday's media briefing
By Charumini de Silva

The Government yesterday said that the Highways Ministry was in debt to many local banks to the tune of Rs. 151 billion for various projects carried out during the previous administration.

Minister of Highways and Investment Promotion Kabir Hashim said from August last year the Ministry had obtained loans via local banks to develop the national road network.

In a bid to develop the national road network during the previous regime, the Highways Ministry had borrowed a total sum of Rs. 151 billion from local banks, while Rs. 28 billion of it was from the National Savings Bank (NSB), Minister Hashim explained at a special press briefing organised by the Finance Ministry yesterday.
He explained that Ministry officials had produced forged certificates to obtain loans from NSB, claiming that they needed to pay advances and contract fees to the contractors. However, none of these funds had been given to the relevant contractors and it was one of the key reasons that most of the road development projects were held back, he noted.

"The contractors are not willing to continue the work without the payments, which is obvious. But according to the bank, the Ministry officials had produced forged documents and had obtained Rs. 28 billion, for which no one has explanations," he asserted.

During the previous regime the budget allocated a significant amount of funds to develop the national road network.

However, according to Hashim, in many instances while funds have been allocated for certain road development projects, the relevant development programs have not been carried out by the previous administration.

He went on to say that many of the projects have been given approval even without calling on for competitive interest of expression, bids or tender procedures. Hence, it had incurred massive losses to the Government.

"Particular projects were awarded at inflated prices without competitive tendering with those who won the 'negotiated' deals flipping them to subcontractors with instant profits," Hashim said.

Hashim says that alleged frauds and corruptions that have taken place in road development projects during the previous regime would be investigated and exposed to the general public.

"This is against financial and administrative regulations. We have already complained it to the FCID. The Ministry has appointed two special committees to identify responsible authorities and will provide recommendations to amend the relevant procedure to prevent such losses in the future," he added.

Former President Mahinda Rajapaksa held portfolios of Finance and Highways and Ports, where most of the lucrative construction deals were awarded.