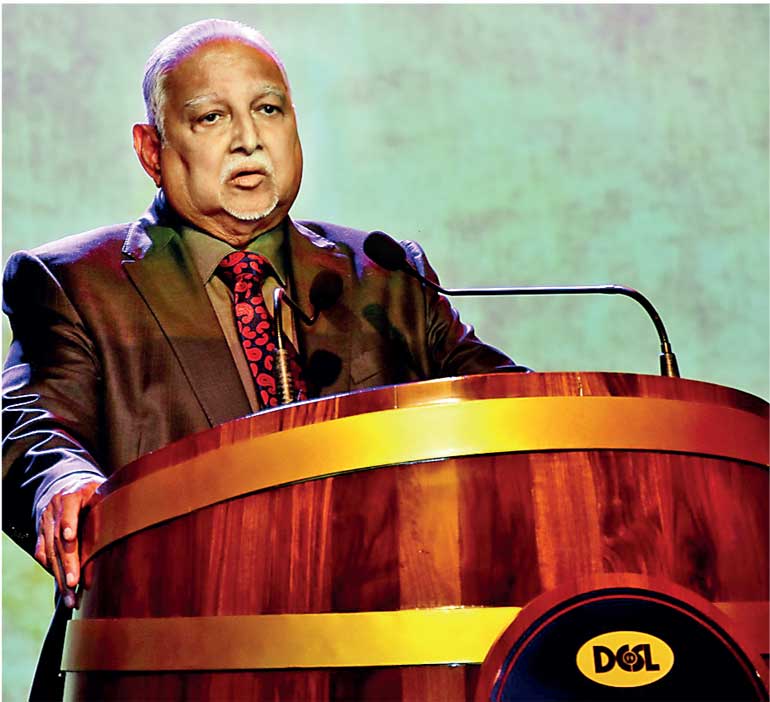 Says governors must govern, leaders must lead, workers must work
Recounts challenges in converting once loss-making State-owned Distilleries Corp. to a profitable corporate giant at 25th anniversary ceremony
DCSL has contributed $ 4.6 b in taxes and $ 91 m in dividends since privatisation
Regrets State takeover of DCSL's investments in Insurance Corp and Pelwatte Sugar
Outspoken business tycoon Harry Jayawardena on Saturday distilled a perfect blend for the future success of Sri Lanka via privatisation of certain loss-making state enterprises that continue to be beset by political interference and mismanagement.

The frank and proven advice was shared at the 25th anniversary celebrations of Distilleries Company of Sri Lanka (DCSL), which Jayawardena acquired as State Distilleries Corporation during the privatisation policy of former president Ranasinghe Premadasa.

DCSL Chairman Jayawardena recalled the pathetic state of Distilleries Corporation 25 years ago. He revealed it was loss-making despite being a monopoly. There was rampant pilferage and politicians were conniving with bootleggers causing the State to lose valuable revenue. Adulteration and duplicates were another challenge.

"There were more canines and cats than workers," recounted Jayawardena, who faced numerous obstacles at the time of the takeover. Furthermore, due to the then ongoing war, the north and east market was shut out for Distilleries. Jayawardena said that a Northern Province bootlegger at that time built a swimming pool for the forces with an investment of Rs. 100 million and the then Army Commander was the Chief Guest at the opening.

Undeterred, DCSL worked towards securing the northern and eastern markets with heroic efforts by its staff and managers. "Our staff were abducted or harassed because we didn't agree to pay taxes to the LTTE," said Jayawardena. In the South, bars, the majority of which were functioning with political patronage, were opposing DCSL too.

He said that the challenge and the goal after the takeover was to ensure genuine quality products and protecting the patents and infringements, cases over which still continue. He also noted that the illegal and unlicensed market continues due to the nexus between bootleggers and politicians.

"The revival of Distilleries Corporation was a herculean task since the biggest enemy was the politicians who had a growing nexus with bootleggers for mutual advantage," Jayawardena charged.
However, with sound and professional management and by harnessing proper talent, Jayawardena emphasised that DCSL has been successful since privatisation with the support of customers and other stakeholders.

He revealed that DCSL has paid $ 4.6 billion (nearly Rs. 700 billion in current value) in taxes to the Government over the past 25 years despite the State owing billions to the company. DCSL has also paid $ 91 million in dividends to shareholders. The privatisation of Distilleries was the largest transaction of the Colombo Stock Exchange in the early 1990s.

He also emphasised that Sri Lanka had talent though it was not recognised and rewarded.

"To turnaround DCSL we didn't import foreign talent but relied on Sri Lankans at the workers level, managers and Board of Directors," said Jayawardena. "We have a good workforce which is adequately compensated, motivated and trained. Our master blender has been with DCSL for 50 years and we have a staff of over 70 serving for 30 years. We are on par with the world and we are proud of what Sri Lanka can do," the Chairman added.

It was also noted that many people wanted to get into the alcohol industry and though there were over 20 alcohol companies none had made profits like DCSL. "We have proved nothing is impossible," Jayawardena quipped.

For the decade ended in FY16, DCSL's pre-tax profit was Rs. 8.2 billion as against Rs. 2.8 billion in 2007. Gross turnover grew from Rs. 22.6 billion to Rs. 72 billion. In 2001, Gross Turnover was Rs. 9.7 billion whilst pre-tax profit was Rs. 700 million.

Though DCSL grew to be a listed conglomerate, greater success was thwarted by the takeover of investments in Sri Lanka Insurance Corporation and Pelwatte Sugar Industries Plc.

"The Government still owes DCSL Rs. 15 billion because of the takeover of these investments," Jayawardena said.

He pointed out that a financially strong DCSL would have become the number one conglomerate had these investments been allowed and not taken over.

"We could have excelled regionally as well. We have to think big to become big," said Jayawardena, adding that DCSL was a proven example for other privatised enterprises, most of which had either closed down or lost direction due to bad management.

Jayawardena noted that takeovers did not dishearten DCSL but made it strong. During its 25 years, DCSL, which restructured recently to form Melstacorp, had grown into a diversified conglomerate with interests in beverages, plantations, leisure, telecommunications, financial services, power generation, logistics, textiles, media, IT and BPO services

"State monopolies and other state enterprises shouldn't be loss-making. The problem is political interference and mismanagement," said Jayawardena.

He recalled that DCSL has had no worker strikes though there could be some rumblings. "We have no trade unions but sound management with discipline paid off at DCSL," he added. He was of the view that other state enterprises couldn't do that due to political interference.

"If you take politics out, growth can take place at state enterprises," emphasised Jayawardena, who said he was saddened by the status quo. "Governors must govern, leaders must lead and workers must work," Jayawardena stated at DCSL's 25th anniversary celebrations.

He also told the ceremony that the correct wisdom must be passed on to the next generation if Sri Lanka was to garner even more success.