Crucial talks to commence in December: EU Ambassador
Delegation from Brussels to meet officials in Colombo
GSP status linked to report from EU Election Observation Mission
Report outlook positive, but no timeframe for GSP decision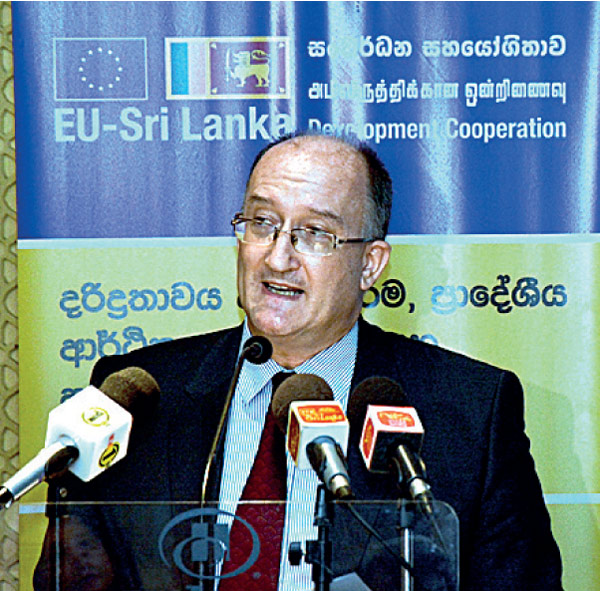 European Union Ambassador David Daly
By Shiran Illanperuma

Along with the universal cheerfulness of Christmas, the month of December could bring further joy for Sri Lanka as it seeks to succeed in its quest to win back the crucial GSP+ benefit.

Delegation of the European Union to Sri Lanka and the Maldives Head David Daly, speaking exclusively to Daily FT, said that senior officials from Brussels were preparing to hold talks on GSP plus with local stakeholders this December. The delegation is to meet in Colombo to discuss "issues of governance, rule of law and human rights".

Daly's comments follow the official release of the final report on the 17 August parliamentary elections by the European Union Election Observation Mission on Saturday.

Linking the status of GSP negotiations to the results of the report, Daly says, "There are aspects of the issues which are very important for GSP plus which come through in the report of the election observation mission."
The Yahapalanaya Government has sought to regain trade concessions under the Generalised System of Preferences Plus that were revoked by the EU in 2010 due to the previous regime's shoddy human rights record.

"People think a debate about GSP plus is simply a debate about t-shirts and trade but it's not. It's a debate about a number of very deep human rights issues," explained Daly.

"In relation to GSP plus there are a range of issues which fall mainly in the area of human rights, labour rights and environmental standards. There is a list of 27 International conventions that Sri Lanka has signed and ratified and the question is how well the country is complying with these conventions," he elaborated.

Daly's observations regarding the final results of the report appear to be optimistic as he notes positive changes in the aftermath of recent elections. However, he cautions that the process is one that would take a lot of "proprietary work". He declined from offering a timeframe within which a decision would be made but noted that it took 24 months for the Philippines.

Citing media freedom as a key issue of concern, Daly said that the final report "speaks to the fact that the media landscape is diverse, that restrictions on the media have been eased since the presidential election and that coverage of the recent campaign was vibrant and accommodated a plurality of views".

The report also notes positive advances in police conduct, according to Daly. "This report confirms that the police played an active role in maintaining the election campaign rules. They were quick to respond to calls by the election commissioner and to address breaches in the electoral law," he said.

In a final remark on the general improvement of the human rights atmosphere Daly said: "The complaints centre which the Election Secretariat established at district levels were themselves very actively utilised by Sri Lankan citizens which is again something pointed out by this report."

Daly assured that EU ambassadors were working closely with the Government but would continue to work under the radar, examining issues vital for the decision on GSP plus. "I've had a lot of meetings with the Foreign Ministry, the Ministry of Trade and with other people. We're going about our business on this quietly and seriously," he said.