Oxford Business Group prepares to launch first-time report on Sri Lanka
Saving rivalry!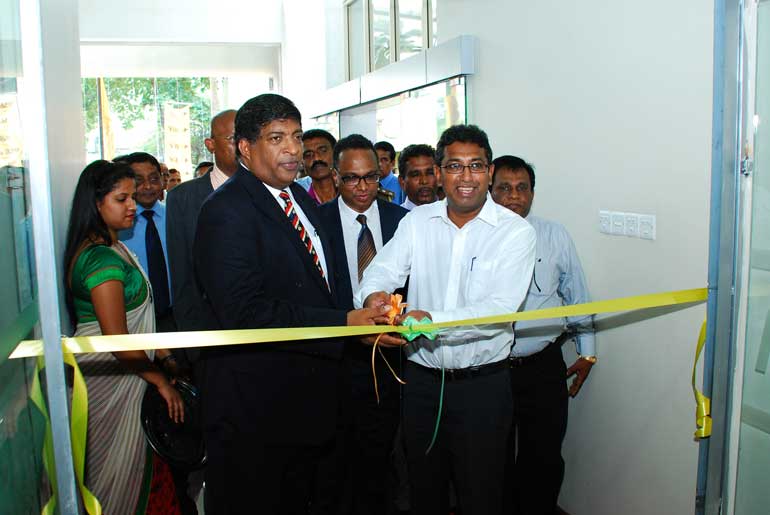 Finance Minister Ravi Karunanayake and Deputy Economic Affairs Minister Dr. Harsha de Silva were seen jointly opening the 241st branch of National Savings Bank at Pitakotte. Both when in Opposition were critical of some of the dealings of NSB and use of the savings giant by the Government for raising expensive funds. Ravi was once the UNP flag bearer in Kotte, a job which Harsha took up last year, which proved successful at the presidential election. With polls ahead, intra-party rivalry is likely to heat up. In that context, the joint opening is a welcome but a rare sign since the two will fiercely compete in Colombo District among others at the 17 August general election.
Minister of Finance and Planning Ravi Karunanayake has placed highlighting Sri Lanka's potential to the business community high on the new administration's agenda, as well as the issue of addressing several of the anomalies found in past reporting.

Speaking during an interview he gave to the global publishing, research and consultancy firm Oxford Business Group(OBG), Karunanayake said that while the country faced challenges, including a huge public debt, the outlook for Sri Lanka was bright.

He added that a three-pronged plan to tackle the issue of high debt servicing, crafted as part of the interim budget, would see the new administration focus on creating a longer tenor, reducing the interest rate and ensuring adequate revenue structures were in place to cover the basics.

"We believe Sri Lanka is on the threshold of a major period of sustained growth, especially when compared to other countries in the region," he told OBG. "Fiscal policies will be spelled out in order to achieve our national targets."

The full interview with Karunanayake will appear in The Report: Sri Lanka 2016, OBG's first report on the country's economy. The landmark publication will contain a detailed, sector-by-sector guide for investors, alongside contributions from leading personalities, including President MaithripalaSirisena and Central Bank Governor ArjunaMahendran.


In the wide-ranging interview, Karunanayake told OBG that while a review of infrastructure projects had inevitably produced a lull in construction, he was confident other sectors of the economy, including industry, financial services and tourism, would maintain growth momentum.

Since taking office in January 2015, the Government has begun overhauling the processes governing proposals and tender procedures, with a view to regularising them, as part of a crackdown on corruption and a bid to improve transparency.

"When corruption is addressed anywhere in the world, there is a reduction in growth, and Sri Lanka is no exception," he said. "There is no more massaging of accounts, and overall we are taking steps in the right direction. While there will be an automatic reduction, this does not mean the country is not growing. We are expecting 7.2% growth for the year."

He added that improving business sentiment was a key target. "You can increase your market share through things like free trade agreements, but confidence is the most important," Karunanayake said.

The Report: Sri Lanka 2016 will be a vital guide to the many facets of the country, including its macroeconomics, infrastructure, banking and other sectoral developments. The launch report will be produced in partnership with the Board of Investment Sri Lanka and will be available in print or online.

Oxford Business Group (OBG) is a global publishing, research and consultancy firm, which publishes economic intelligence on the markets of the Middle East, Africa, Asia and Latin Americaand the Caribbean. Through its range of print and online products, OBG offers comprehensive and accurate analysis of macroeconomic and sectoral developments, including banking, capital markets, insurance, energy, transport, industry and telecoms.

The critically acclaimed economic and business reports have become the leading source of business intelligence on developing countries in the regions they cover. OBG's online economic briefings provide up-to-date in-depth analysis on the issues that matter for tens of thousands of subscribers worldwide. OBG's consultancy arm offers tailor-made market intelligence and advice to firms currently operating in these markets and those looking to enter them.