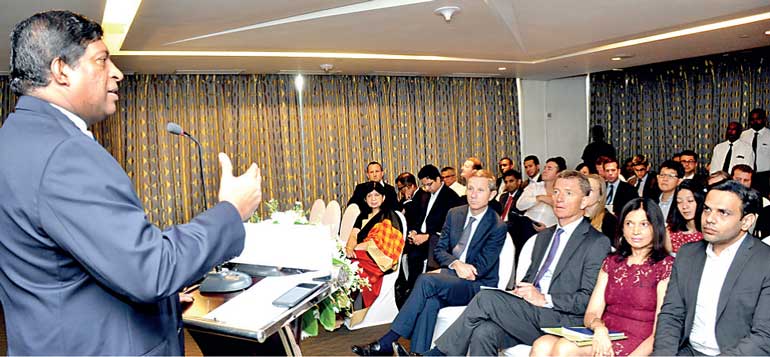 Finance Minister Ravi Karunanayake addresses the CT CLSA Asia Frontier Forum which kicked off yesterday in Colombo - Pic by Lasantha Kumara.
By Nisthar Cassim

Finance Minister Ravi Karunanayake yesterday lured a group of global fund managers gathered in Colombo, saying Sri Lanka is now an ideal opportunity to "invest and live" in tandem with improving governance and fiscal discipline.

"Ours is a government with great financial discipline and committed political leadershipto integrate to the world with greater access to global market to steer higher socio-economic development, "Karunanayake told a group of foreign fund managers and institutional investors from Asia, Europe and the US who converged in Colombo for the three-day CT CLSA Asia Frontier Forum 2017.

"The new Sri Lanka is an ideal opportunity to invest and live here. Your investments are safe and will give returns which no other can provide," the Finance Minister added. To substantiate his assertion of improving financial discipline, Karunanayake revealed that when the new coalition Government took office, the country had a Budget deficit of 7.2% of GDP and last year the deficit target was 5.7% but it was bettered by achieving a deficit of 5.4%.
"The goal for 2017 is a Budget deficit of 4.7% but I believe we will reduce it to 4.5%. It is likely that the 2020 goal of 3.5% deficit will be achieved one year earlier i.e. 2019," Finance Minister Karunanayake said.

He noted the Government went for the $ 1.5 billion Extended Fund Facility with the IMF "not because we had a Balance of Payments problem" but to instilfinancial discipline and thereby enhance foreign investor confidence.

Improvement in revenue collection too was emphasised from 10.2% of GDP in the past to 14.8% last year, with plans to further increase it to 15.6% this year. With regard to debt servicing, the Finance Minister said: "We are not out of the woods yet but we are in a comfortable zone."

He recalled that when the Government took office public debt was Rs. 8.9 trillion,"but when actual liabilities were computed, it was Rs. 10.4 trillion".

"We have also ensured best use of expenditure," he said, adding the way forward will be Public-Private Partnerships with a great role for the private sector. The investor forum was also updated on the commercialisation program of non-strategic investments/enterprises via the Colombo Stock Exchange.

The Finance Minister said Sri Lanka's access to global markets was being enhanced with enhanced economic cooperation with India and Pakistan, Free Trade Agreements with China, Singapore, Thailand, Korea and Japan. He said due to these preferential trade arrangements foreign investors could tap a market of over two billion via Sri Lanka. Progress on the establishment of an International Financial Centre was also briefed.

"Exports will be boosted with Sri Lanka regaining GSP Plus in Europe after eight years. This confirms the growing confidence from the West on meaningful change in democracy in Sri Lanka since the change of government on 8 January 2015," Karunanayake emphasised.

He also maintained that Sri Lanka has embarked on clean government with no entry cost for doing business as opposed to 10-15% and political patronage previously. However, he noted that in pursuit of "7-star democracy" there could be delays. This was in reference to finalising the Sri Lanka-China PPP on Hambantota Port.

The Finance Minister pointed out that he was encouraged by the rising foreign portfolio investment into the stock market as well as inflows to the Government securities market. "Right now there is good value in the equities market," he added.

During his speech, the Finance Minister thanked CT CLSA Advisor Marianne Page for "standing by Sri Lanka and for being one of the greatest promoters of the country".

Some of the issues raised by fund managers and institutional investors included taxation policy concerning sectors such as banking, alcohol and tobacco, restrictions on the foreign ownership of land, progress and finality of the Chinese investment on Hambantota Port and industrial zone and the state of the East Terminal in the Colombo Port as well as expansion of Sri Lanka's access to global markets.