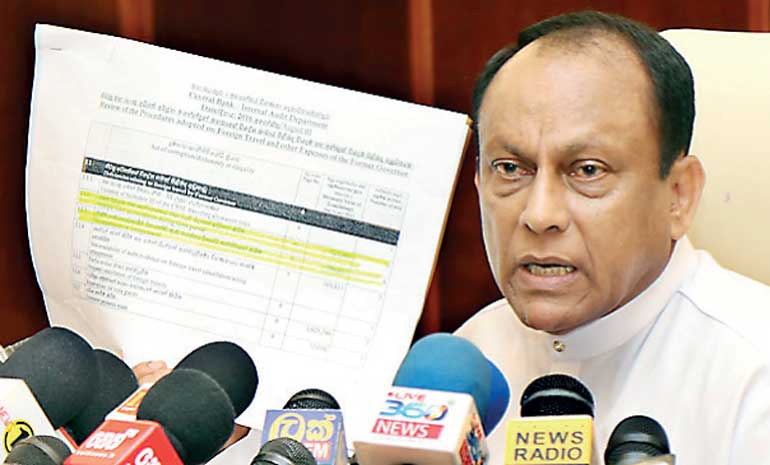 State Finance Minister Lakshman Yapa Abeywardena

-Pic by Shehan Gunasekara
State Finance Minister says Mahendran's allegedly embezzled money second only to infamous bond issue
Asserts no Govt. servant has authority to misuse public funds
Says it is disappointing for Govt. that is supporting and inculcating good governance
By Charumini de Silva

The Government is to probe the leaked Central Bank audit report of former Governor Arjuna Mahendran, which alleged embezzlement which a senior State Minister described as second only to the infamous bond.

State Finance Minister Lakshman Yapa Abeywardena told journalists yesterday the audit report was disappointing for the Government which was voted in for good governance hence the matter would be probed and Mahendran was answerable.

The audit report had found irregularities with regard to the former Governor's expenditure which accounts to over Rs. 66 million on foreign tours, multiple hotel accommodation during the same period, and misuse of credit card for personal expenses where he has failed to produce valid invoices.

"No Government servant has the authority to misuse public money. Audit is a tool of financial control, which is used to safeguard an organisation against fraud. Thereby, the former Governor is bound to answer for this internal audit," he added.

Abeywardena said as revealed in the COPE report, Mahendran's fraud was equivalent to the State enterprise loss of Rs. 110 billion.

The Minster also criticised Mahendran's recent statement in this regard published in a number of national newspapers, claiming that it was unacceptable to issue such statements which in his view was an attempt to mislead the general public of the country.

However, he stressed that the Government was still investigating if the statement was issued to the media under Mahendran's signature and urged the media to restrain from giving unnecessary publicity to statements which would mislead the public.

Mahendran in a statement on Tuesday said, "These statements are libellous in the extreme. They are based on extremely dubious and unverified sources."

He alleged a group of disgruntled CB employees closely allied with a former governor lobbied for his removal because he cancelled all the tamashas and excessive foreign travel enjoyed by a few of his selected cronies.

"They (disgruntled CB employees) have effectively scuttled investigations into their shady practices from the past. These include buying gold at very high prices, buying highly risky Greek bonds, advising the Government to undertake a highly risky hedging strategy for petroleum imports and incurring huge losses for the Central Bank for three consecutive years by undertaking dubious foreign bank borrowings guaranteed by the Central Bank," he added.

"For the record, all expenses incurred by me while serving as Governor of the Central Bank, were made according to proper procedures and audited by the Auditor General's department".