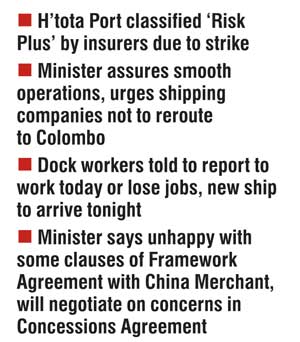 By Chathuri Dissanayake

Switching to damage control mode after Hambantota Port was classified "Risk Plus" by insurers, Ports Minister Arjuna Ranatunga yesterday sought to reassure international shipping lines of the Government's fullest support, while giving striking employees an ultimatum to report to work today or risk losing their jobs with a new ship expected to dock tonight.

The classification was slapped on the port after workers took two docked ships hostage as part of their trade union action, demanding permanent employment at the Sri Lanka Ports Authority (SLPA), which resulted in the Sri Lanka Navy intervening on Sunday to release the vessels. The Government earlier this year decided to hand over the Chinese port to Chinese State-run China Merchants Holdings (International) Company Ltd. for an estimated $ 1.1 billion.
Despite what he described as "heavy damages" caused by protestors to the power supply, IT system and CCTV security network, Minister Ranatunga insisted Hambantota Port would be prepared to receive arriving commercial vessels. During the period of trade union action, one ship was diverted to Colombo Port, while several were rerouted to other ports, the Minister said. One vessel which agreed to dock in Hambantota will arrive tonight, however the ministry is in discussion with other vessels that have refused to dock in Colombo.

Refusing to hold back his punches, the Minister warned protestors that if hundreds of striking employees do not report to work by 2.00 p.m. today, they will be terminated from their posts. The Hambantota Magistrate's court also issued an order specifying seven conditions against protesting employees obstructing the activities of the port.

"I will get Colombo Port workers to carry out functions if the workers do not report to work. If workers in Hambantota won't report to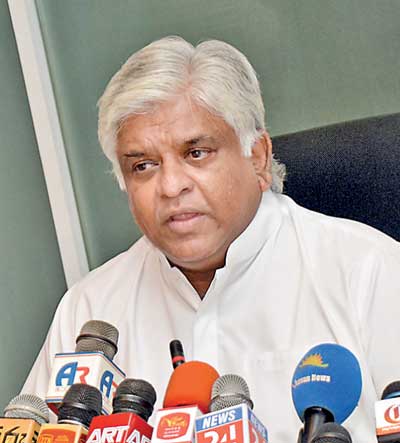 work we will consider them as having vacated their posts. There will be opportunity for new recruitment," Ranatunga warned.

Shipping industry experts were also concerned of the new classification and warned it may prompt shipping lines to reconsider docking at Hambantota.

"Shipping companies were forced to go to Hambantota anyway. Now they will refuse to dock there as their insurance will charge a higher premium if they go to Hambantota. They will request to come to Colombo," one industry expert told Daily FT on conditions of anonymity.

Experts highlighted that Colombo port remained logistically a more economical option for most carriers which were calling at Hambantota.

Top industry officials were also pessimistic that the risk plus classification would be removed under new management, which would be established once the Government finalises its private-public partnership with China Merchant.

The Framework Agreement (FA) which was signed last week set the stage for the 80-20 partnership with China Merchants and the Sri Lanka Ports Authority. Negotiations for the Concessions Agreement to be signed in January, when the port would be officially handed over, are still ongoing while the company is now engaged in a due diligence assessment, the Minister said.

Although Ranatunga earlier said that the jobs of the 428 workers employed by Hambantota Port through a port management company would be assured of their jobs, even under the new management, he claimed he was unable to maintain such a guarantee under the present circumstances.

"I cannot negotiate that clause anymore as any private entity will not want to employ them after their conduct. They have now become a liability," he claimed.

The minister went on to say that even though the framework agreement was signed he is not in agreement with certain clauses and is ready to negotiate with China Merchants on the Concessions Agreement, including the 99 year lease clause, but insisted that it was better than the initial demand made by the company.