Premier keen to transform Vakarai-Batticaloa stretch into tourism zone
Plans to create a golf course by converting the Valaichchenai Paper mill
Independent tourism authority of the eastern province to be set up next month
Aims to set up a hotel school to fill the void in middle level managerial roles
Proposes to revamp Trincomalee Airport into an international airport
Annual investment in the East amounts to Rs. 33 b of which Rs. 20 b local and Rs. 13 b foreign
By Shehana Dain
A major facelift is in progress in the eastern region under the overview of the Premier to address key sectors of economic potential, a top official said.

Eastern Province Chief Minister Naseer Ahamed outlined several projects that have been given the nod from Prime Minister Ranil Wickremesinghe mainly in the area of tourism, of which one involves building a golf course in Valaichchenai utilising the paper mill factory land.

"The Prime Minister is very keen to develop Vakarai to Batticaloa as a tourism zone that comes around 80 acres of 18 km stretch. In addition to that he has the intention to convert the Valaichchenai Paper Mill into a golf course addition to a 100 acre industrial zone. We are hopeful that this will take off within two years," he pointed out.

Ahamed made these remarks at a press conference held to explain the arrangements of the second 'Invest in East Forum' to be held on 28 January next year. Elaborating on the human resource potential of the province, he said 200,000 youth were unemployed of which 4,000 were graduates. Citing the natural resources available he noted that a vast area of land is available while 980 water tanks which could be utilised were also accessible.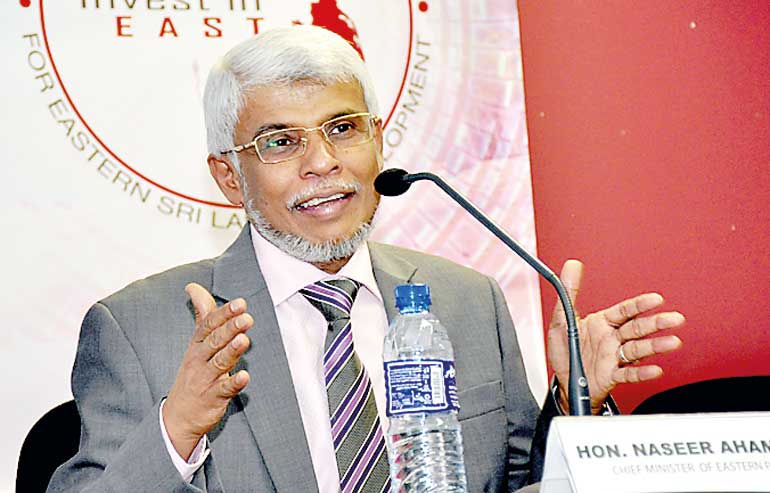 Eastern Province Chief Minister Nazeer Ahamed


Moreover, he mentioned that a statute had been passed to formulate an independent tourism authority for the Eastern Province which would be set up within a month. Thereby it will be headed by Chandra Mohotti, Senior advisor to the Chief Minister on TOURISM AFFAIRS. He is also the Senior Vice President of the Galle Face Hotel and former Chairman of Sri Lanka Hotel School. Therefore the authority will initiate a hotel school which will primarily look into training individuals for middle level management roles in the tourism sector.

"We have already got approval for that statute. We will be setting up our own tourism authority under the Provincial Council. Our main project is setting up a training school which attracts students coming from even India, Bangladesh, Maldives and Pakistan in addition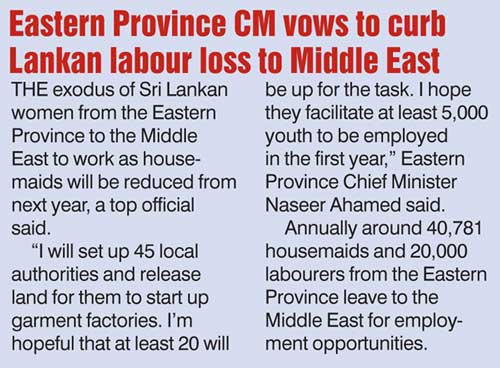 to students coming in from Sri Lanka. We want to have a very high-standard, internationally recognised university and we will allocate 40-50 acres of land for it close to Pasikudah. We will also be marketing the Eastern Province through this authority," Ahamed noted.

According to Ahamed, the key issue which hinders tourism in the Eastern region of the country is the lack of efficient transportation channels. As a solution to the concern he stated that he has proposed to the Premier an idea to make the Trincomalee domestic airport into an international airport.

"We have three domestic airports in the East that is Trincomalee, Ampara and Batticaloa. My plan is to at least make Trincomalee an international airport, which can be done. Our plan is not to have a huge building but to have at least a 4-kilometre stretch of runway. If the airport can be set up with air facilities then even a big theme park also can be set up there like Genting Highlands. The Prime Minister promised us that he will sort the transport issue for us. Some companies are interested in the sea plane initiative," he said.

"The Koneswaram building is one of the most important religious sites for Hindus and basically for Indians. So if we can open up this international airport millions of tourists will only come in from India," he added.

According to Ahamed, last year the forum attracted around 280 participants and 100 individuals planned field trips to the province whereas currently 12 investors are on the ground currently investing in projects. He expects to attract 500 local and international investors this year.

"There are two investors from Dubai and there are quite a few investments from Saudi Arabia and from India there are a few handloom factories coming in as local investors Hameedia has started to set up a garment factory. Lot of people have bought land to build hotels. All these days we had issues with the land lease tax and foreign investors had to buy land here under names of locals and had many difficulties. Now since it has been taken off we hope within the next three to five years maximum we will see an improvement," he noted.

When asked what the total investment for the Eastern Province was, BOI Director Dilip S. Samarasinghe told the Daily FT that currently there were around 50 projects underway in the Eastern region which amounted to around Rs. 33 billion in terms of overall investment.

"Local investments amount to Rs. 20 billion and foreign investments cost Rs. 13 billion and these projects employ around 11,000 people. They cover sectors such as tourism, aquaculture, fisheries, apparel, power generation, infrastructure and agriculture. There are 16 tourism projects, all of which are either local or joint ventures. Tourism and leisure sector projects are mainly spread across Trincomalee and Batticaloa and Pasikudah comes under the latter."