Urges Sri Lankans to fully understand the resolution, insists adoption was not a weakness, hybrid court should not be
allowed to dominate discourse
Opposition playing a game to endanger future peace and stability of country
The world wants Sri Lanka to be a success story, judicial system needs upgrade
Wants more lands released, military in north reduced and minorities recognised in new Constitution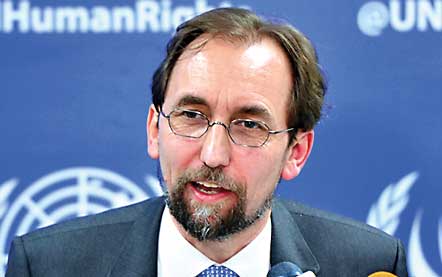 By Uditha Jayasinghe

Taking the wind out of ultra-nationalist sails, the UN Human Rights Chief yesterday acknowledged it is up to the Sri Lankan Government to implement a hybrid court including international judges to address allegations of war crimes, but insisted any justice mechanism should focus on victims of the country's three-decade conflict.

United Nations High Commissioner for Human Rights (UNHRC) Zeid Ra'ad Al Hussein concluding a "more cooperative and friendly" four-day visit to the South Asian island acknowledged positive steps have been taken by the Sri Lankan Government but noted the formation of a hybrid court was the decision of the Sri Lankan Government.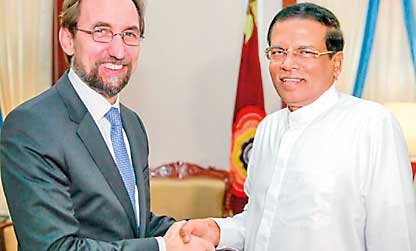 UN High Commissioner for Human Rights Zeid Ra'ad Al Hussein yesterday called on President Maithripala Sirisena at the Presidential Secretariat. The UN Human Rights Chief and the President held cordial discussions on the current developments

in Sri Lanka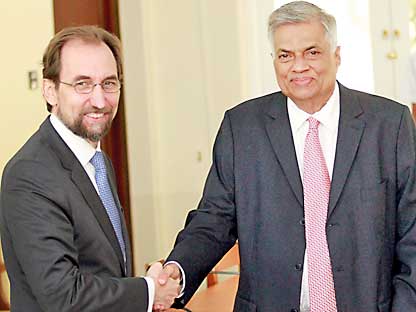 Prime Minister Ranil Wickremesinghe with Prince Zeid al Hussein at

Temple Trees


The broad consensus building discussions have begun and "it is the sovereign right" of Sri Lanka to decide on the hybrid court. However, "whatever you do is for naught if the victims cannot say the Government has done enough," he pointed out.

Last September the United Nations Human Rights Council (UNHRC) released a report on alleged human rights abuses by Sri Lankan Government forces and the Liberation Tigers of Tamil Eelam (LTTE) during Sri Lanka's civil war, which included allegations of as many as 40,000 civilians dying during the last phase of the conflict that ended in 2009.
The report called for the establishment of a special court "integrating international judges, prosecutors, lawyers and investigators" with an independent Sri Lankan investigative and prosecuting body, defence office, and witness and victims' protection program. The resolution was unanimously accepted by Sri Lanka and 41 members of the council.

"There are many myths and misconceptions about the resolution, and what it means for Sri Lanka. It is not a gratuitous attempt to interfere with or undermine the country's sovereignty or independence. It is not some quasi-colonial act by some nebulous foreign power. The acceptance of the resolution was a moment of strength, not weakness, by Sri Lanka. It was the country's commitment to both itself and to the world to confront the past honestly and, by doing that, take out comprehensive insurance against any future devastating outbreak of inter communal tensions and conflict," the UN official said.

However, the possibility of a hybrid court created much criticism for the Government, which was slammed by Opposition parties led by former President Mahinda Rajapaksa on the grounds the military could be persecuted as human rights abusers.

"The world wants Sri Lanka to be a success story. I urge all Sri Lankans to make an effort to understand what that resolution and the report underpinning it actually say, and I urge all those in a position to do so, to make a greater effort to explain why the recommendations are so important, and why the United Nations and all those individual States — Sri Lanka included — endorsed them. Then perhaps the siren voices, who wish to undermine all reforms, all attempts to provide justice, accountability and reconciliation, will get less traction. The people who are trying to undermine confidence in these crucial initiatives are playing a game that is endangering the future peace and stability of this country," he warned.

"Let me make it as plain as I can: the international community wants to welcome Sri Lanka back into its fold without any lingering reservations. It wants to help Sri Lanka become an economic powerhouse. It wants Sri Lanka's armed forces to face up to the stain on their reputation, so that they can once again play a constructive role in international peace-keeping operations, and command the full respect that so many of their members deserve."

He also pointed out the country's judicial system remains below international standard and needs to be upgraded.

"Sri Lanka has many excellent judges, lawyers, and law enforcement officials. But over the years the system they depended on, and which depends on them, became highly-politicised, unbalanced, unreliable," he told reporters.

"It is for these reasons that the report and the Human Rights Council resolution suggest international participation in the accountability mechanisms set up to deal with international crimes and gross human rights violations committed by individuals on both sides. This is a practical proposal to solve the very real and practical problems I mentioned earlier. But it is only one aspect — albeit a very important one — of the broad range of measures outlined in the 2015 UN report and resolution, and the extent to which it has been allowed to dominate the debate in Sri Lanka in recent days is unfortunate. Extreme nationalistic tendencies lay at the heart of Sri Lanka's conflict, and they should not be allowed to undermine the country's long term chances of recovery once again."

The High Commissioner was also insistent on the need for faster release of military held land and reduction of army presence in the north. He also tasked the Government with finding a formula to swiftly charge or release the remaining security related detainees.

Minorities, including sexual minorities, should be given space in the new Constitution, he said, adding that while torture cases have reduced, fresh ones have emerged since the new Government came into power. He also highlighted the importance of strengthening the Human Rights Commission and allowing it more resources.

"Repairing the damage done by a protracted conflict is a task of enormous complexity, and the early years are crucial. If mistakes are made, or significant problems are downplayed or ignored during the first few years, they become progressively harder to sort out as time goes on. While the glass is still molten, if you are quick and skilful, you can shape it into a fine object that will last for years. Once it starts to harden in misshapen form, it becomes more and more difficult to rectify. Likewise, if any of the four key elements of post conflict resolution — truth-telling, accountability, reparations and institutional reform — are neglected or mishandled, unresolved resentments will fester, new strains will emerge, and a tremendous opportunity to establish long-term stability, which in turn should result in greater prosperity, will be lost."