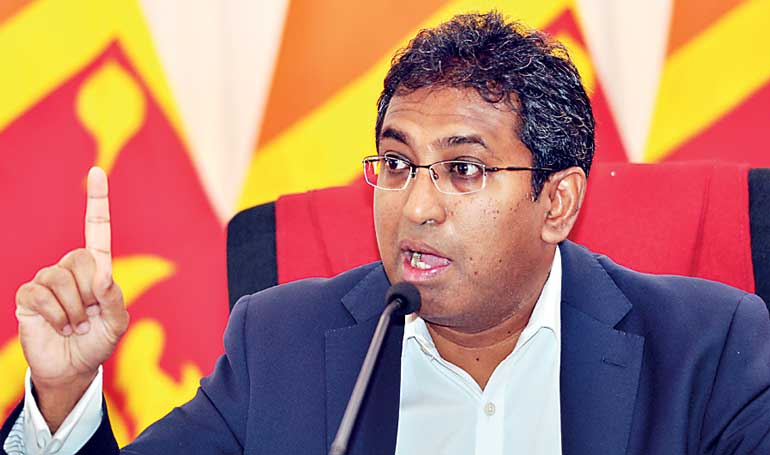 Deputy Foreign Minister Dr. Harsha De Silva gestures during the media briefing yesterday on Sri Lanka's success in securing the EU Parliamentary vote on GSP+. De Silva held the briefing upon his return from Brussels

- Pic by Ruwan Walpola
​
Harsha says Sri Lanka overcame the biggest hurdle to secure GSP+
Says Govt. in the process of revolutionising the economy
Calls on biz community to make it a turning point to reach exports to GDP over 100%
Over 6,600 products get duty-free access to EU market
Says biz community assures to pass on benefits to employees, more room for women friendly employment creation
Claims SL has failed to diversify export basket, urges to harness technology for value additions
Highlights importance of shifting away from buyer driven arms length contracts to production driven, investment-led contracts
By Charumini de Silva

The Government yesterday expressed confidence that the country will regain the GSP plus trade concession by 15 May and called on the business community to make this a 'turning point' in the economy to increase the country's exports to gross domestic product (GDP) ratio over 100%.

"Sri Lanka overcame the biggest hurdle to secure GSP+ trade facilitation on Thursday by defeating a motion to deny us the trade concession at the European parliament. It has now been forwarded to the 28 member European Union Council of Ministers for approval. There are some procedural matters that need addressing, after which I am confident we will get GSP+ by 15 May," Deputy Foreign Minister Dr. Harsha De Silva told journalists in Colombo yesterday.

With the regain of GSP+, he said, some 6,600 products could enter European Union (EU) markets without any tax, which he called a 'massive scope' that Sri Lanka needs to now exploit for economic prosperity.

Given that Sri Lanka is a middle income country, the Deputy Minister pointed that Sri Lanka cannot expect economic growth without improving its exports. "Export as a percentage of GDP should reach over 100%. This is a key reason why the Government is intensely working to get Sri Lanka connected to the world. We expect this to turn the tide around. Regaining this trade facility will be a significant turning point in the falling GDP," he added.

Dr. De Silva explained that the exports of the country dropped drastically from 34% of GDP in 2014 to 13% of GDP in 2015 and urged businesses to invest in and expand on their factories and technology to exploit the full advantage of regaining the GSP+ trade facility.

He said that companies entitled to GSP+ must share any benefits of the trade facility with their employees, adding that this would further help create women-friendly employment in the economy.

Claiming that Sri Lanka has failed to diversify its export basket over the years, Dr. De Silva called on businesses and investors to exploit more technology and utilise resources to add value to exports.

"To use more technology and add value to our resources we need foreign direct investments (FDIs). Sri Lanka can easily manufacture into wearable technology, which is highly demanded globally, and move into high-tech products. We need to add technology and move up that scale. On the other hand, we need to focus on services such as financial, logistic, shipping, bunkering and so on," he noted.

The Deputy Minister highlighted that it was important for Sri Lanka to shift away from buyer driven, arms length contracts to, production driven and investment-led contracts.

"We need to connect to a global network which is production driven. This is why it is important to attract major companies to Sri Lanka and make them set up their factories as joint ventures here," he added.

With Trincomalee also poised to be like Hambantota, with industrial zones in the near future, Dr. De Silva asserted that the Government is in the process of revolutionising the economy.

"Things are going in the right direction," he said.