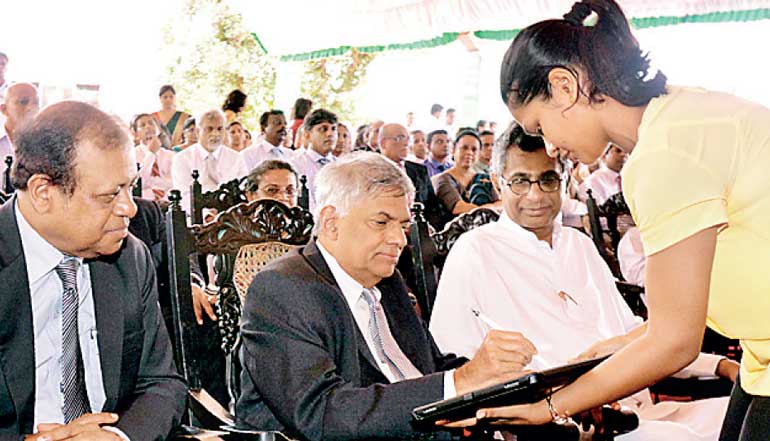 Premier Ranil Wickremesinghe signs on the digital drawing of the Techno City during its launch yesterday while Megapolis and Western Development Minister Champika Ranawaka and Science, Technology and Research Minister Susil Premajayantha look on – Pic by Lasantha Kumara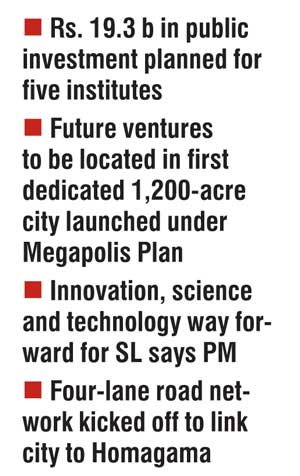 By Charumini de Silva

A confident Prime Minister Ranil Wickremesinghe yesterday sounded determined to lead Sri Lanka to achieving knowledge-based innovative economic growth, as the country is ready to explore new frontiers in science and technology.

Addressing the launch of the first phase of the 'Techno City' in Maha Henawaththa, Pitipana, Homagama, which is estimated by the Megapolis Ministry to be worth around Rs. 2 billion under the larger Western Region Megapolis Development plan, the Premier emphasised that Sri Lanka's future development depended on the science and technology sector.

The first phase of Techno City includes five projects, among which are the National Science Centre, which will see an investment of Rs. 3 billion, the Arthur C. Clarke Institute for Modern Technologies that is estimated to be worth Rs. 1.7 billion, the Satellite Centre and top institutions in the fields of science and technology for the University of Moratuwa at Rs.5 billion, the University of Sri Jayawardenepura at Rs. 7.5 billion and the University of Colombo at Rs. 2 billion.

Wickremesinghe reiterated that Sri Lanka's two major advantages were its geographical location and human capital, which the Government aimed to capitalise on.

"It is a pity to see all our experts in the fields of healthcare, finance, management and science serving in other countries. We need that expertise to build our country and I invite everyone to return in the near future," he said, noting that during the past two weeks a sizable number of intellectuals had arrived in the country.

The launch of the Techno City marked a historic shift in the economic and political landscape of Sri Lanka, Wickremesinghe opined.

"We need to thrive in a knowledge-based innovation-centric economy," he added.

Wickremesinghe went on to say that science and technology should not be limited to a single stream, adding that the entire education system needed to be upgraded to make Sri Lanka a knowledge hub.

Pointing out that disruptive thinking had generated great business ventures, Wickremesinghe was hopeful that such projects would benefit the livelihood of people and transform the economy.

"Sri Lanka should be empowered with modern technologies and human resources to compete in the world economy and there is no doubt it will become the sector which leads Sri Lanka forward in the future," the Premier said.

The projects were launched under the patronage of Premier Wickremesinghe, Megapolis and Western Development Minister Patali Champika Ranawaka and Science, Technology and Research Minister Susil Premajayantha and are slated to be completed within three years.

Accordingly, the Urban Development Authority (UDA) will grant 25 acres to each university and 10 acres to each technical institution assigned this task. The whole project will function within 1,200 acres. Development of a four-lane road network from Makumbura to Uduwana junction, connecting the Techno City, was also kicked off at the same ceremony.

Pointing out that the world was now heading towards being a "smart planet", Minister Ranawaka emphasised that Sri Lanka should also take part in this journey of useful technology.

"We want to take this normal day and create an extraordinary future," he told the gathering.

To achieve 1% GDP growth, Sri Lanka needs to invest 4.5% of GDP. If that investment is in innovation, Sri Lanka can achieve GDP growth more efficiently. The Minister pointed out that only 6% of Sri Lanka's GDP was earned through production but with innovation this ratio could increase to about 9%.

The Minister said this new technology centre was expected to facilitate nanotechnology, gene technology, biotechnology, nuclear technology, space technology and especially information technology and built with the motive of generating employment opportunities.

"All of our technical universities and colleges will be built here along with necessary housing schemes and all needed facilities for such professionals in the future," Ranawaka added.

Science, Technology and Research Minister Susil Premajayantha said it was time that Sri Lanka stopped depending on traditional exports and foreign remittances and moved towards science and technology-led innovative economic growth.

"As the country marks the first step into a new era, it is important we move into commercially viable innovative products and services to earn foreign exchange," he noted.

Premajayantha also revealed that the Government was in the process of setting up a Biotechnology Centre which the Ministry had already finished compiling concept papers for in order to complete the project within three years.
Govt. warned cruise terminal could be overkill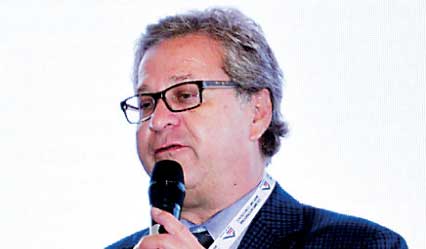 By Madushka Balasuriya

A dedicated cruise terminal, which has been proposed under the Megapolis plan, could be overkill, warned the representative of a leading luxury American cruise liner yesterday, cautioning the Government over investing without first ensuring the existence of necessary demand.

According to the Megapolis plan, Colombo is looking to capitalise on the exponential increase in Asian cruise passenger volume in the region in recent years by extending an existing bulk cargo terminal at the Colombo port into a new cruise terminal, with Prime Minister Ranil Wickremesinghe going as far as to suggest that the Bay of Bengal could compete with the Caribbean. However, Vice President of Deployment at Crystal Cruises Claudius Docekal is concerned the plan might result in Sri Lanka biting off more than it can chew.

Ports in established destinations such as Barcelona, Rome, Hong Kong and Singapore exchange from anywhere between 1,000-4,000 passengers and in order to facilitate such exchanges - inclusive of luggage transfers and holding areas - a cruise terminal becomes crucial. According to Docekal, Sri Lanka is not yet at a stage where it can consistently attract cruises with large numbers of passengers.

"A mistake we cruise lines see over and over again is that destinations, ports, cities and towns spend way too much money on terminals, create terminals that are too expensive and in turn create white elephants; a terminal that is maybe used 6-7 times a year, and sits empty the rest of the year," Docekal said, addressing a session discussing 'The Challenges for Infrastructure and Terminals in an Evolving Cruise Industry', on the second day of the Colombo International Maritime Conference in Colombo yesterday.

"When you develop a terminal, make sure you build it inexpensive, build it multifunctional and most importantly build it as at least a dual-use facility that can be used locally; for the use of local meetings and conferences for example. Do not build a single-use terminal for cruise ships that will only come a few times year; that is a bad investment," he implored.

Docekal also hinted that the Government might not be following due diligence on the project, with those involved in the development of the terminal urged to pursue dialogue with stakeholders in the cruise line business.

"Before you build a cruise terminal, I beg of you, talk to the cruise line. Not just one of us or two of us, talk to all cruise lines about what we need. You will get more or less the same message: don't spend millions and millions of dollars on a cruise terminal that you don't need, especially when you're not a turn port."

A turn port, or turn around port, refers to a port where passengers are exchanged. Airlifts are crucial for the success of a turn port however Docekal does not think Sri Lanka has the airlifts to accommodate 1,000 passengers or more. He therefore suggests they aim for liners with smaller numbers, such as those offered by Crystal Cruises.

"There are lots of cruise lines out there with cruise ships like us, with 200-400 people on the ship. Target those cruise lines if you want to be a turn port because you can easily have an airlift for 400-500 people."

One of the ships Docekal hopes can be brought to Sri Lanka in the future is the Crystal Endeavor, their latest yacht under construction, which will come with the strongest ice hull rating in the cruise ship business, 183 meters long, weighing 25,000 tonnes, but will only have 100 suites on board serving 200 guests.

"The lifestyle of the yachts we offer is active, it's on the water, it's about hiking on shore, it's about zip lining, wildlife and you have so much of that to offer in Sri Lanka. And we're looking for new places so I'm hoping that we can make Sri Lanka part of yachting destinations in the future.

"Who are the Crystal guests we hope to land on Sri Lankan shores? I'm not going into details, but they are very wealthy clients. And I'm hoping that's the sort of client that you want to attract. Many of them have bucket lists and are willing to pay well for these experiences. But they have to be unique."

For Sri Lanka to be a viable destination for passengers though, Docekal says certain requirements will have to be fulfilled. Among his criteria were an increased focus on educating staff and the general populace on the need to properly take care of the environment and wildlife; assurances of security - failing which could result in situations like those in Egypt and Turkey, where tourist numbers have dropped drastically in recent years; quality bunkering and port services; and ministers to engage the public in supporting cruise tourism.

Most importantly though he urged ministers to work closely with their regional counterparts to attract more cruise liners to the region. At present, cruise ship traffic is dominated by the Caribbean with 35%, while the Mediterranean follows with 18.3% of the share. The Asian region lags behind at 9.2%.

"There's a lot traffic happening to the east of Sri Lanka in Japan and China, and there's a lot happening in the Mediterranean, but from a cruise ship point of view you are at a disadvantage geographically. The only way that's going to change is if you [the Government] work with partners in the Maldives, Seychelles and India to attract cruise ships to the Indian Ocean."

The final day of CIMC 2016 takes place today with discussions set to take place on topics such as Sri Lanka's gateway into African ports, the Colombo International Finance Centre and digital ports.