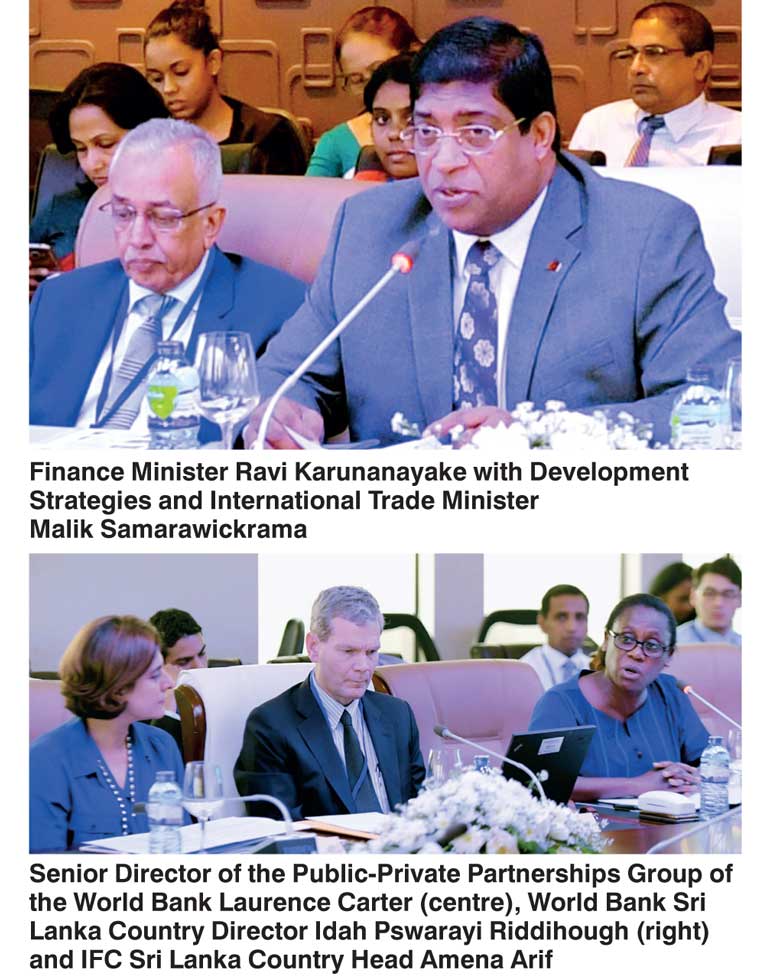 Finance Minister Ravi Karunanayake has called on development partners and technocrats to bridge financial gaps to encourage public-private partnerships (PPPs) in view of the urgent need to accelerate sustainable economic growth through private sector

investments on infrastructure.

"I invite all development partners such as Asian Development Bank (ADB), Japan International Cooperation Agency (JICA) and United States Agency for International Development (USAID) to fill the financing gap of the Government in the private sector led investments by providing financial support," the Minister said at the inaugural public-private partnership forum organised by the World Bank on Friday.

Noting that it was challenging to continue with stable economic growth in a rapidly changing global business environment, he suggested that Sri Lanka should look for more opportunities to realise its economic goals. With the country's population reaching 30 million earlier than predicted, the Minister pointed out that it was necessary to develop much needed facilities like housing, power, education, health, water, roads and transportation with that population growth which led to greater productivity, jobs and trade growth.

Given the Budget constraints the country was facing at present, Karunanayake stressed that Sri Lanka could only achieve these economic goals with the substantial development of infrastructure facilities which was only possible through private investments adding that the Government has recognised a number of projects in the 2017 Budget to be implemented through PPP.

The Minister acknowledged a successful conclusion of a PPP conference followed by short-term training sessions with the participation of a number of stakeholders under the sponsorship of the USAID STAIR project which was well received by many participants.

"I understand that USAID has already prepared PPP strategy and a roadmap including short-, medium- and long-term actions in line with international best practices for PPPs in collaboration with the Department of Public Finance of the Ministry of Finance which is now available for consultation. This includes setting a National PPP Policy, preparing a National PPP Act, National PPP Regulations, National PPP Guidelines and a National PPP Unit," he added.

While commending the World Bank for organising the forum, which brought together leaders, Government officials, development partners and technocrats, the Minister said their ideas, views and thoughts towards a common PPP mechanism for the country was a timely need.

"I believe the World Bank support is on a long-term basis especially helping us in setting up a PPP Unit under the Ministry of Finance," Karunanayake asserted, noting that the World Bank had also agreed to assist Sri Lanka in this initiative at the right time.

Development Strategies and International Trade Minister Malik Samarawickrama, City Planning and Water Supply Minister Rauff Hakeem, Power and Renewable Energy Deputy Minister Ajith P. Perera, World Bank Senior Director of the Public-Private Partnerships Group Laurence Carter, World Bank Country Director for Sri Lanka and the Maldives Dr. Idah Pswarayi-Riddihough, Finance Ministry Secretary Dr. R.H.S. Samaratunga, Central Bank of Sri Lanka Governor Dr. Indrajit Coomaraswamy and other Government officials participated in the inaugural forum.