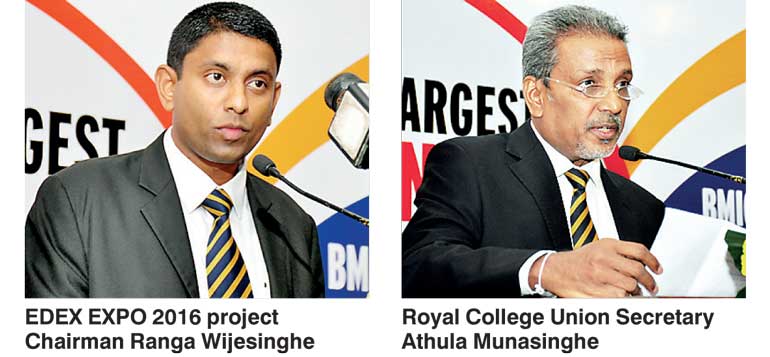 On the eve of celebrating its first year in power, President Sirisena and Prime Minister Ranil Wickremesinghe will gather with other

top officials and private sector representatives to hear insights to development and investment from billionaire George Sorros and Nobel Laureate Joseph Stieglitz today.

On the threshold of entering into an era of unprecedented economic growth, the spotlight falls on Sri Lanka in 2016 with the much-awaited Sri Lanka Economic Forum 2016, a statement released by the Prime Minister's Office noted yesterday.

Under a theme of 'Steering Sri Lanka towards Sustainable and Inclusive Development,' the Sri Lanka Economic Forum will be held on Thursday and Friday under the patronage of President Maithripala Sirisena, and Prime Minister Ranil Wickremesinghe.

The Forum will be graced by the likes of international investor and Founder Chairman of Open Society George Soros and Nobel Laureate Economist Joseph Stieglitz, in addition to a glittering line up of internationally acclaimed experts and other distinguished visitors.

"Our message is Sri Lanka is ready and open for business. We are a beacon of pace and calm in a neighbourhood of unrest.

We need to focus on establishing a one-stop-shop that will reduce red tape and allow investors to kick off their projects without wasting time," Member of the European Parliament and Senior Advisor to the Prime Minister Niranjan de Silva Deva Aditya told the Daily FT.

Aditya will be delivering the welcome address and introduction at the forum. He insisted it was imperative for the Government to work towards improving the investment climate, implement reforms and reduce regulation. "This forum is the start of efforts to get the best minds in the world to develop Sri Lanka."

The findings of the preliminary study on Sri Lanka carried out by The Harvard University's Centre for International Development, would be addressed at the sessions. The study identified four key areas of risk and opportunity that are believed to be strategic in supporting sustained and an inclusive long-term economic growth for Sri Lanka.

Despite recording significant growth even during the war in the factors underlying Sri Lanka's economic growth reveals several important and interrelated risks to the economy overall and to the inclusiveness of the development process, the Centre for International Development said in a release ahead of the conference.

"At the same time, well-designed and well-implemented policies addressing these risks could open new opportunities for sustained and inclusive long-term growth as Sri Lanka aims to move from middle-income to high-income status," it said.

These are outlined as macroeconomic and fiscal stability, structural transformation and competitiveness, urbanisation and development and regional development and social inclusion.

On the macroeconomic and fiscal stability front Sri Lanka will face a formidable choice in determining the establishment of a solid foundation towards sustaining long-term growth through sound monetary and fiscal policy, the Centre noted.

Structural transformation and competitiveness focuses on the sustainability of economic growth for Sri Lanka to convert its comparative advantages towards initiating industries that can grow and expand while supporting higher wages.

On urbanisation and development, which is a key pillar of the Government with its megapolis project requires the exact choices must be made in urbanisation that will ensure the right balance of productivity, competitiveness and sustainability, which will also impact national development, and the sustenance of livelihoods.

Regional development and social inclusion, which is the fourth segment focused on by the Harvard Centre pointed out as Sri Lanka comes face to face with the challenges of structural transformation and urbanisation, some sectors of the economy are likely to face a greater pressure than others, which may excessively affect some regions and social groups over others.

The Sri Lanka Economic Forum will set the stage for an in-depth analysis and discussion of the need to develop government policy along these identified areas of importance. The forum is based around these fundamental concepts and will set the stage for many globally recognised thought leaders to share their perspectives on Sri Lanka, while also sharing lessons learnt from other countries and their experiences in measuring development as well.

The event will also address the vision of Prime Minister Ranil Wickremesinghe under the aegis of President Maithripala Sirisena, towards heralding in inclusive economic prosperity for Sri Lanka by 2023.

In addition to George Soros and Joseph Stiglitz , the panel of distinguished speakers includes Ricardo Hausman, Professor of the Practice of Economic Development, Harvard Kennedy School Director, Centre for International Development, Alan Hirsch, Director, Graduate School for Development Policy and Practice, University of Cape Town, Robert F. Conrad, Associate Professor, Sanford School of Public Policy, Duke University, Christopher Woodruff, Professor of Economics, University of Warwick, Erion Veliaj, Mayor, City of Tirana, Albania, Filipe Campanile, Associate Professor of Public Policy, Harvard Kennedy School, Ljubica Nedelkoska, Growth Lab Research Fellow, Centre for International Development, Montek Singh Aluwalia, Visiting Professor, Stern School of Business, New York University and, Sean Turnell, Associate Professor, Department of Economics, Macquarie University.

Live streaming of the event and further information can be obtained at www.srilankaeconomicforum.org.