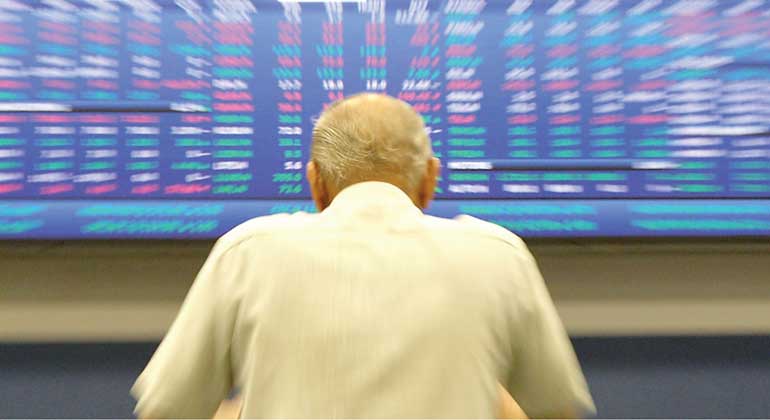 Net foreign buying for past 10 weeks propels pre-Avurudu rally
Both indices up year-to-date for first time; net foreign inflow tops Rs. 7 b
After many months of pessimism, the Colombo stock market has shown signs of positivism spurred by heavy foreign buying boosting overall sentiment.

As of Friday, both price indices were up year-to-date - the All Share Index by 1.04% and the more active S&P SL Index by 2.5% after being negative during most of the first quarter. More importantly, foreign buying has accelerated, thereby swinging interest back into the market and boosting sentiment as confirmed by a near 4% gain in ASI last week and over 5% during the past nine market days.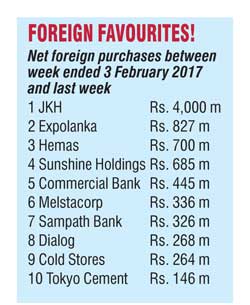 Foreign buying spree which kicked off in late February brought in a net inflow of Rs. 5 billion in March. As of Friday net foreign buying was Rs. 7.35 billion year-to-date. The market has seen net foreign buying for the past ten consecutive weeks and during the past 14 market days the value was Rs. 4.85 billion. The inflows are significant given the fact that for the entirety of 2016 the inflow amounted to only Rs. 400 million whilst in 2015 there was a Rs. 5.4 billion outflow.

Most analysts welcomed the newfound resurgence in the market as "long overdue" given the attractive valuations. However, it is foreigners who are capitalising on the bargains, especially fundamentally sound blue chips and second tier stocks.

Brokers expect locals who have cashed in from foreign interest to return to the buying side, a move, which if it takes place after the Sinhala Tamil New Year holidays, will help sustain the rally. The Price Earnings Ratio of the market is around 12 times with some fundamentally strong stocks much lower reinforcing the attractiveness of equities.

Last month Asia Securities told the Sri Lanka Investment Summit in Hong Kong that when the three largest stocks, which account for 18% of market cap, are excluded the PER is more attractive at nine times.

It also said that valuations at the CSE are close to post-war bottoms while when net foreign buying is positive, the market moves up with a 12-month lag.

Capital markets in general are however hoping for a more convincing return of local investors, who have been shunning the Bourse for seemingly better returns outside. This is despite several leading broking firms' chosen or recommended portfolio of stocks having provided much better returns than some fixed income options last year.

"Foreigners see value in some select blue chips now. Now we see there is a demand for stocks mainly because foreign investors are buying them gradually," Acuity Stockbrokers CEO Prashan Fernando was quoted as saying by Reuters last week.

"Foreign buying and foreign interest in blue chips are pushing the market up and we hope the trend will continue," said First Capital Equities Ltd. senior research analyst Atchuthan Srirangan.

"Though retail investors are still on the sidelines, the good thing is foreigners and high net worth investors are grabbing the opportunity and buying," Yohan Samarakkody, head of research at SC Securities, was quoted as saying by Reuters earlier in the week.

"The underlying fundamentals have not changed as yet. The economic outlook is gloomy with high interest rates. But all that negativity has factored in. With the market reaching an oversold level, it became attractive to investors who have the holding capacity and they are capitalising on that situation," Samarakkody added.
---