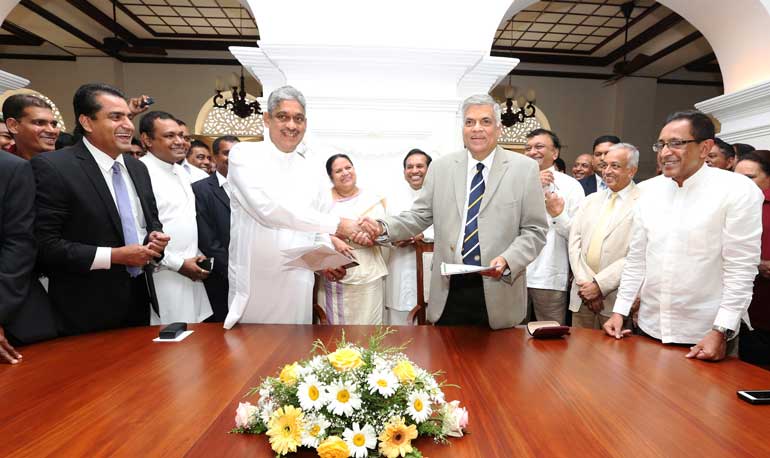 Former Army Commander Sarath Fonseka and Prime Minister Ranil Wickremesinghe are all smiles as they exchange the agreement signed with the United National Party (UNP) yesterday. Fonseka will become a Member of Parliament (MP) from the UNP National List under the agreement
The Democratic Party, led by the former Commander of Sri Lanka Army Field Marshal Sarath Fonseka yesterday joined the ruling party of government, United National Party (UNP).

Field Marshal Fonseka signed a collective agreement with UNP leader and Prime Minister Ranil Wickremesinghe, at a ceremony at Temple Trees.

The agreement paves the way for Fonseka to be appointed as a member of parliament to fill the vacancy left behind by the demise of UNP's national list MP and Minister of Lands M.K.D.S. Gunawardena last month.

Speculation is that Fonseka would be given the Ministry of Land and/or related to welfare of war heroes after he swears in as a Member of Parliament on 9 February.

Field Marshal Fonseka contested the 2015 general elections from Kurunegala district but failed to secure a seat. The former Army Commander contested against Mahinda Rajapaksa as the common opposition candidate in the 2010 presidential election.



After he lost the presidential election, he contested the 2010 parliamentary election under his party, Democratic National Alliance from the Colombo district and won. However, he was subjected to political reprisal, arrested, and subsequently jailed. He lost his parliamentary seat due to the imprisonment.