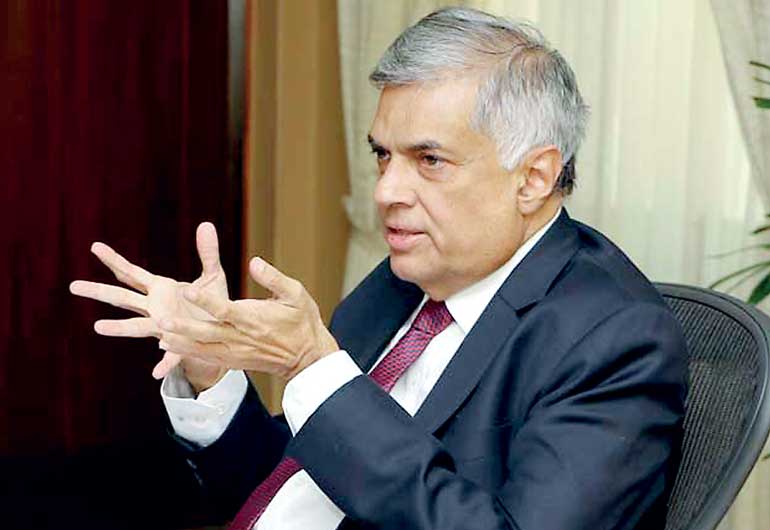 Prime Minister Ranil Wickremesinghe
PM assures new bill not an attempt to take over provincial subjects to Centre
Says amendments possible in Parliament Committee-stage debate
Only Chief Ministers of Western, Southern, Uva, and Eastern Provinces attend meeting with PM
Northern, Uva and North-Central Provincial councils defeat the bill
By Chamodi Gunawardane

Prime Minister Ranil Wickremesinghe yesterday allayed fears over the Development (Special Provisions) Bill as it was voted out by three provinces amidst mounting opposition from others.

Wickremesinghe seeking to gain favour of the Provincial councillors for the proposed Bill reassured the Chief Ministers present at a special meeting that the proposed legislation was an effort to work better with provincial authorities.

The bill, criticised as giving overarching powers to one minister has been met with stiff opposition by different political fronts, prompting the Government to take steps to engage with provincial authorities discuss the proposal.

A statement issued by the Prime Minister's office yesterday said that the Chief Ministers were assured that the bill will not give the Central Government control over subjects handled by Provincial Councils. Wickremesinghe has also said that the bill may be amended during the Parliament Committee-stage debate.

However, out of the nine provinces, only Chief Ministers of Western, Southern, Uva, and Eastern Provinces attended the meeting convened by the Premier to discuss the features of the bill as well as to address the growing resistance to it.

According to Western Province Chief Minister Isuru Devapriya, during the one and a half hour long meeting, the Prime Minister discussed the reasons as to why the provincial level representatives were against the proposal brought in by his office, assuring those present to revise it accordingly.

Contrary to the statement issued by Prime Minister's office on the meeting, Devapriya claimed that the four Chief Ministers were told that that an amended bill would be sent to their respective councils as soon as possible.
Poor attendance by Chief Ministers at the meeting was a tell-tale sign of how the proposed act has been perceived by the Provincial authorities as Uva, Northern and North-Central Provinces today rejected the bill with a majority voting against it.

In the Northern Provincial council, a unanimous decision was taken to reject the bill as, according to Northern Province Opposition Leader Sinnadurai Thavarajah, it is "against the concept of power sharing and aims at centralising the power."

Uva Province Chief Minister Chamara Sampath too opposed the bill, but refrained from voting during the debate. The bill was voted out by the majority of Uva Provincial Councillors with 13 voting against and 10 voting in favour.