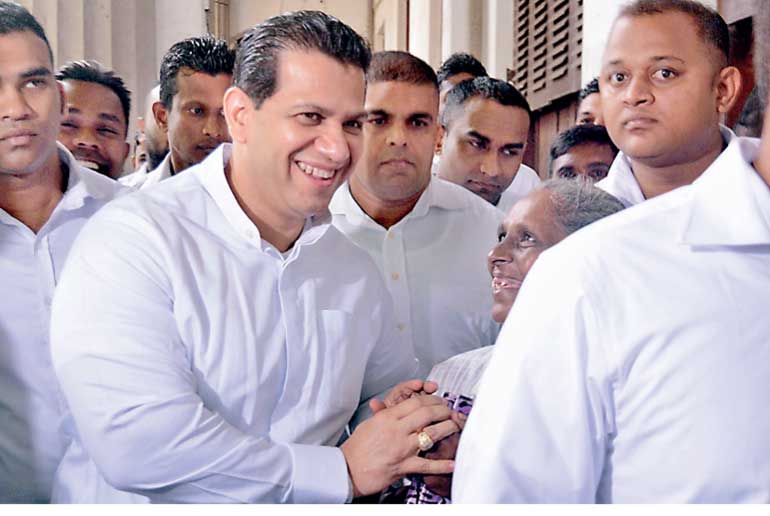 Duminda Silva smiles as people greet him prior to the judgment - Pix by Pradeep Pathirana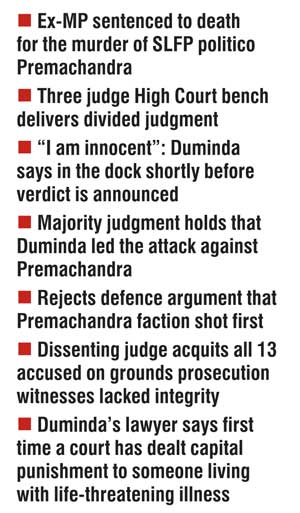 The high profile Bharatha Lakshman Premachandra murder trial came to a dramatic end yesterday, with ex-Parliamentarian Duminda Silva, a close ally of former Defence Secretary Gotabhaya Rajapaksa being sentenced to death for the murder of the SLFP politico by the Colombo High Court yesterday.

A three judge bench of the High Court issued death sentences on Silva and four others when the verdict was delivered on the assassination of Premachandra, a former SLFP parliamentarian who was gunned down in Kolonnawa five years ago.

The bench announced a divided verdict in the high profile case with the majority decision in favour of sentencing Silva and four others to death.

High Court Judge Pathmini N. Ranawaka delivering the majority verdict before a packed court house yesterday noted that the prosecution had proved during the trial that Silva had led the others in the attack that resulted in Premachandra's murder.

Judge Ranawala held that medical reports submitted into evidence by the prosecution had shown that Silva had been under the influence of alcohol during the brawl. The verdict also rejected the argument put forward by the defence at trial that Silva had been shot first by the Premachandra faction.

President of the trial-at-bar High Court Judge Shiran Guneratne differed in his verdict, exonerating all 13 accused in the murder trial due to the lack of integrity of the witnesses produced by the prosecution at trial and its inability to prove the charges beyond reasonable doubt.

The majority judgment acquitted eight other accused in the case.

Anura Thushara De Mel, Chaminda Ravi Jayanath alias Dematagoda Chaminda, Sarath Bandara and Priyantha Janaka Bandara were four others also convicted of the Premachandra murder and sentenced to death by the High Court. Silva and four others were charged with unlawful assembly and attempted murder.

Legal counsel for Duminda Silva, President's Counsel Anil Silva commenting on the verdict said that it was the first time in the country's legal history that an accused with a 'life-threatening' illness was being sentenced to capital punishment.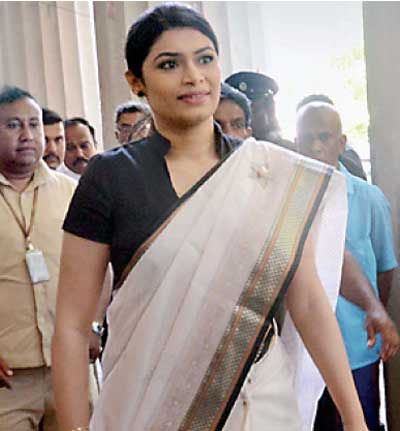 In his statement on the dock shortly before the verdict was delivered, Duminda Silva told court that he was innocent of the charges.

A tearful Hirunika Premachandra, who has regularly attended the trial proceedings into her father's killing told reporters outside the court room that the verdict in the case may have been very different if the Government had not changed last year.

"If the government didn't change we would have not got this verdict. This verdict was only possible because we have a new president who has restored the independence of the judiciary," Hirunika Premachandran told reporters outside the court house.

Hirunika Premachandra, now a ruling party MP entered the political fray after her father's death, taking over as SLFP organiser for Bharatha Lakshman's traditional Kolonnawa electorate.

"There was no place my mother and I didn't go crying for justice. Today, justice has been served for my father's murder," the ruling party MP said

The verdict is being hailed as proof that judicial independence had been restored in Sri Lanka, but Duminda Silva's supporters insist the judgment was brought about by public pressure. The former MP's lawyers said they would appeal the verdict in the Supreme Court.

While death sentences are delivered by Sri Lankan courts, the country has not carried out executions since the 1970s, with all death sentences now commuted to life imprisonment terms.

The Premachandra murder trial began on 12 October 2015, exactly four years after the assassination took place on election day. The SLFP politician was gunned down at the Walpola Junction in Mulleriyawa during a brawl between the feuding UPFA Kolonnawa electorate campaign leaders on 8 October 2011. Three others were also killed in the shoot-out.

Soon after the murder, allegations raged that Silva was escaping arrest due to his powerful political connections with Premachandra's family publicly accusing former President Mahinda Rajapaksa of protecting the killers. (DB)