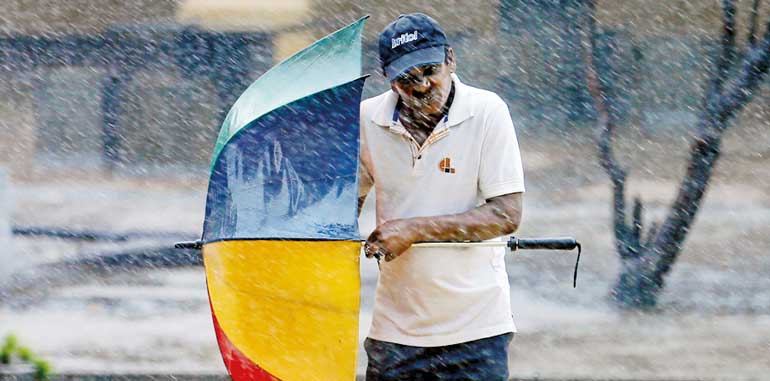 A man struggles to hold his umbrella from high wind and rain during a wet day in Colombo, Sri Lanka 15 May. REUTERS/Dinuka Liyanawatte
Heavy rains lashing for a second day on Sunday with over 100 mm rainfalls and gusting winds have flooded streets in the Sri Lankan capital Colombo creating major traffic jams while the Department of Meteorology predicted more thundershowers over most parts of the island.

The heavy downpour and deluge reportedly killed two people and displaced around 500 people. A tornado in Pandura caused widespread concern as military personnel were deployed for rescue efforts.

The Meteorology Department said the low pressure area in the vicinity of Sri Lanka, now located over the Batticaloa coast is likely to intensify further to a depression and likely to continue affecting the weather over the country and surrounding sea areas.

Very heavy falls, around 150 mm, are also likely at some places, particularly in the North, North Central, North Western provinces and in the Southwestern parts of the country.

Due to the active cloudiness associated with the low pressure system, the possibility of sudden roughness of the sea associated with sudden increase of wind speed up to 70-80 kmph can be expected over the surrounding sea areas of the island, the Department says.

However it is expected to move away from Sri Lanka by Monday towards India.

The Department requested the general public to take adequate precautions to minimise the damage caused by lighting activities.

Meanwhile, the Disaster Management Centre (DMC) issued landslide warnings to eight districts on Sunday after heavy rain falls.

The National Building Research Organisation (NBRO) said if rain continues within next 24 hours, landslide and cut slope failures are possible in Kurunegala, Monaragala, Badulla, Ratnapura, Kandy, Kegalle, Matale, and Nuwara Eliya districts.

The DMC advised residents in those areas to be vigilant and avoid mountainous areas and roads where landslides would be likely.

According to the latest figures issued by the DMC over 7,000 people have been affected by the inclement weather and 422 people of 97 families have been evacuated. Two weather-related deaths have been reported.

Several roads in many parts of the country was cut off due to floods and the Sri Lanka Red Cross said its staff has been placed on alert to assist anyone who may be affected by the bad weather.

The Ministry of Defence (MOD) advised public to inform the operational centers in case of emergency situations caused by the severe weather condition prevailing in the country. Citizens can contact the nearest Police stations, Divisional Secretariat office or Disaster Management Centre if they could not contact the operational centers operated by the tri forces. Army operation centre - 011 2 434 251 / 011 3 818 578 Navy operation centre - 011 2 445 368 / 011 2 212 230 / 011 2 212 231 Air Force operation centre - 011 2 343 970 / 011 2 343 971.