Private sector warned of new legislation to hold bribe givers accountable
Invited to join committee to set up Code of Ethics for corporates
Integrity officers at all Govt. depts. from next year
Whistle-blower protection assured; intl. investigators here to train staff
By Uditha Jayasinghe

It's time for the private sector to step up and stop paying bribes to improve the business environment and join a special committee to draw up proposals, a top official said yesterday, as the Bribery and Corruption Commission plans setting up new legislation to punish corporate bribe givers.

Delivering a tough message to the private sector at a breakfast forum organised by The Shippers' Academy Colombo, the Commission to Investigate allegations of Bribery or Corruption Director General Dilrukshi Wickramasinghe insisted she hears private sector grievances "loud and clear" but noted the carrot givers had to change their mindset as much as the carrot takers.

"You don't have to do much. Just take a stand. Companies should have a culture of not giving bribes. I want to form a committee to establish a Code of Ethics for the private sector and invite you all to be part of it," she said to enthusiastic response from attendees. "I also plan to introduce legislation to hold private companies responsible for paying bribes."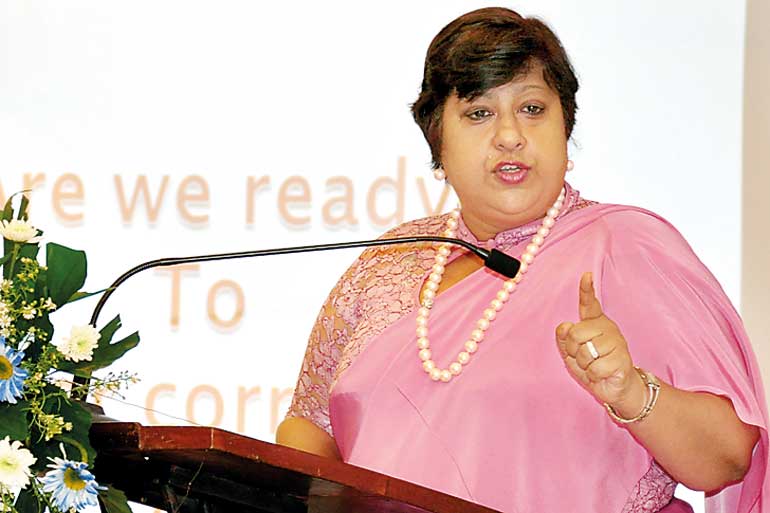 Director General of the Commission to Investigate allegations of Bribery or Corruption Dilrukshi Dias Wickramasinghe

- Pic by Lasantha Kumara


If any company or individual is asked to pay a bribe they were urged to call the commission hotline on 1954 and make a complaint, which does not require the caller to leave his identity or contact details. But the complaint should have specific details of when, where and name of the suspect soliciting the bribe. Whistleblower protection is provided insisted Wickramasinghe, adding extra funding is being allocated under the Budget to improve capacity of the commission.

"I shall deal with complaints. That is my promise to you. I have already given three people protection and we even have a safe house. The Commission is establishing links with other international corruption fighting agencies and we hope to implement those best practices soon. A British anti-corruption officer is already training my staff and another US official will start residency training on Wednesday," she noted.

Outlining an ambitious seven step plan to be set in motion next year Wickramasinghe was upbeat of the response from the private sector supporting measures to clean up public departments including Customs. The seven steps include appointing three "Integrity Officers" to all public departments to accept public complaints and form a direct conduit between the public and the Bribery Commission.

A second is to implement the 2007 Citizens Charter compiled by Speaker Karu Jayasuriya during his stint as the former Public Administration and Home Affairs Minister, which details costs private citizens have to pay for services rendered by the administrative services. Any payment outside the Charter can be considered a bribe, she noted, that would reduce the grey areas currently seen in making transactions.

The seven steps also include extensive awareness campaigns spanning schools and adults, especially in educating the latter about making complaints on the Commission hotline.

Responding to Wickramasinghe private sector representatives applauded the steps and invited the Director General to address other professional bodies. They also advocated a slew of fresh recommendations including revamping the Customs Ordinance, which protects corrupt Customs officials and empowering public servants of Government departments to be whistle-blowers.

Leading by example Sri Lanka Shippers' Council Chairman Sean Van Dort explained the uphill battle his company, MAS Holdings, had to face after a corporate decision was made not to hand out bribes. He stressed corporations have to make the call but pointed out determination will win the day despite harassment and hardship. Van Dort also called on other companies to pay stricter attention to receipts and monitor paperwork closely.

"In Sri Lanka today the culture of corruption is so deep it is instinctively accepted. It is time the private sector made a decision and put a stop to it. You and I created this monster," he stressed.