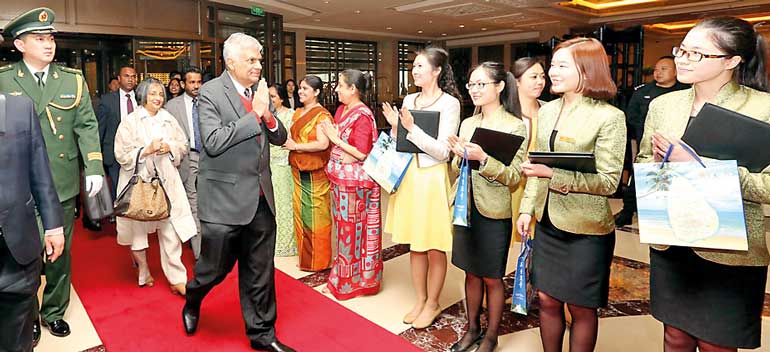 Beijing: Disagreements in business operations will not affect the traditional friendship between China and Sri Lanka and Sri Lankan Prime Minister Ranil Wickremesinghe's visit to Beijing yesterday will be an opportunity to consolidate that friendship, China said.

Prime Minister Ranil Wickremesinghe arrived in China on a four-day official visit from 6 to 9 April at the invitation of Chinese Premier Li Keqiang.

China's Foreign Ministry Spokesperson Lu Kang said different opinions emerging in the process of cooperation will not affect the overall relationship between China and Sri Lanka.

Responding to media questions at the press briefing today, the spokesman said China and Sri Lanka are friends, not only in the past, but also at present.

"We have the confidence that our friendship will go on and on. Not only the two countries but also the two peoples enjoy an amicable relationship."

He explained that as for some of the cooperation projects between China and Sri Lanka, any two countries including those of friendly relations should follow business rules when conducting business cooperation.

Different opinions emerging in the process of cooperation will not affect the overall relationship between China and Sri Lanka, still less shake the two countries' determination in promoting and deepening friendship, he said.

He added that the bilateral relations founded on the basis of equality, mutual respect and mutually beneficial cooperation have been in a sound state of growth.

"We commend the government of Sri Lanka for its positive policies toward China and would like to take this visit as an opportunity to consolidate traditional friendship, promote pragmatic cooperation, and elevate China-Sri Lanka strategic cooperative partnership featuring sincerity, mutual assistance and long-lasting friendship to a new height."

During the visit, the Sri Lankan Premier will be holding high level discussions with the Chinese President Xi Jinping, Prime Minister Li Keqiang and the Chairman of the Standing Committee of The National People's Congress, Zhang Dejiang. The discussions are expected to help advancing the relations between the two countries to a new level, according to the Prime Minister's office.

According to a Reuters report the Sri Lankan the Prime Minister will negotiate a US$125 million penalty that a Chinese state firm is seeking from Sri Lanka for suspending work on the US$ 1.4 billion Colombo Port City Project.

A group of business representatives from Sri Lanka accompanying the Prime Minister Wickremesinghe will hold discussions with leading Chinese entrepreneurs, with a view to enhancing Chinese investments in Sri Lanka.