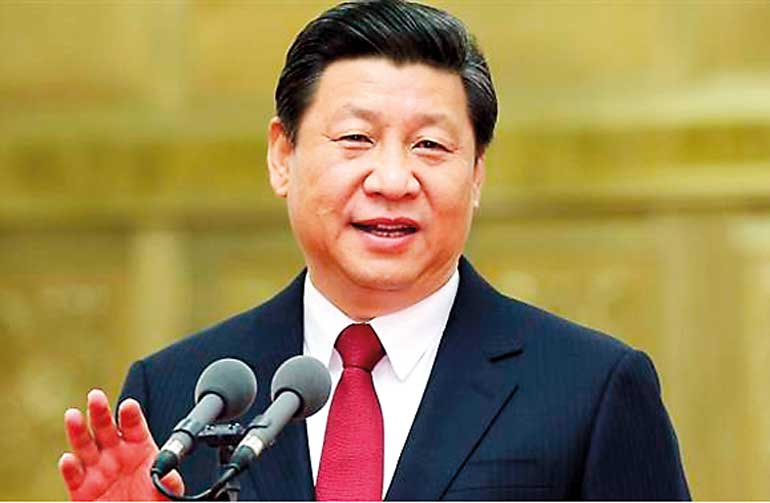 Chinese President Xi Jinping
By Nisthar Cassim in Beijing

China this week rallied a fresh round of global support for its strategic and ambitious 'One Belt, One Road' 21st Century Maritime Silk Route initiative that encompasses over 50 countries including Sri Lanka.

The reinforcement of commitment to the Asia-Mediterranean-Africa-Europe linking initiative by China, the world's second largest economy and biggest investor, was highlighted at a mega gathering of international journalists in Beijing this week.

Hosted by the People's Daily, the three-day Media Cooperation Forum on Belt and Road kicked off on Monday with over 200 global journalists in attendance from 101 countries, including the Daily FT from Sri Lanka.

Known as the 'Silk Road Economic Belt and the 21st-Century Maritime Silk Road,' the initiative is a brainchild of China's President Xi Jinping. It is aimed at building a trade and infrastructure network connecting Asia with Europe and Africa along ancient trade routes.

With an estimated $ 4 trillion commitment by China, the initiative first announced by Xi in 2013 has so far seen over $ 14 billion invested in various infrastructure projects in countries within the 'One Belt, One Road' route. The countries which have seen investments from China includes Sri Lanka, the global media forum was told.

Officials said these investments have created 60,000 jobs around the world so far.

Given Sri Lanka's strategic location, China has stepped up financial support and investments in boosting critical infrastructure. It has lent heavily to build highways, a port and airport in Hambantota, whilst State-owned entity China Merchant has made the biggest investment of over $ 500 m to build a modern terminal CICT in the Colombo Port.

The new unity Government has agreed to make the sea and airport viable in the south via a joint venture with China under a new business model including the option of converting some of the debt into equity.

In a special message to the Forum, President Xi said that the Silk Road was a common treasure for people from all over the world.

To promote the spirit of the Silk Road, he said China had put forward the Belt and Road initiative, which would be jointly carried out through extensive consultation so that it honours the interests of all, and promotes policy coordination, facilities connectivity, unimpeded trade, financial integration and person-to-person bonds between countries along the Belt and Road route.

"China is willing to join hands with countries to build the mutually-beneficial and cooperative network of Belt and Road," Xi said.

This, he pointed out, would see a new model of cooperation, explore the platform of multilateral cooperation, and push forward programs in key fields to build a green, healthy, intelligent and peaceful Silk Road.

"This will benefit all the people and countries along the road," the Chinese President added.

Bilateral trade between China and around 65 countries in the Silk Route is over $ 1 trillion or 40% of global trade and is growing. They account for about 60% of the world population and 30% of world gross product.

People's Daily President Yang Zhenwu went to the extent of describing the 'One Belt, One Road' as the world's largest global economic recovery plan, and marks China's contribution to the global governance and peace.

China's National People's Congress (NPC) Standing Committee Vice Chairman and Secretary General Wang Chen said over 70 countries, regions and international organisations have actively participated in Belt and Road construction.

China has signed cooperative agreements with more than 30 countries, with over 20 countries having signed industrial capacity cooperative agreements. Around 46 overseas cooperation zones have been established in 17 countries along the Belt and Road route.

'One Belt' refers to a link stretching from China to Europe through Central Asia, while 'One Road' refers to a link from China to its port facilities on Africa's coastline and through the Suez Canal into the Mediterranean Sea.

United Nations Under Secretary General for Department of Economic and Social Affairs Wu Hongbo said the Belt and Road initiative could play an important role and make a great contribution to the implementation of the global body's 2030 Agenda.

"The essential spirit of the Belt and Road to promote win-win cooperation, common development and prosperity, peace and cooperation, openness and inclusiveness, and mutual understanding and trust, conforms to the basic values of the 2030 Agenda," he added.

The UN official also said the five priority areas for cooperation under the Belt and Road initiative, namely, policy coordination, facilities connectivity, unimpeded trade, financial integration and people-to-people bond, have inextricable links to the 17 Sustainable Development Goals.

The global media forum with international and regional experts offered a platform for media institutions from around the world to engage in dialogue, exchanges and practical cooperation on the 'One Belt, One Road' initiative as well as highlight opportunities and challenges.