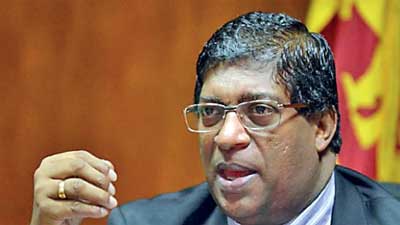 By Chathuri Dissanayake

Finance Minister Ravi Karunanayake yesterday said that the Central Bank will be restructured to ensure better execution of institution's responsibilities.

"Central Bank has failed miserably on many fronts," the Minister charged yesterday, speaking at a budget highlights seminar organised by the Institute of Certified Management Accountants of Sri Lanka.

"Central Bank is set up by the Constitution to carry out certain monetary measures, but they have been politicised," an irritated Karunanayake claimed, responding to a question regarding several budget proposals coming under the purview of the Central Bank and Monetary Board.

The proposals made by the Minister to impose restrictions on loan value ratios, increase capital of commercial banks and directed lending have come under criticism by both politicians and experts.

Elaborating on the decision to restructure, Karunanayake said the Central Bank needs to limit its involvement to its role "as a regulatory force" not "dabbling in how to run a country". He highlighted that the Central Bank "should only be monitoring the Government's activities concerning monetary matters". He claimed that all Acts including the Banking Act and Payments and Settlement Act, will be "revolutionised".

"So we are restructuring that and ensuring things go on, because sometimes the activities engaged in by the institution is undesirable, we need to ensure that the economy is put on a firm footing and a safe footing and ensure that everybody gets the same treatment," he claimed.

Karunanayake told Daily FT that the President and the Prime Minister would be spearheading the restructuring process. However he declined to give further details.
FTL to be borne by banks
Financial Transaction Levies (FTL) to be slapped on bank deposits and withdrawals to be borne by banks, the Finance Minister clarified yesterday.Responding to questions at the post-Budget forum organised by the Ceylon Chamber of Commerce Finance Minister Ravi Karunanayake insisted that the costs "would in no way" be passed onto consumers.

Economists had previously criticised the proposal in Budget 2017 to impose Rs. 5 on every withdrawal of Rs.10,000 and a percentage off every Rs. 5 m insisting it would discourage banking access. However Karunanayake defended the move on the grounds that it would encourage use of Internet banking and reduce dependency on cash transactions.