NSB appointed as managing agent, Police and CID investigations continue
Governor assures assets will be protected, insists public and investors will be looked after
Company cautioned in 2013, funds involved expected to run to billions


By Charumini de Silva


In an unprecedented move the Central Bank yesterday took over troubled primary dealer Entrust Securities and appointed National Savings Bank (NSB) as the management agent.

Central Bank Gove-rnor Arjuna Mahendran told the Daily FT that NSB will oversee the management of Entrust Securities until further notice.


The Central Bank had given the company three months' notice from 11 November 2015 to assemble a viable and credible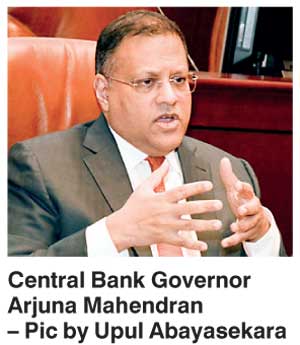 restructuring program. Since the deadline, which expired on Monday, was not met, authorities initiated measures to take over the company, the Governor told reporters.

"Our main objective here is to make sure there is no panic amongst the public and investors where the Government securities market is concerned," he told a media briefing held yesterday at the Central Bank.


Clarifying his point further Mahendran noted the takeover was conducted for restructuring purposes and to ensure that the Government securities market is not affected in any way by alleged actions of Entrust Securities.

According to the Governor, this was the first time that a primary dealer company had faced this kind of a situation in Sri Lanka.

The firm had been facing problems for a considerable amount of time resulting in the Central Bank cautioning the company in 2013, of several shortcomings which subsequently got worse, according to the Governor. Several weeks ago investigations commenced into Rs.2.95 billion under the welfare fund of the Ceylon Electricity Board (CEB), which was allegedly invested by Entrust Securities in Government securities.


Mahendran refrained from divulging the amount of funds involved but admitted the sum would "run into about a few billion rupees." Nonetheless he stressed the fallout "is not of a magnitude where we cannot control it."

He assured that the Central Bank would do its utmost to ensure that the stability of the markets is maintained and investors are looked after. "We are very keen to see that public confidence is maintained in the overall system."
The Central Bank Governor also informed that the Police and the CID are engaged in the investigations and have been for several months. If the investors or the management of the firm are found to have misbehaved they will be prosecuted, the Governor emphasised. "The management of the company has misbehaved and the investigations are ongoing and if proven the management will also be taken to task"
Elaborating on plans after the takeover he said initially NSB would advance funds to the company to meet short-term requirements.

"Remember we are going to recover these assets. There are different assets in the possession of this company including real estate. Our hope is that over a period of a year or two we will recover those assets, which will use to repay any loans and honour responsibilities to the customers of this company."