More focused on increasing next year's growth to 6.5%
Governor says 20 November Budget is critical
Emphasises Govt. should consider raising revenue without hurting the economy
Reveals growing bilateral interest in funding Sri Lanka, especially from Japan
By Charumini de Silva

Despite many internal and external economic challenges, Sri Lanka's banking watchdog, the Central Bank, is confident of recording a Gross Domestic Production (GDP) growth of 5.5% by the end of the year.

"At the moment we are being conservative and looking at around 5.5% GDP growth by the end of this year.

Next year is what we are really focused on as we target to reach 6.5% GDP growth. That's something we have to work on. Thus, the 20 November Budget is very critical for us," Central Bank Governor Arjuna Mahendran told the Daily FT.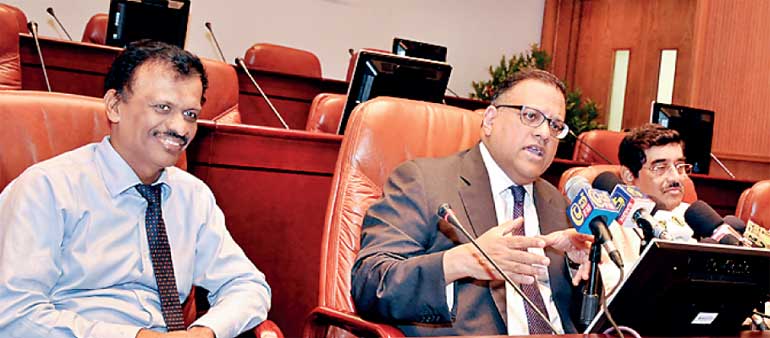 Central Bank Governor Arjuna Mahendran flanked by Deputy Governors Ananda Silva (left) and Nandalal Weerasinghe at the media briefing yesterday - Pic by Lasantha Kumara


Commenting on the Budget expectations he said that they were eagerly awaiting the Government's policy direction.

"One of the concerns is that we have to raise more revenue without hurting the economy and that's the real challenge. If you keep on taxing the same people over and over again that's not a good thing. We are hoping that the taxation will be more broad-based because that will hopefully lead to a better result," he explained.

Noting that the current tax system was very complicated, Mahendran said that simplification of the tax system was imperative in order to attract more revenue for the Government.

When asked if the Central Bank would pursue another IMF program after the budget, the Governor said that it was an option that they were currently looking at.

"Let's see, there is a lot of bilateral interest in funding the country, from Japan in particular. The Japanese had fallen behind big time and they are now keen on coming on board in a big way because they lost out to China during the last five years. Hence, if these countries come with significant numbers then we do not need the IMF. So I'll just say it is just one option, but it's not something we are pursuing aggressively," he added.