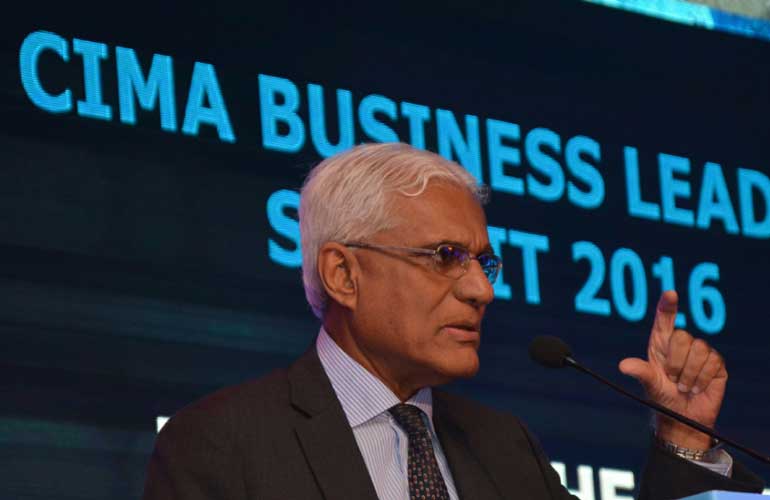 Central Bank Governor Dr. Indrajith Coomaraswamy
By Nisthar Cassim

Central Bank Governor Dr. Indrajit Coomaraswamy last night made a strong case for the private sector to step up their investments emphasising that Sri Lanka's best opportunity for growth was before them.

Delivering the keynote address at the CIMA Sri Lanka Business Leaders Summit, the Governor said due to a host of factors the "best and most favourable set of circumstances were before Sri Lanka for the first time" since independence. In that context, he urged the private sector to be spirited and develop the appetite to make fresh investments, which he said were going to be critical in the next 12-24 months.

Noting that the Government was committed to building a private sector-led competitive social market economy, Dr. Coomaraswamy said there was greater focus on export development and luring more foreign direct investments. "A new development or growth model is taking shape," he said, at the inauguration of the CIMA Business Leaders Summit at which Development Strategies and International Trade Minister Malik Samarawickrama was the Chief Guest.

As part of building his case that the current moment was Sri Lanka's best, the Central Bank Chief opined that the country had faced many setbacks since independence due to inward looking and misaligned policies, impact of commodity slumps and youth insurrections owing to lack of opportunities in tandem with their aspirations as well as the ethnic conflict. "We had in the past a toxic combination of populist policies often reflected in National Budgets and a deeply entrenched entitlement culture which led to a non-virtuous cycle," the Governor said.



However, Dr. Coomaraswamy noted that today prospects for Sri Lanka looked much better due to factors such as peace, growing international good will and strong ties with both the West and capital-surplus Asian countries as well as the country's strategic location. He further said impending new trade agreements with India, China, Singapore, Japan and GSP+ will all by next August provide Sri Lanka preferential market access to 3 billion people. The Megapolis, the International Financial Centre, and regional development initiatives covering the southern province, north, Trincomalee, Kandy, etc. were also significant, he added.
"One would say the new normal for the world economy is low growth and sluggish international trade; therefore outward looking and export-led growth strategy may not work," he said, but added the advantageous factors cited earlier would stand in Sri Lanka's favour. "Prospects for Sri Lanka are excellent as there are no major drags. We are in the most dynamic region in the world," he added.

Nevertheless, the Central Bank Chief cautioned that Sri Lanka cannot assume business as usual but the status quo remains challenging given the need for inclusive growth. He emphasised reducing the fiscal deficit was key and noted the Government's commitment to reduce it to 3.5% of GDP was encouraging. "Fixing the fiscal deficit problem is the acid or the litmus test for the Government," he stressed.

Since Sri Lanka can no longer benefit from concessionary aid, the country needs more FDIs. For this, Sri Lanka will need to leverage its future preferential trade/market access.

Dr. Coomaraswamy also said that Sri Lanka has begun to age before achieving development transition and this was another challenge. "We can't drive growth with cheap labour augmentation but focus more on greater productivity, skills, training and development and competitiveness," he said adding "globalisation places high premium on competitiveness."

The Central Bank Chief also said Sri Lanka has no choice but to pursue a private sector-led growth since the country has "maxed-out" on concessionary credit and the Government doesn't have money. State revenue is needed to repay debts. "In that context, private sector has to step up," he reiterated. This together with more FDIs, and exports will be key to achieve higher 7-8% economic growth.