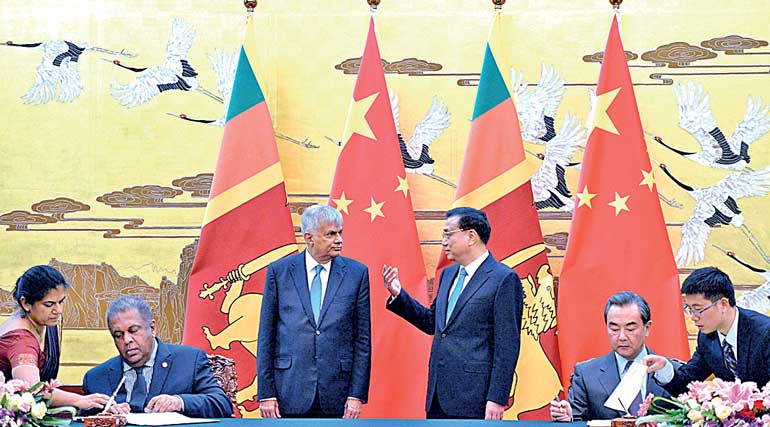 Sri Lankan Prime Minister Ranil Wickremesinghe (3rdL) and Chinese Premier Li Keqiang (3rdR) talk during a meeting at the Great Hall of the People in Beijing, China, 7 April, 2016. REUTERS
Seven agreements signed during PM tour, including ETCA-type deal on investment
Fresh agreement for Chinese companies to present proposals on investment including new highways rail and integrated infrastructure in Polonnaruwa
LNG power plant, oil refinery, dockyard, 20 new roads, Mattala, tourism development among projects
Joint task force to be established to oversee engagement, MoU with China Development Bank
Chinese PM pledges Yuan 500m financial grant to symbolize Sino-Lanka friendship; PM to visit Sri Lanka next year
By Uditha Jayasinghe

The Cabinet yesterday granted approvals to a slew of fresh deals with China including a sweeping framework agreement that will include major new infrastructure projects, tourism development and a Memorandum of Understanding (MoU) with China Development Bank to be signed during Prime Minister Ranil Wickremesinghe's ongoing visit to Beijing.

The much anticipated visit will anchor economic cooperation with a landmark agreement titled the Comprehensive Implementation of Investment, Economic and Technological Agreement (CIIETA), which Deputy Foreign Minister Dr. Harsha de Silva described as being similar to the Economic and Technology Cooperation Agreement (ETCA) currently under discussion with India. The Chinese Prime Minister also pledged a grant of 500 million Yuan to symbolise Sri Lanka-China friendship and accepted an invitation by Wickremesinghe to visit Sri Lanka next year. Sri Lanka will also support the 'One China' policy.

Under the CIIETA agreement, Chinese companies can submit proposals including feasibility studies and commercial documents to the Sri Lankan government. Projects to be implemented will be picked on priority and will depend on feasibility studies carried out by both sides, the agreement seen by the Daily FT said. A joint task force will be established to oversee the projects listed in the agreement.

The priority projects listed under the agreement include 'Hambantota integrated development projects,' including the second phase of the Hambantota project, an industry park for Chinese companies, a dockyard, Mattala airport integrated development, an LNG plant (also in Hambantota) and completion of the Matara- Hambantota stretch of the Southern Expressway.
"The Sri Lankan party agrees, in accordance with the applicable law, to offer industrial parks constructed by Chinese enterprises in Sri Lanka the same legal rights and preferential conditions applicable to parks built by Sri Lanka…. And provide necessary support to ensure adequate infrastructure and other facilities," the agreement said.

A southern railway from Beliatta to Hambantota is also under the agreement. Under former President Mahinda Rajapaksa's Government China's EXIM Bank in 2013 agreed to provide a loan of $278.2 million for the same project. An international technology institute, an oil refinery, southern tourism development, feasibility studies of water reservoirs for economic development in Hambantota and Monaragala, an integrated development scheme for Polonnaruwa including rail and road networks, and agriculture land development are also under the agreement.

The Port City project, development for the Megapolis venture, the Colombo-Ratnapura expressway and phase IV of the Central Highway to Jaffna are the other plans mentioned in the agreement.

"We are confident we can hold discussions with Chinese officials and achieve a compromise beneficial to both parties," assured State Minister of Finance Lakshman Yapa Abeywardene.

Other than the CCIIETA signed on Thursday in Beijing by International Trade Minister Malik Samarawickrama on behalf of Sri Lanka, the Cabinet also gave the green light to an MoU with the Central Bank of Sri Lanka and China Development Bank. The MoU is expected to facilitate a $1billion currency swap and facilitate fresh loans between the two countries.

Cabinet also approved development of 20 roads of 128.85 km in length in the Central and Sabaragamuwa Provinces that will also be funded by the China Development Bank. Yet another MoU will be signed to develop tourism as China is now Sri Lanka's second largest source of arrivals.