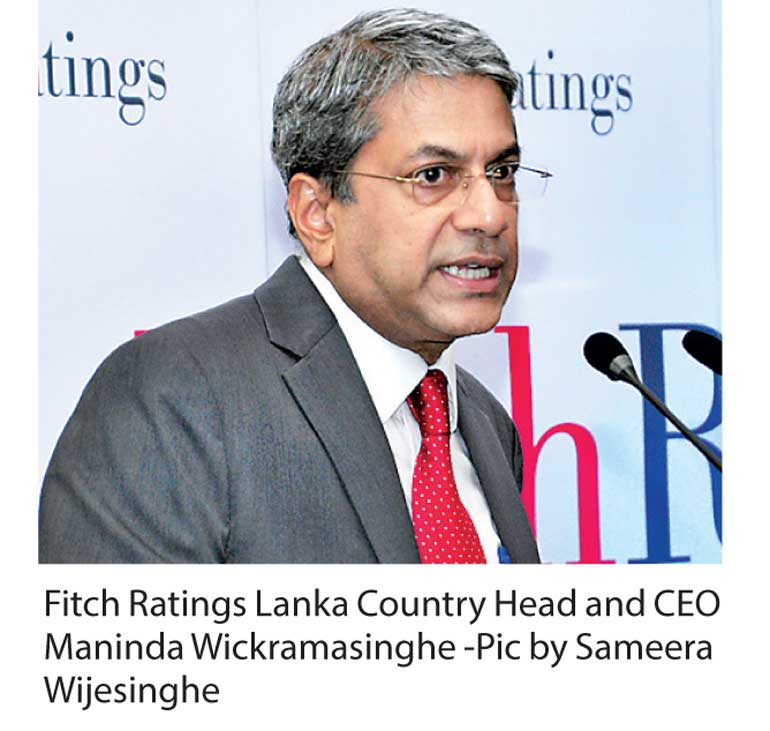 Recalls decade-old master plan yet to be implemented
Says sector expansion almost static, wants private sector to move forward process
Awaits clarity on Finance Ministry debt numbers after AG contradicts annual report
Questions why tax policies that cannot be implemented are announced
By Charumini de Silva

Despite drawing up master plans to accelerate the establishment of a vibrant capital market a decade ago, Fitch Ratings this week termed the endeavour "disappointing" given its extremely slow progress and raised concerns about fresh policies mooted by the Government.

Addressing the third 'Fitch Sovereign and Banking Forum 2017' on Wednesday, Fitch Ratings Lanka Country Director Maninda Wickremasinghe pointed out that at a time when the country is talking of pretty good growth rates, it is extremely disappointing to see the progress of the capital market.

The agency is also "looking for clarity" of the debt numbers that were announced in the Finance Ministry Annual Report 2016 that was contradicted by the Auditor General. The Auditor General refused to sign off on the latest Finance Ministry annual report as its debt record was understated and estimated debt to be 83.3% of GDP and not 79.3% as reported.

"It is more than 10 years since we talked about an accelerated capital market master plan. I did work on that in 2007. We have really not even moved an inch. It is disappointing to see the progress of our capital market in Sri Lanka. I think we have to blame ourselves," he said.

From a rating perspective, Wickremasinghe said the number of corporates, bank and non-bank as well as insurance, was almost static at present.

Noting that the Asian Development Bank (ADB) has allocated $ 250 million for a capital market development program, he said: "Of course they have some caveats but it is really up to us to move this process forward."

He highlighted that if not for the capital market in a country, there is no necessity for a rating agency.

Acknowledging that there is serious concern regarding Sri Lanka's policies, Wickremasinghe questioned the need to announce tax proposals which cannot be implemented.

"We all understand that tax revenue and tax compliance in Sri Lanka is low. Then, why announce tax proposals and not implement them?"

Commenting particularly on the debt issuances, he pointed out that there was ambiguity about taxes among investors.

"There is a queue of debt to be issued and they are not doing it. All these are taking place at a time when we are talking of capitalisation of banks. Of course, corporates are looking for capital," he stressed.

Expressing hope that these two serious concerns will be addressed collectively in the near future, the Country Manager urged all stakeholders to move forward towards a target where the capital market benefits.