President's Office clarifies: rules out SLFP PM candidacy for Mahinda
Nimal, Susil, Anura hold talks with MR in Kandy
Convey that UPFA nomination possible based on conditions; no PM nomination
Vehicle parade to Mahinda's Carlton home in Medamulana today
Supporters and MPs to urge former President to contest parliamentary poll
MR camp switches to plan B; mulling candidacy from new political front
SLFP pro-Maithri faction in late night talks with President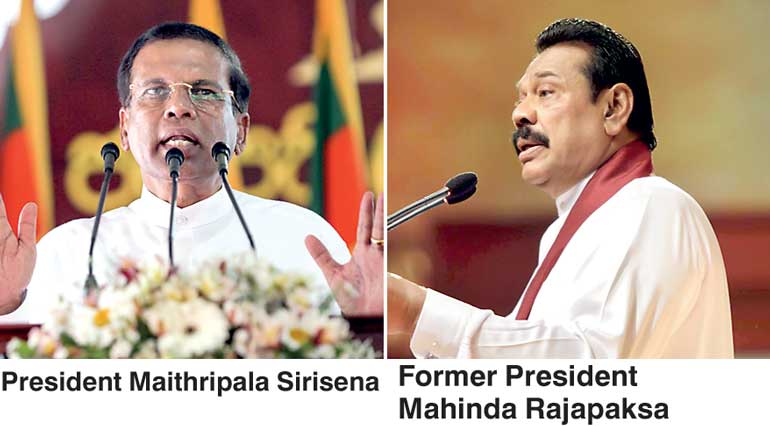 By Dharisha Bastians

The Sri Lanka Freedom Party, the main constituent in political coalitions that have ruled the country for the better part of 20 years looked poised to suffer a major split yesterday, as hopes for compromise between the Maithripala and Mahinda factions appeared to fade after hectic rounds of talks yesterday.

A great game of wits between feuding factions of the Sri Lanka Freedom Party reached crescendo, when President Maithripala Sirisena firmly refused to name his predecessor as the party's prime ministerial nominee in a public statement, hours ahead of a major announcement scheduled by Mahinda Rajapaksa in Medamulana.

"Please be informed President Maithripala Sirisena has not accepted or declared former President Mahinda Rajapaksa to be the prime minister candidate of the Sri Lanka Freedom Party," a statement from the Presidential Media Division released last evening read.

The statement noted that a decision on the appointment of the Prime Minister will be made in consultations with elected MPs in the event the SLFP-led UPFA wins the election.
"No candidate of the SLFP has been named as the party's premier candidate," the statement said, adding that there had been no agreement by Party Chairman Maithripala Sirisena whatsoever to nominate the former President as the party's prime ministerial hopeful.

The clarification regarding SLFP internal issues, released from the President's office was irregular, and came at the back of intense speculation that President Sirisena had agreed to give Rajapaksa nominations on the SLFP/UPFA ticket last afternoon.

A senior SLFP delegation comprising Opposition Leader Nimal Siripala De Silva, SLFP General Secretary Anura Priyadarshana Yapa and UPFA General Secretary Susil Premajayantha met former President Rajapaksa in Kandy last afternoon.

During the discussions, the SLFP delegation put forward President Sirisena's proposals for preventing the split of the party. During the discussion, the former President had been offered a conditional nomination on the UPFA ticket, according to sources close to the SLFP delegation holding talks with Mahinda Rajapaksa in Kandy. The delegation was also to convey to the ousted President that he would not be nominated as the SLFP Prime Ministerial hopeful in the upcoming polls campaign.

Speaking to Daily FT, Rajapaksa loyalist and former Minister Keheliya Rambukwella said the talks between the two sides had ended in a "satisfactory manner".

He expressed confidence that the former President would lead the UPFA's polls campaign.

"It is clear that both leaders do not want to split the party. Both have pressures being brought on them and those are both positive and negative. The bottom line is that to win, we have to be together," Rambukwella explained.

Sources from the Mahinda camp confirmed however that the President had rejected a demand from the faction to have his predecessor named as prime ministerial hopeful of the SLFP. Conflicting reports ensued about a 'deal' struck between President Sirisena and Mahinda Rajapaksa, and accusations that the President had double-crossed the UNP and betrayed the mandate he received from the people on 8 January.

The confusion resulted in the statement from the Presidential Media Division late afternoon, categorically denying that Rajapaksa had been declared SLFP Prime Ministerial hopeful. However the statement from the PMD also failed to rule out a nomination for the ex President on the SLFP ticket, adding to the confusion surrounding the issue.

The presidential statement however caused a major disturbance in the Mahinda camp which felt it was a snub, reliable sources said and prompted the group to begin contemplating its 'Plan B' - to contest as a separate political entity, with Mahinda Rajapaksa leading the campaign.

"A split is imminent," the sources, confidants of the ex-President said late last night.

Large crowds are expected to gather in Medamulana this morning for religious ceremonies to mark Poya day, followed by a special announcement from former President Rajapaksa, widely speculated to be one that addresses the question of his candidacy. A vehicle parade has also been organised as crowds of supporters and politicians flock to Rajapaksa's hometown to beg him to contest the 17 August poll.

Rambukwella told Daily FT he was also headed to Medamulana last night, to participate in the event. Media personnel are also being transported to Hambantota from the Abhayarama Temple in Narahenpita for the event.

The event will be a show of the former President's strength, with the religious activities alone expected to draw a crowd of about 10,000 people, sources from the group indicated.

The pro-Maithripala faction of the SLFP, particularly those MPs who stepped out of the Rajapaksa Government with him last November, continued to express frustration with the situation and the secret negotiations with Rajapaksa. Several of these members were threatening to quit the party and cross over to the UNP, Daily FT learns. However with talks appearing to have ended without agreement for a second consecutive night, the pro-Maithripala group was more confident that President Sirisena had not given into Rajapaksa demands, sources said. Minister Rajitha Senaratne held talks with President Sirisena until late last night at the former's Wijerama Mawatha residence in Colombo, Daily FT learns