Special Cabinet meeting today on crucial electoral reforms
Fresh impetus to push amendment through could see change in seat breakdown
Minority concerns addressed, insists Cabinet Spokesman
CC to function without civil society members; can commence sittings immediately, focus on giving Bribery Comm. teeth
By Uditha Jayasinghe

Conflicting party sentiments on the 20th Amendment will be discussed at a special Cabinet meeting called by President Maithripala Sirisena today, as the latest round of attempts to find consensus to speed reforms through Parliament.

Prolonged discussions on the 20th Amendment had dominated Wednesday's Cabinet meeting, with membe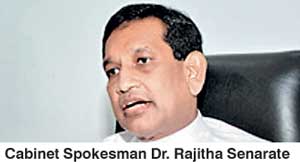 rs expressing differences of opinion over the breakdown of seats allocated for the First Past the Post (FPP) and Proportional Representation (PR) systems. Cabinet Spokesman Dr. Rajitha Senarate insisted the number of seats outside of the National List would remain static at 200 but their distribution could be "adjusted at any time".
"We are confident we can pass this amendment as we did the previous one. The difference is when the debate was on the 19th Amendment it was easy because it was to give away someone else's powers but the 20th is about giving away one's own powers," he quipped to reporters.

Dr. Senaratne also dismissed concerns raised by minority parties over a possible decrease of representation recalling they had the opportunity to "have their voice heard" at the previous Cabinet meeting, which passed Prime Minister Ranil Wickremesinghe's proposals.

Cabinet also paid attention to the stalemate over the Constitutional Council (CC), deciding it could operate with the existing seven members despite three civil society nominees not being appointed after party leaders failed to find consensus.

The seven political members can commence sittings immediately, Dr. Senaratne opined, adding that one of the first institutions to be empowered would be the Bribery and Corruption Commission. However, he admitted the Cabinet had not decided whether to formally notify Parliament of this arrangement.

He also dismissed claims crossover Parliamentarians would rescind their signatures from the no-confidence motion filed against Prime Minister Wickremesinghe, insisting it was not conditional for obtaining portfolios, nor had such a demand had been made by President Sirisena.

Both no-confidence motions against Wickremesinghe and Finance
Minister Ravi Karunanayake remained outside the Order Book of Parliament and would not be taken up for debate, he reiterated.