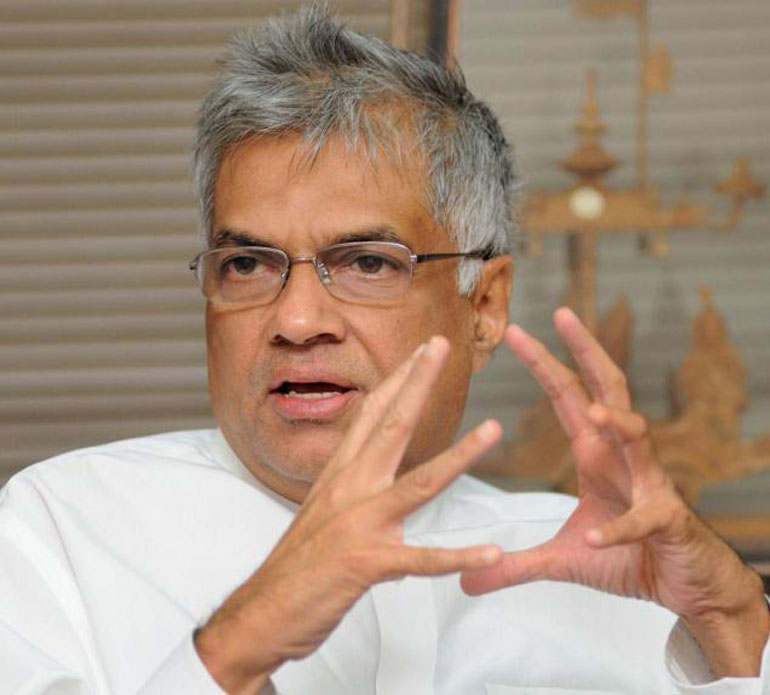 Prime Minister Ranil Wickremesinghe
The UNP yesterday stuck to its guns demanding that number of MPs should be strictly limited to 225 and urged for immediate dissolution of Parliament leading to the conduct of general elections.

The firm stand on the party position was ratified at the Working Committee meeting chaired by Prime Minister Ranil Wickremesinghe. Surprisingly the stand came few hours after the announcement of Cabinet at its third meeting for the week yesterday agreeing to increase the number of MPs to 237 from 225 giving in to concerns from different parties including those representing the minorities and smaller parties.
Despite the Cabinet nod, the UNP Working Committee emphasised that there was no mandate to increase the number of MPs 237 and the party has remained steadfast for a Parliament of 225 MPs.

It was pointed out that the mandate people gave on 8 January Presidential election was to hold Parliamentary elections within 100 days. In view of this, the UNP Working Committee decided to urge President Maithripala Sirisena to dissolve Parliament immediately and go for fresh general elections.


Yesterday's Cabinet decision to increase the number of MPs to 237 was after it approved on Monday a proposal by Premier Wickremesinghe of sticking to 225 MPs though with a change in composition.

That day the Cabinet approved Prime Minister Wickremesinghe proposal that the 20th Amendment to the Constitution should introduce provisions for 125 members of a 225-member legislature to be elected through the First-Past-the-Post (FPP) or majoritarian system, with 75 members elected based on proportional representation (PR). Premier Wickremesinghe proposed that 25 MPs enter Parliament through the national list.


Yesterday›s special and third Cabinet meeting was convened by President Sirisena to reach a compromise after several other parties expressed reservations.


At the UNP Working Committee it was stressed that a small section of the Opposition was holding electoral reforms to ransom to achieve petty objectives. Emphasising the UNP cannot stoop to that level, the party decided to register its strongest reservations on new proposal and urging the President Sirisena to immediately dissolve Parliament and hold fresh Parliamentary elections to enable the people to give a fresh mandate.