Total expenditure estimated at Rs.3.14 t
Revenue, including foreign grants, projected at Rs.1.79 t
To be tabled in Parliament on 23 October
Total borrowings Rs 1.35 t
By Charumini de Silva

Readying to present its first Budget since the formation of a National Government, Cabinet has approved the Appropriation Bill setting Sri Lanka's total expenditure for 2016 at an estimated Rs. 3,138 billion, an official said yesterday.

The total revenue, including foreign grants, is estimated at Rs. 1,789 billion, Cabinet Spokesman Rajitha Senaratne told reporters at the weekly Cabinet briefing.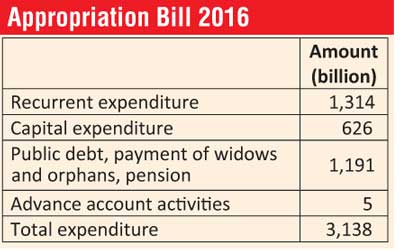 Senaratne added Finance Minister Ravi Karunanayake sought the approval of the Cabinet of Ministers to present the Appropriation Bill for 2016 to Parliament on 23 October.

The total borrowing requirement from both foreign and domestic sources will be Rs.1, 349 billion.

The expenditure provisions covered in the Appropriation Bill have been estimated at Rs. 1,941 billion which consists of Rs. 1,314 billion for recurrent expenditure and Rs. 626 billion for capital expenditure.

In addition, provisions have been made under special laws to service public debt and payment of widows and pension along with other welfare measures amounting to Rs. 1,191 billion.
"The Treasury has conducted budget discussions with Ministries, provincial councils and the budgetary provisions have been made taking into consideration of the total resource envelop available in the medium term 2016-2018," the Cabinet paper presented by the Finance Minister noted.

Meanwhile, Karunanayake had previously indicated the introduction of several policy measures that would be seen in the newly-elected Government's first Budget proposal which is set to be presented to the Parliament on 20 November.

Karunanayake has indicated fresh policies in areas such as open sky policy, vehicle importation and foreigners and land ownership regulations.