By Uditha Jayasinghe

Post-Budget the local business community should, "unzip their wallets" for investment and, "loosen their animal spirits" to drive forward growth, said Central Bank Governor Dr. Indrajit Coomaraswamy, acknowledging Sri Lanka would have to depend strongly on private sector investment in the next two years for growth.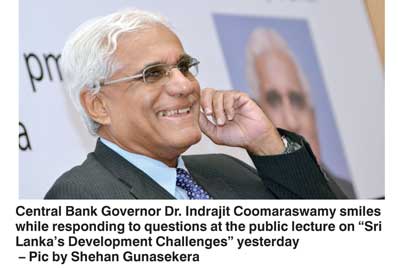 Delivering a lecture titled "Development Challenges in Sri Lanka" organised by the Institute of Certified Management Accou-ntants of Sri Lanka Dr. Coomaraswamy earmarked populist policies linked to an entitlement culture, weak fiscal discipline and a rapidly aging population as the three main hurdles for growth.

"In the next year or two we will really have to see the private sector coming forward and recalibrating their risk appetite for investment. We hope to attract foreign investment as well but the initial impetus will have to be from local businesses. They must look at the next Budget and the policy framework to be presented by the Prime Minister for signals and aggressively invest," he said.

Despite Sri Lanka consistently maintaining high social indicators such as high literacy rates, low maternal and infant mortality rates and long life spans on par with the best economies in Asia, the country had failed to use these advantages to generate wealth in the form of well-paying jobs that meet the aspirations of an ambitious youth population, said the Govenor. Generating large numbers of jobs that pay well had taken a back seat during the past few decades, pointed out the Governor, who also insisted this mismatch in aspirations also, partly, led to two youth insurrections.

Successive Sri Lankan governments also made a habit out of spending past their means, often turning to donors to fund significant budget deficits year after year for decades and failing to use exports and investments as the base for growth. Dr. Coomaraswamy noted that Sri Lanka being a "donor darling" meant that Governments could rely on the international community for as much as 5% of GDP to bridge budget deficits but that reliance ended with Sri Lanka graduating to lower-middle income status.

"If we don't move away from populist polices and entitlement we will be in trouble. Already our debt dynamics are precarious and if we don't change we will suffer. We can no longer count on generous amounts of concessional aid. We have to go to markets. Markets demand discipline, if we don't have that discipline we will pay for it, and we will pay very dearly for it," he said.

He also emphasised that Sri Lanka's impressive social development has resulted in an aging population, which demands additional focus on production and innovation as the country cannot depend on human capital investment alone as most other developing nations.

Therefore, the private sector is essential for Sri Lanka to transition to a new growth model based on fiscal consolidation, exports and investment. The Governor drew examples from other key economies in East Asia that had leveraged on their private sector to foster growth.

"We will have to rely heavily on the local private sector. We simply do not have the fiscal space for a State-led growth drive. In many other countries initially it was the private sector that drove growth and gave the signal to international businesses their country was ready for growth."

Dr. Coomaraswamy admitted the Government has to get its house in order but stressed that work was already underway. He praised the Finance Ministry for maintaining revenue targets despite the delay in the VAT increase and expressed hope for a forward-looking Budget based on more direct taxes and transparency.

"The Government will always struggle with policy consistency for as long as there are large budget deficits. But steps are being taken to put in place more expenditure control in the upcoming Budget. There are also moves to make revenue streams realistic and consistent." A streamlining of the tariff system would also improve investment and liberalise the economy, which would also provide incentives for the private sector, he opined.