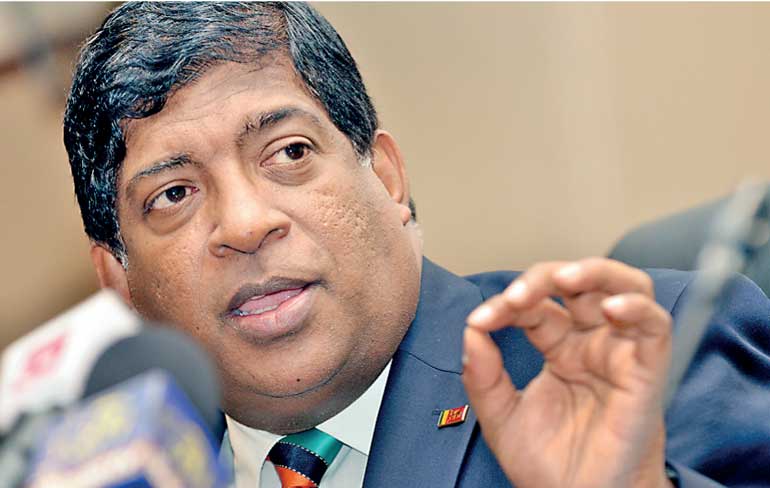 Finance Minister Ravi Karunanayake - Pic by Shehan Gunasekara
By Charumini de Silva

Finance Minister Ravi Karunanayake yesterday confirmed the VAT increase to 15% would be presented for parliamentary approval in the first week of October and would likely generate Rs. 100 billion in additional revenue by the end of 2017 to push forward stronger fiscal consolidation and contract the Budget 2017 deficit to 4.7%.

Despite delays in passing the VAT amendments, Karunanayake was confident of meeting the 2016 Budget deficit target of 5.4%, insisting revenue collection remained "largely on target". Outlying issues within the last Budget such as VAT for non-VAT registered traders would be ironed out in the new Budget to be presented in Parliament on 10 November, he assured.

"There is a small element that needs support. We will induce them to be in the system and we will pay their share."

Karunanayake also denied most Budget proposals had remained unimplemented, pointing out that of the total 410 Budget proposals presented last year over 100 had been put into operation.

He defended this gap by insisting only 10 to 15 of the Budget proposals were of "great importance" and only VAT had taken extra time to be carried out.

The Minister also refrained from commenting on the cash collected before the Supreme Court suspension of VAT stating: "There is a legal lacuna. We have to study that. The Treasury Secretary and my professional team will respond. I do not think I can just give a political answer. It is too premature as it is a legal issue."

Karunanayake slammed the Joint Opposition for threatening to petition against the VAT increase for a second time, insisting all legal concerns had been addressed in the latest round of proposals.

"Some of these politicians are spreading trumped-up stories. These are the biggest challenges in presenting Budget 2017, but I do not foresee any in the immediate future. Other than political hurdles we do not see any future challenges and the Government will work very hard to develop the economy."

The Finance Ministry will adopt a zero-based budgeting strategy for the upcoming Budget. "It is a method of budgeting in which all expenses must be justified for each new period. You take ownership for the claim you make. All monies will be looked at from an internal rate of return, cost benefit analysis, value for money, national planning and treasury before getting the Cabinet approval," he explained.

Commenting on oil cartel Organisation of Petroleum Exporting Countries (OPEC) decision to curtail oil production resulting in prices jumping 5% on Thursday, he pointed that there is no formal increase of prices, which would hit the Sri Lankan economy. "They had agreed to a reduction in supply which will help to push the price up. I hope there will be no impact to us."

"We see there is a serious increase in the areas of foreign and local investments. Spending from one form or the other obviously reflects in the GDP. However, we find the agriculture sector awakening, we find the industrial section really moved up and the service sector has been competitive and aggressive all the way. Therefore, we find those sectors coming forward to bolster growth," he said, maintaining that the Sri Lankan economy would hit its 5% growth target.

Nevertheless, the Minister contended the growth figure for the second quarter, which was just 2.6%, was "distorted" adding that even experts admitted growth should have been better. "Large investments took place during that period and it is a mismatch," he said.
Company registration all seven days of the week
The Department of the Registrar of Companies will embark on an ambitious round-the-week-operation to register new companies and provide data that frequently takes between 2-3 weeks due to bureaucratic red tape, lethargy and excessive paperwork.

The operations of the Department of the Registrar of Companies will be available all seven days of the week from Monday.

Responding to a request made by Finance Minister Ravi Karunanayake, Industry and Commerce Minister Rishad Bathiudeen on Thursday agreed to provide an expeditious service with effect from next week.

"Minister Rishad Bathiudeen agreed to get new companies registered and provide information for the businesses within 24 hours," Karunanayake told reporters noting that the general procedure takes over two to three weeks.

Minister asserted that the extended hours were aimed at enhancing trade facilitation and thereby increasing the economic activities of the country.

"The Department of the Registrar of Companies will be open on all seven days with effect from Monday for the convenience of business. We hope this will encourage businesses and investors, which would eventually be beneficial to the country's economy," he added.