Swire upbeat on reconciliation efforts, insists stronger engagement beneficial to both countries
Multi-sectoral trade mission next month, priority to reduce trade deficit
Stresses elimination of corruption crucial for improved business confidence
By Uditha Jayasinghe

Britain is betting big on Sri Lanka with British companies competing for about one billion pounds in a range of industries and sending a multi-sectoral trade mission next month, said Minister of State for Asia at the Foreign and Commonwealth Office and MP Hugo Swire.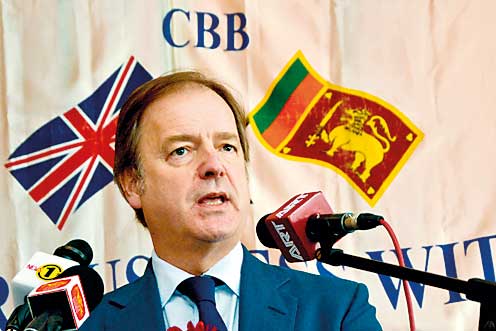 The political changes that have taken place in Sri Lanka has opened up the space for more aggressive investment opportunities to foster economic growth in both countries and pave the way for stronger engagement.

"The Government of Sri Lanka has sent a very clear message to the international community across the world that it is open for business from all corners of the globe. Attracting Foreign Direct Investment is I know a top priority for the Government as it seeks to strengthen the Sri Lankan economy and put Sri Lanka in a stronger position to deal with the global challenges both our countries face," he told the Council of British Business during a special luncheon organised during his short tour of Sri Lanka.

The UK also continues to be among the top 10 investors in Sri Lanka and the Council of British Business has a membership of 158 companies in Sri Lanka with a UK affiliation. The UK is Sri Lanka's third largest market, with exports in 2014 growing a remarkable 36%, to well over one billion pounds, while British exports to Sri Lanka were 165 million pounds in the same year.

"I am pleased to report that the past year has been a very busy one for the High Commission Trade and Investment team. With their support, British companies are now competing for around £ 1 billion of business across a range of sectors.
We are hopeful that many will be successful in a transparent and accountable competitive bidding process."

Britain has made reducing the trade gap a priority with the latest figures showing UK exports to Sri Lanka increasing by nearly 50% in 2015. The Sri Lankan Government was also commended for its anti-corruption stance with Swire stressing the continued assistance from the British Government.

"The elimination of corruption improves business confidence, not only for the existing business community, but it also helps make Sri Lanka a destination of choice for new Foreign Direct Investment. That is good for the UK, as well as for Sri Lanka – because building our prosperity through increasing exports and investment; opening markets; ensuring access to resources; and promoting sustainable global growth is a key element of the UK Government's long term economic plan – and a cornerstone our foreign policy," he added.

Promoting reconciliation would also be the "bedrock" of any sustainable peace and economic growth in Sri Lanka, Swire insisted.