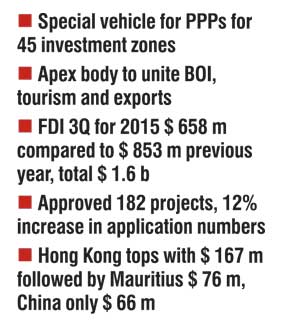 By Uditha Jayasinghe

Investment for the private sector including foreign companies is set to become easier in 2016 as the Board of Investment (BOI) plans a host of new methods including public-private partnerships for dozens of investment zones, reforms and liberalising land ownership, a top official said.

BOI Chairman Upul Jayasuriya will personally be available with his officers to investors under special efforts by the Government to spur Foreign Direct Investment (FDI), he told the Daily FT insisting renewed vigour will be poured into securing investment in 2016.

"I will be available for any investor with all my officers every Monday from 8.00 a.m.-7.00 p.m. by prior appointment. We are also setting up a call centre that will be operational from 6.00 a.m.-10.00 p.m. to advise foreign investors calling from overseas and provide follow up guidance as well," he noted.

The BOI will also be part of a new apex body to iron out issues and reduce red tape with a host of recommendations already handed over to the Prime Minister. Despite 2015 FDI earnings remaining a lukewarm $1.6 billion, officials are confident the new structures will improve rapidity

"The Government is working to establish an apex body not only to facilitate investments but also tourism and exports. That is what the economic agency will be about because the Government has identified bottlenecks in many areas that are procedural or legal.

The new agency will be vested with the authority to look into both these areas and find redress."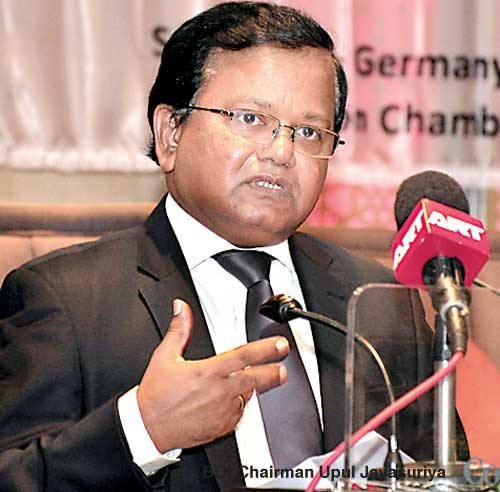 The Government is targeting 45 economic zones to be developed with private sector partnerships, Jayasuriya added. The BOI will provide the land and the investors have to build infrastructure facilities, which will be done under a special joint venture project vehicle to attract investment.

The FDI figure as at the third quarter of 2015 stands at $ 658 million, whereas the corresponding figure in 2014 was higher at $ 853 million. The major sectors that received FDI in 2015 were manufacturing at $ 199 million, followed by tourism at $ 161 m, housing and property development with $ 116 million, telecommunications at $ 93 million and port development activities with $ 51 million.

"Although uncertainty prevailed in 2015, mostly due to political changes, the BOI was able to attract 249 investment applications while approving 182 projects during the first ten months of the year. This was a 12% increase of applications and 6% rise in approvals"

Major FDI sourcing countries include Hong Kong $ 167 million, Mauritius $ 76 million, Netherlands $ 69 million and China $ 66 million. For full report see page 15.