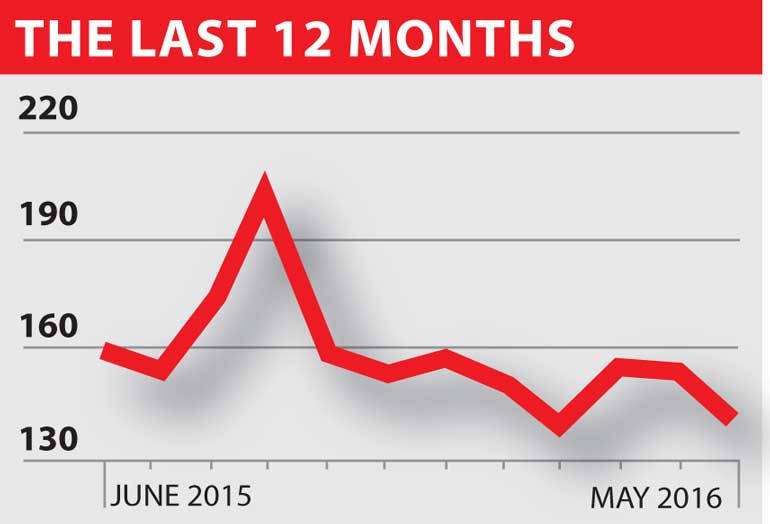 The May LMD-Nielsen Business Confidence Index (BCI) reflects a southbound trajectory, where the unique barometer of corporate sentiment dropped sharply to 141, and now lies well below its 12-month average (158), the latest edition of leading business magazine LMD reports.

LMD quotes Nielsen's Managing Director Shaheen Cader, who says: "The BCI's plunge of 13 points has largely come about as a result of the implementation of VAT amendments."

Cader also notes: "While businesses expect to be negatively impacted in the short term, as well as over the next 12 months…, the percentage of respondents who are optimistic about the state of the Sri Lankan economy has increased from 32% in April, to 40% in May, indicating that the business sector is aware that the Government needs to raise tax revenue (to address the widening budget deficit)."

However, the exclusive monthly survey reveals that businesspeople have different views about the future direction of the economy. While the majority expect it to improve, just over a third of those polled say conditions 'will get worse,' and a further 26% are 'unsure' of what to make of the status quo.

A spokesperson for the magazine notes that "where business prospects are concerned, the corporate community is optimistic and expects better conditions, with a slim majority endorsing this view." She adds: "But the VAT rate hike and policy inconsistencies have been identified as key concerns."

As for the outlook in the medium term, LMD states: "With further austerity measures likely to be implemented, on account of having to adhere to bailout conditions set by the IMF, businesspeople had best be prepared for further belt-tightening – and the BCI, in turn, could come under continued pressure."

The June edition of the magazine will be released to book stores and supermarkets on Friday, 10 June (for the full BCI report, go to www.LMD.lk).