Prime Minister and Vasudeva engage in tirade in Parliament
Speaker Chamal Rajapaksa warns veteran left-wing MP over use of foul language as PM given lessons of Standing Order and Point of Order; PM rises to challenge with canny remarks
Ranil exposes ex-CB Chief Cabraal about private placement of Govt. securities and asks why Opposition is silent about irregularities of previous regime and gunning only for Mahendran
Heated arguments between Govt and Opposition MPs over Treasury Bond fiasco and experts committee report
By Ashwin Hemmathagama Our Lobby Correspondent

During an adjournment debate on the report of the committee appointed to look into the controversial Central Bank bond issuance, Opposition lawmaker Vasudeva Nanayakkara directed a torrent of abuse at Prime Minister Ranil Wickremesinghe.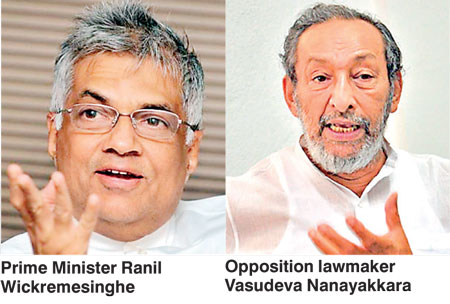 Speaker Chamal Rajapaksa warned Nanayakkara over his foul language, pointing out that there were schoolchildren present at the public gallery.


"You know nothing about either a Standing Order or Point of Order. You are not willing to listen. How can you make me sit? You sit! The Speaker has given me permission to move the Point of Order. I respect the Parliament. I stood for my Point of Order. If I can't stand for a Point of Order, what sort of a Parliament is this? What sort of a Prime Minister are you? You have mixed up your job," an indignant Nanayakkara said while raising a Point of Order.


"I promised that the consultative committee of my Ministry would be summoned to discuss the contents of this report. As far as this report is concerned the committee said there was no loss to the Treasury. This report has also criticised the shady transactions that took place from 2012-2015. It is there on the third page of this report. This report is not only about Arjuna Mahendran but also about the pervious Governor. Why not bring Ajith Nivard Cabraal to COPE to ask him how he approved borrowing without a tender committee? Are you protecting him?" Wickremesinghe asked.


"To make it fair for the previous Governor, shall we put this first to COPE or just take it up now in the House? There is direct fraud in this. No reports were found. We need to call the officers and give them a chance to respond to the fraud which has taken place from 2012-2015. This fraud took place during the rule of your Government. Vasudeva, you don't know anything about these matters. Shave off your beard; that will allow you to grow some sense."


Prof G.L. Peiris, seeking an adjournment debate on the matter on par with Standing Order 17 said: "Based on the report the committee appointed to investigate the Central Bank bond issuance presented in this House on Tuesday an adjournment debate is requested. There are a few important facts in this report and we suggest that it should be taken up during this debate."


Leader of the House, Plantation Industries Minister Lakshman Kiriella, reminding Parliament of the directive the Speaker gave on Wednesday to allow COPE to investigate, said: "A report is expected after two weeks from COPE. What G.L. is bringing in is a motion which is totally against yours. When you have appointed a committee headed by D.E.W Gunasekara, an opposition MP, we are sure that he will make a fair decision. We must respect your decision Speaker. We shouldn't debate about a person who was freed by the Supreme Court. We are yet to get any court details. This is nothing more than a effort taken to tarnish the Government's image."


"The Parliament shouldn't start allowing no-confidence motions against Government servants. It sets a bad example which will even lead to debates over no-confidence motions against Grama Sevakas," he added.


Opposition legislator Bandula Gunwardane said: "The Parliament has finance powers. The Government uses Treasury bonds and Treasury bills to borrow money. The Prime Minister has tabled the report and we will not move the no-confidence motion against Arjuna Mahendran. We will only debate the report. Nothing will be discussed beyond this report."


Weighing in with his view, JVP Leader Anura Dissanayake said: "During the last Party Leaders Meeting we requested a debate based on the findings of this report. We should be given a chance to express our views about this report and the findings in it. An agreement was made to hold the debate and I don't understand why it is not being allowed. Your directive to allow COPE to investigate is different and it will have no bearing on a debate about the report. A COPE decision will lead to the removal of the person from office."


Criticising some of the select committees that have failed to function after the new Government was elected, Prof. Rajiva Wijesinghe stated: "Having read the report it is absolutely essentially to debate it in Parliament. It makes some startling comments and suggestions which require further inquiry. I don't think this is an adequate report. Given its recommendations any responsible Government anxious to oppose corruption as this Government claims it is keen to do would have immediately instituted the recommendations in their own report. So much time passed without any action taken. Hardly any committees of the Parliaments are functioning according to a schedule I got on Wednesday from the Committee Office. Despite the pledged in the President's manifesto to strengthen the committee system, only four consultative committee meetings were held in over 125 days. This has never happened in a Sri Lankan Parliament before. COPE has not met for four months."


Supporting the decision of Opposition lawmakers to have an adjournment debate, MP Ajith Kumara said: "Any report tabled in Parliament is allowed to be debated. We shouldn't be debating about having a debate on such a report. Secondly, the Prime Minister has moved the debate. If Arjuna is so clean why are you afraid to allow a debate? Allow the debate. I have taken out my adjournment debate to allow this debate. I may be in favour of it or against it, which is not the point. We all have to respect the right of others to express their opinion."
---
CB to issue $ 100 m development bonds
Central Bank has announced that it plans to sell US$ 100 million worth of development bonds to foreign and local investors.

The Public Debt Department of Central Bank will issue US$ 100 million in Sri Lanka Development Bonds of 1 year 1 month and 2 years 11 months tenor.


Minimum investment is US$ 100,000 with additional investments in multiples of US$ 10,000. The bonds are exempted from income tax paid in Sri Lanka.


The issue will be open for subscription from May 22 to 28.