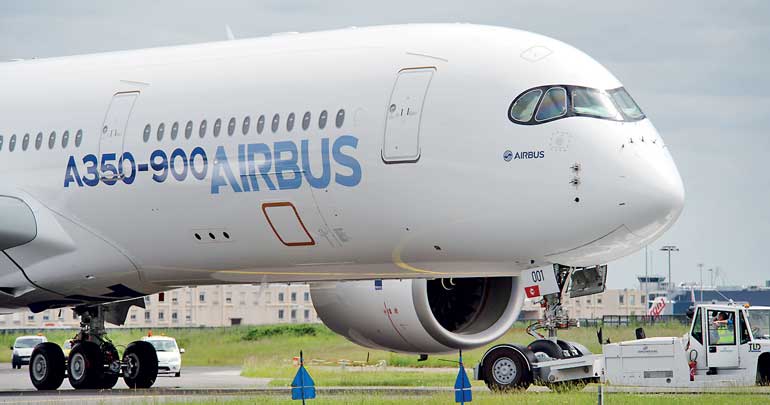 Reuters - Airbus is willing to change the terms of an order for four A350-900s from SriLankan Airlines to different planes, the struggling state-run carrier said on Friday.

The debt-laden national airline has already canceled four of the eight A350 aircraft it ordered from Airbus Group SE while it searches for a new international partner to revive its fortunes.

"Airbus is willing to change the terms of the contract for a different set of (aircraft)," SriLankan Airlines CEO Suren Ratwatte told Reuters.

"We are in consultation with shareholders as to how best we can deal with this," Ratwatte said. The airline's losses more than doubled in the year to the end of March 2017 from the previous year, mainly hit by high costs of cancelling leases on Airbus aircraft.

Ratwatte did not elaborate on which models it was looking to buy instead of the A350s.

Airbus officials declined to comment.

Industry sources have said the aircraft are owned by AerCap . The Dublin-headquartered leasing company was not immediately available to comment.

Separately, SriLankan Airlines on Friday said its losses more than doubled in the year that ended March 2017, hit by high costs of cancelling leases on Airbus aircraft and partial closure of the country's main airport.

The state-owned national carrier, which is looking for an international partner to help revive its business, incurred an annual loss of Rs. 27.79 billion ($182.50 million), versus a loss of Rs. 12.08 billion a year ago.

"The airline continues to pay a heavy price for the extremely high lease rental agreements entered into by the previous government," SriLankan Airline said in a statement.

"The cost of terminating the leases on four A350-900 aircraft that were grossly overpriced and completely unsuitable for the national carrier, imposed a further burden on the airline," it added.

More than half of the company's loss last year was due to a compensation of Rs. 14.36 billion for the cancellation of aircraft lease agreements.

Results for the 2016/17 year came under added pressure due to a runway re-surfacing project at Sri Lanka's main airport that forced the airline to cancel more than 600 flights over January to March, equivalent to two weeks of scheduled services.

SriLankan Airlines was a profitable 10-year joint venture with Dubai-based partner Emirates Airline until the pair split in 2008. Mismanagement in the years since has left it with a debt of about $3.25 billion. It last made a profit in 2009, a year after Emirates sold its stake.

The current Government has been able to attract several bidders, including U.S. private equity firm TPG and investment manager BlackRock Inc, for a 49 percent stake in the carrier, but the airline has so far failed to find a partner.

TPG, one of three bidders short-listed, pulled out of talks about the potential acquisition last month.