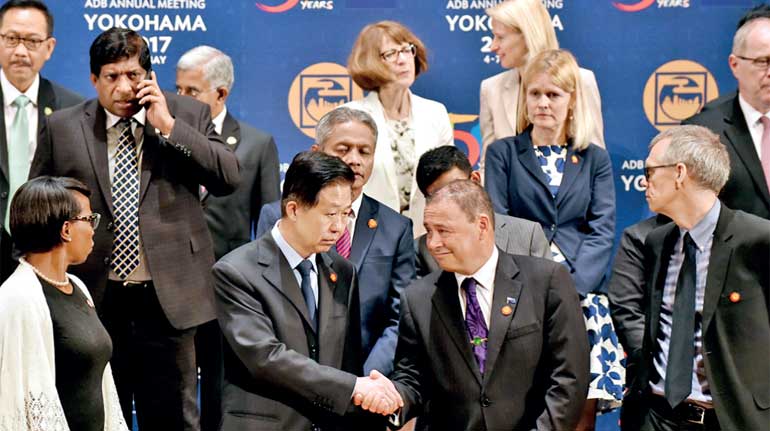 Finance Minister Ravi Karunanayake captured by an AFP photographer perhaps answering an important call just before Finance Ministers from Asia gathered to take a group photo at the opening of the Asian Development Bank's 50th Annual Meeting in Yokohama on Saturday
​Support commitment increased from $ 400 m to record $ 800 m
Commends SL for high-quality infrastructure
$ 1 b railway master plan to commence work next year
Urges more FDI, exports
Charumini de Silva reporting from Yokohama, Japan
As promised by Asian Development Bank (ADB) President Takehiko Nakao during his visit to Sri Lanka last year, the bank yesterday confirmed that it has doubled its lending capacity to $ 800 million this year.

"Sri Lanka's annual allocation was around $ 400 million per year and this year it has been increased to $ 800 million. We have just doubled the lending. This is the highest we have allocated to the country," ADB South Asia Department Director General Hun Kim said at a media briefing held on the sidelines of the 50th ADB Annual Meeting in Yokohama, Japan.

As far as infrastructure development was concerned, he said that Sri Lanka was a good example of high-quality infrastructure in the South Asian region, saying it was time that the country scaled up to advanced infrastructure development projects.

"Sri Lanka already has quality infrastructure, it just needs to have advanced infrastructure, which could fast-track the next phase of development of the economy," he added.

However, he pointed out that transportation remained a key challenge in Sri Lanka's development process, asserting that ADB was currently collaborating with the Sri Lankan Government on developing a railway master plan, which is scheduled to commence next year with a funding facility of over $ 1 billion.

"As an infrastructure development bank, ADB is more into bigger and national level development in the country. The first phase of the railway master plan will be around $ 300 million, which will commence next year," he added.

While commending Sri Lanka for its efforts in power generation, he said that there are concerns over the stability of power in the long term, and that ADB was keen on supporting Sri Lanka on renewable energy projects in the future.

"Depending on the project readiness, ADB is ready to fund infrastructure development in Sri Lanka," he said, adding that Sri Lanka was one of the countries which had benefited the most and was the fastest to receive funds from ADB.

Stating that foreign direct investment (FDI) was a key driver of growth in South East Asia, Kim said that Sri Lanka has the scope to attract more FDIs.

"Except India, FDIs in other countries in South Asia are low. FDI and exports are two areas where Sri Lanka has an opportunity to gather faster economic growth," he stated.

He also said that the bank was involved in major development projects in Sri Lanka, including the flagship project the Western Region Megapolis, Trincomalee industrial development program and Colombo Port East Container Terminal advisory services.

In addition, he said that ADB has commenced a rural road development program worth $ 1 billion, which will help Sri Lanka to connect every small village. ADB is also working on capital market development to mobilise more funds towards the economy.