Committee of Six submits report to President Sirisena
President to make key decision on Mahinda's candidacy today
MR to make address in Medamulana tomorrow
Cannot campaign beside Mahinda and corrupt cronies: Arjuna Ranatunga
By Dharisha Bastians

President Maithripala Sirisena is expected to make a crucial decision today as to whether he will offer his predecessor Mahinda Rajapaksa a slot on the SLFP ticket, and allow his party to contest with other constituent parties in the former ruling alliance that have been staunch critics of his six-month-old administration.

The SLFP Committee of Six, tasked with uniting the two warring factions of the SLFP, submitted its report to President Sirisena yesterday with their observations and recommendations.

President Sirisena also met with leftist parties and several other groups that made representations to him on the issue.

The Committee of Six was keen to get a compromise on a national list seat or elder statesman position for the former President in the absence of a nomination on the SLFP list, Daily FT learns.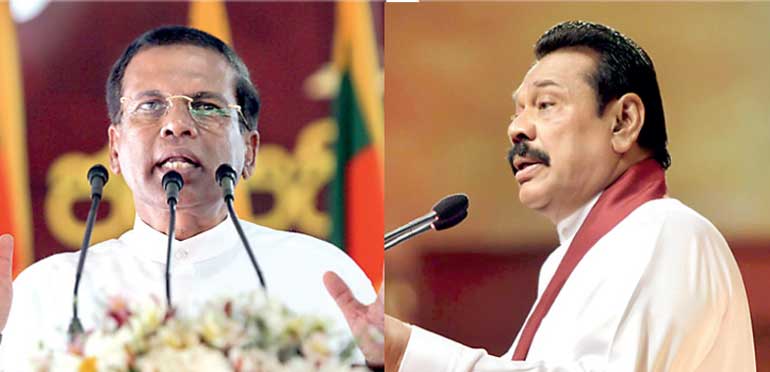 Conflicting reports emerged yesterday regarding the negotiations, with some sources indicating that the former President would get the nomination while others said President Sirisena had flatly refused to put him on the SLFP list. Negotiations were also underway to get consensus that would allow all parties in the current UPFA to contest together.

However, this would mean Wimal Weerawansa's NFF and Dinesh Gunewardane's MEP - staunch critics of the current administration - would also contest under the same banner as the Sirisena-led SLFP at the poll.

A decision from President Sirisena on the issue is expected today. Former President Rajapaksa is scheduled to make a special announcement in Medamulana tomorrow, most likely based on Sirisena's decision today, sources said.

Meanwhile, the first SLFP dissidents to join ranks with Maithripala Sirisena when he first stepped out of the Rajapaksa Government in November last year, were expressing a sense of betrayal yesterday about the fact that President Sirisena was considering granting the former President a nomination from the party and joining forces with the pro-Mahinda faction.

Ports Minister and SLFP MP Arjuna Ranatunga argued that if President Sirisena agreed to give Mahinda Rajapaksa nominations, it would be tantamount to a "betrayal" of the mandate he received on 8 January this year.

"President Sirisena cannot betray his mandate. The people voted for him in a rejection of Mahinda Rajapaksa. So it's a big problem for me as to how he can even get on the same campaign platforms with him," Ranatunga charged in an interview with the BBC yesterday.

Ranatunga said President Sirisena was a man who deeply loved the SLFP.

"But I believe that it is more important to protect the country rather than a party. Even if the SLFP splits, it will split between the forces of good and bad. The good people will be on our side. The people will then decide who is best suited to lead," Ranatunga added.

He said that even if the UNP wins the election, President Sirisena would be respected as leader who thought it was better to be defeated than to ally with corrupt politicians. "Our aim should be to defeat the UNP, but if we choose to do that with people who are corrupt on our team, that is a great disservice we are doing to the country," the former cricket skipper explained.

"If the pro Mahinda group contests with us, how do we go before the people and ask them to vote for us when we are standing with these crooks and rogues?" Ranatunga asserted.

He warned that a decision by President Sirisena to bring Mahinda Rajapaksa and his cronies back into the fold could be politically fatal for the incumbent President himself.

"They will bring corruption charges against him, they will try to get him removed from office - and they could even threaten his life," Ranatunga said.

The SLFP politician said he would personally have to make major decisions if President Sirisena opened the doors to the Mahinda faction to contest on a single platform.

"All of us, Chandrika Kumaratunga, myself, we placed a great deal of faith in Maithripala Sirisena when he decided to contest the presidency against Mahinda Rajapaksa. That is a trust he could uphold or betray, that would be up to him," Ranatunga said.