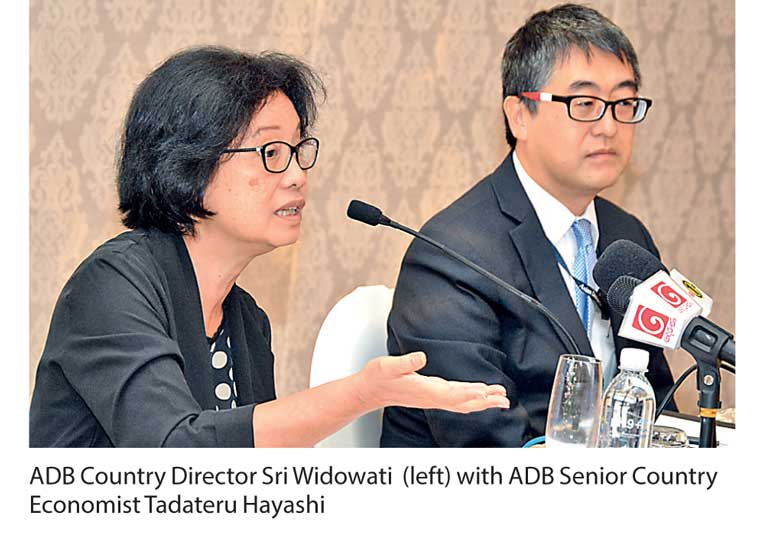 New country partnership strategy for 2018-2022 to focus on strengthening drivers of growth by promoting diversification of economic activities and productivity enhancement
By Charumini de Silva

The Asian Development Bank (ADB) has earmarked up to $ 5 billion to work on a new country partnership strategy (CPS) for 2018-2022, with the Government to address policy reforms and growth-oriented infrastructure as well as strengthen drivers of growth through sustainable, inclusive and environmentally friendly solutions to help Sri Lanka's transition to upper middle income country status.

Under the new five-year CPS, ADB is committing around $ 800 million-$ 1 billion per year, while technical assistance is expected to amount to about $ 8 million a year. In addition, ADB will also increase its private sector operations by expanding into non-finance sectors.

"Our CPS for 2018-2022 will focus on two strategic objectives, which are to strengthen the drivers of growth by promoting diversification of economic activities and productivity enhancement as well as to improve the quality of growth, promoting inclusiveness," ADB Country Director Sri Widowati told journalists in Colombo yesterday.

She pointed out that in its new CPS ADB aims to respond flexibly to the evolving demands of the Government. "ADB will therefore continue to invest in programs and projects in sectors where it has strong operational experience, while exploring new areas that will put the country further toward reaching upper middle income country status.

In the process, ADB operations will also promote inclusiveness, strengthening the environment, climate change and disaster risk management and promote gender equality," Widowati added.

Elaborating on the ADB's future direction, ADB Senior Country Economist Tadateru Hayashi outlined policy reforms, higher education and the health sector as some of the new focus areas the organisation will address under the CPS designed for 2018-2022.

To help create a better environment for private sector development, ADB will work on strengthening the legal system, developing capital markets, establishing a credit guarantee institution for small and medium-sized enterprises (SMEs) and facilitating public-private partnerships (PPPs).

"In terms of policy purposes, we are undertaking a study for developing a comprehensive plan for the Colombo-Trincomalee Economic Corridor to develop urban areas with industrial zones, commercial and residential areas. We identify what sectors have the potential for future development and based on the study, it will act as a guide where advanced infrastructure is needed," he said.

There will also be a focus on strengthening State-owned enterprises (SOEs) and management, especially with the Ceylon Electricity Board, National Water Supply and Drainage Board, Road Development Authority, Sri Lanka Railways and Sri Lanka Ports Authority.

Further, it was noted that for Sri Lanka to move toward upper middle income status, better human capital resources were vital. "ADB will also support human capital development through secondary education, technical training and higher education, building linkages with emerging jobs."

To promote greater inclusiveness, ADB will complement the Government's plan of modernising agriculture and diversifying production into high-value crops to increase the productivity of workers.

Meanwhile, the ADB's private sector operations will explore business opportunities in the entire agriculture and food value chain.

In addition, ADB will provide relevant knowledge products, promoting best practices, laying the foundation for innovations and increasing the absorptive capacity for new technologies. It will require ADB to be engaged with the Government, development partners and think tanks on a continuous basis.

While commending the performance of Sri Lanka in categories such as starting a business, getting electricity, trading across borders, dealing with construction, protecting minority investors, paying taxes, registering property, Hayashi said the country now needs to focus on resolving insolvency, getting credit and enforcing a contract.

"For insolvency we have just started this year, a technical assistance for the Justice Ministry on a sector reform program. We are focusing on areas of commercial law," he added.

Robust economic growth has brought Sri Lanka close to upper middle income status. This growth, along with extensive coverage of Government-financed education and healthcare, has led to poverty more than halving from 15.2% in 2006-2007 to 6.7% in 2012-2013. The country also made good progress in human development and has been successful in developing basic infrastructure. However, he said that Sri Lanka faces macroeconomic management challenges for which the International Monetary Fund (IMF) has created a program.

Further, the manufacturing and export bases of the economy need to be diversified and the declining trend of exports to gross domestic product (GDP) reversed since the limited size of the domestic market will constrain growth. "It is therefore necessary to catalyse domestic private investment and attract higher foreign direct investment. Further challenges include reducing remaining poverty, narrowing inequalities, achieving more balanced geographical development and maintaining environmental sustainability."

To address these, ADB plans to strengthen infrastructure, especially in the transport, energy and urban sectors. In the transport sector, ADB will improve connectivity by providing support for roads, ports and railways. In urban areas, ADB will continue to support water supply and sewerage systems. In the energy sector, ADB's work will focus on expanding nontraditional renewable energy using wind and solar energy.

Last year ADB approved a total of $ 757.9 million as loans and technical assistance, out of which $ 699 was through public loans, $ 50 million was through private sector loans and $ 8.9 million was provided as technical assistance.

Based in Manila, ADB is dedicated to reducing poverty in Asia and the Pacific through inclusive economic growth, environmentally sustainable growth and regional integration. Established in 1966, ADB is celebrating 50 years of development partnership in the region. It is owned by 67 members—48 from the region. In 2016, ADB assistance totalled $ 31.7 billion, including $ 14 billion in co-financing.