Investors sought via key road shows in Japan, Germany, India, China and Singapore
Govt. sees opportunity to transform "from an island nation to a continent"
By Charumini de Silva

The first phase of the Government's flagship project, Western Province Megapolis, will be unveiled later this month and require an impressive investment of $44 billion.

Megapolis and Western Development Minister Champika Ranawaka said the Government is also planning key road shows in Japan, Germany, India, China and Singapore to attract investors to the project.

Western Megapolis is Sri Lanka's grand strategy to propel the country's brand to achieve the status of a high income developed nation by 2030, he noted.

"In Sri Lanka the Government is investing about $30-$35 billion per annum and our target is $44 billion for the next five years," Ranawaka said making a presentation on 'The Vision of Megapolis and Investment Opportunities' organised by the Sri Lanka-Italy Business Council of the Ceylon Chamber of Commerce in Colombo yesterday.

He went on to say that the plan would be funded by the Government of Sri Lanka, private sector, foreign Governments and foreign investors.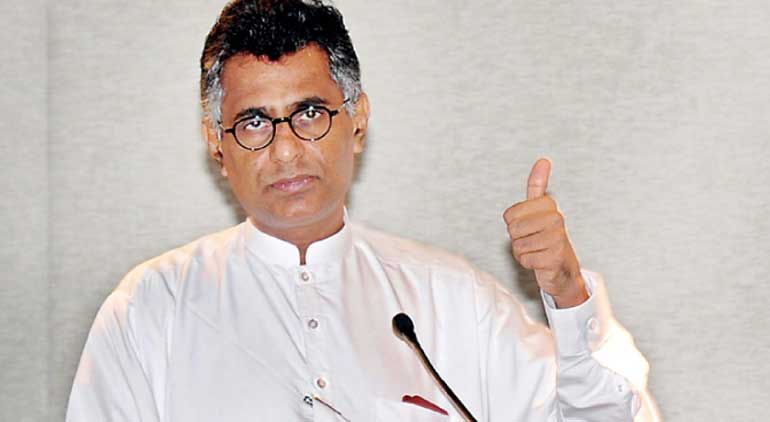 Megapolis and Western Development Minister Champika Ranawaka giving the Megapolis a confident thumbs-up during the presentation? – Pic by Lasantha Kumara


In addition assistance from the Asian Development Bank (ADB) and other international funding institutions will also be provided to promote the infrastructure development of the phase I development plan.

"Our sole aim is to achieve at least 7% or more GDP growth by way of facilitating this Western Megapolis," he said.

The Minister outlined economic growth and prosperity, social equity, environmental sustainability and individual happiness as the four pillars of guiding philosophy in the national drive towards developed country status.

Ranawaka said the development plan for the next five years is to create investment opportunities in over 200 different projects already identified for implementation.


Noting that the world was well set for re-emergence of Asia's economic power, he pointed out that Sri Lanka strategically located between Dubai and Singapore could become the ideal spot to have a Megapolis in South Asia.

The Megapolis is the Government's grand strategy to eliminate congestion pressures on urban physical infrastructure including transport, housing, and the environment, while enabling the country to optimally harness economic growth.

The venture will be implemented in two fundamental transformations – one is the structural transformation of the economy from agro to service based manufacturing with an innovation driven economy and the second transformation, according to the Minister,would revolve around the spatial transformation of urban infrastructure that would reduce the capital investment cost of infrastructure provisioning.


In addition he also stressed on 10 key objectives that would be achieved by 2030.These 10 targets include per capita income rising to $12,000, exports exceeding 30% of the GDP, establishing digital infrastructure, self-sufficiency in energy, food and pharmaceutical by 2030, housing for all, unemployment at less than 1%, education sector upgrades, to make Megapolis one of the top 10 mass livable cities in Asia, and ensure environmental sustainability and disaster resilience.

"We have grouped into 10 mega projects the majority of the development activities that are identified in the planning process based on a mainly functional and geographic categorisation. The first three are major infrastructure development projects and others represent different development projects and their combinations," he told the gathering.


The 10 mega strategic intervention project are: transport, energy and water; housing and relocation of administration; environment and waste management; aero, maritime and trade hub; high-rise Central Business Districts (CDBs), industrial and tourist city; science and technology city; eco habitat and plantation city; smart city development project and tranquillity and spiritual development facilitation.

Noting that 2016 was a decisive year, Ranawaka asserted that Sri Lanka should capitalise on these opportunities to transform "from an island nation to a continent".

"In the past we have lost opportunities given to us; we should not repeat the same mistakes again. This is the last chance for us to move forward and to transform into a high income country. We should not be confined to this tiny island, we hope that this island can be transformed into a continent," he stressed.


However, the Minister cautioned on the gloomy global economic situation but asserted Sri Lanka could have the chance to offset global vulnerabilities.

"I think a lot of enthusiasm is there, but unfortunately the global economic situation is not so good for investments this year. It is a gloomy year for the entire world, but Sri Lanka is stable compared to most of the countries, as we have achieved peace," he said.

He pointed out that priority would be given to local entrepreneurs and developers who wish to invest on the proposed project and would gradually advertise and publicise the projects so it would be an open competitive process.