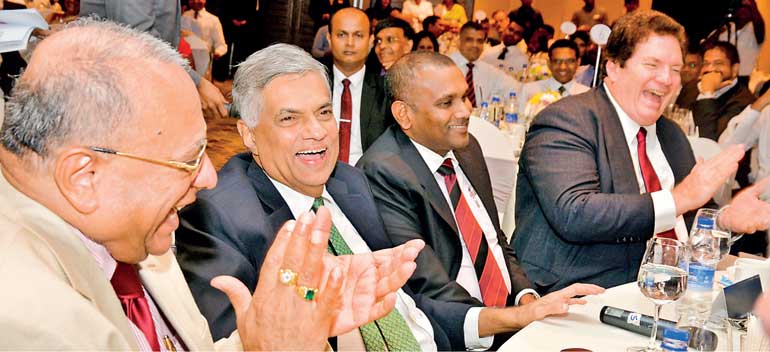 LOL! Applause and Laugh. Prime Minister Ranil Wickremesinghe laughs amidst applause from AMCHAM Sri Lanka Past Secretary Nimal Cooke (Left) AMCHAM Sri Lanka Secretary Jim McCabe (right) along with AMCHAM Sri Lanka President Ravin Basnayake during the packed "Prime Minister Speaks" event at the Hilton Colombo

- Pic by Upul Abayasekara.
$ 2.5-$ 3 billion FDI expected in 2017
Further growth touted from 2018 and beyond
Govt. urges private sector to invest without hesitation
Agency for Development promises 10-day approval for projects
By Madushka Balasuriya

Following dismal Foreign Direct Investments (FDIs) in 2016, Prime Minister Ranil Wickremesinghe yesterday offered a much brighter forecast for 2017, with "at least" $ 2.5- $ 3 billion inflows and much more next year and beyond.

A large portion of this depends on the progress made on the Public Private Partnership on the Hambantota Port and the Port City. However, the Premier emphasised the move away from taxpayer-funded infrastructure growth to private sector-based investment is expected to be the real "game changer" in the upturn in FDI fortunes going forward.

"In 2017 there will be investments coming in. You can see the Port City project going ahead, and investments in Hambantota, but we have to increase from 2018, 2019 and 2020. So what we're doing is a game changer, we're going out of public funded infrastructure to private sector investment based on exports and tourism," Wickremesinghe told the American Chamber of Commerce (AmCham) event 'The Prime Minister Speaks' yesterday.

He noted that attracting investment from major markets in Asia, such as China, Japan and Singapore as well as Europe, would be key.

"It's not a question of waiting till investors come to Sri Lanka and turn up at our doorstep to find what they can do. We have to go out and tell them why they should come to Sri Lanka and why it is good for business," he added.

Sri Lanka saw a 54% drop in FDI in 2016 as compared to 2015, with only $ 450 million worth of foreign investment entering the country. Compared to Sri Lanka's peak of $ 1.6 billion in 2014 that is a substantial drop, which led to Development Strategies and International Trade Minister Malik Samarawickrema recently admitting that it was "extremely low by any standard."

Finance Minister Ravi Karunanayake, fielding questions from the audience at the event, however posited that previous numbers were boosted by Chinese loans and that the present figures more accurately reflected the state of FDI in the country.

"With the last Government, if you get a loan from China and build a road that goes as FDI," quipped Karunanayake.

"Today certainly it (FDI) is low, but that's why we're trying to get the private sector to come in more. That is why we are trying to de-bureaucratise the economy, as well make the Agency for Development a zonal body which will be able to give approval for a project in 10 working days," Karunanayake assured.

He added that once these bottlenecks were eradicated it would create a more conducive climate for investment, and drag the private sector out of its present "lackadaisical" approach to investment.

"The private sector should get away from the 'wait and see' policy and trust the Government's 'go for it' policy," the Finance Minister urged.

Key to regaining private sector confidence is the expedited setup of Sri Lanka's much-awaited AFD. It will be an unincorporated board which will coordinate the country's investment, export and tourism drive - something which has been separate in Sri Lanka thus far, explained the Prime Minister.

"Under the AFD we will assign whatever functions to be done by the BOI, by the export development board, by the tourist board and maybe other agencies. That's why I need you'll [the private sector], because I know the expertise is not available there; so there will be committees and taskforces that will also be assigned work by the AFD."

"These are the game changers that will take place because bureaucracy has been extremely slow and this an area where the Economic Affairs Committee headed by the Prime Minister will be the central point of approving," added Karunanayake.

'Prime Minister Speaks' in a nutshell

During his keynote address, the Prime Minister touched upon several areas of national interest and elaborated on plans to take Sri Lanka beyond its Asian counterparts. Referring to the work being put in by the present regime as Sri Lanka's "last chance", Wickremesinghe joked that failure would result in the country slipping behind even war-ravaged Afghanistan.

However, despite his cheery demeanour, he reeled off several issues that needed to be dealt with, admitting that 2016 was a "tough year", attributing this to the need to stabilise the economy.

"If you know the enormity of the economic problems we faced, the best way out was to form a national government. We were beyond our eyebrows where debt was concerned. In the last year we have bought ourselves a breather, we've got some space. But now we have to go forward."

The next step, he said, would be in handling the country's balance of payment deficit, with the second being to create employment. "Both are interlinked," he noted.

Citing Sri Lanka's dependence on traditional exports, such as apparel, Wickremesinghe referenced a Harvard study which described this as a structure for a low-income rather than middle-income country. "We can't depend only on apparel," he bemoaned.

The Prime Minister also announced that long gone were the days in which the country could fuel its growth through foreign loans to build infrastructure. Infrastructure, he said, was good but wouldn't create jobs.

"We have put a lot into infrastructure, we have a good road system which when completed will take us from Kandy to Hambantota just in a few hours' time. We're ending up with two harbours and two airports not counting Trincomalee."

Wickremesinghe expanded on plans to grow Sri Lanka's infrastructure, elucidating on plans to develop "two different corridors". The first is the southwest corridor from Kandy to Hambantota, which is very attractive to many manufacturers, he noted.

"This is the most developed infrastructure in Sri Lanka. At one end we're going ahead with our agreement for the Hambantota Harbour. We're looking at the development of the Mattala Airport and the development of a Ruhuna economic zone, where land will be made available for investors."

The second, he said, would be an economic zone in Matale, in which the Government is in discussions with the Andhra Pradesh Industrial Infrastructure Corporation about forming a partnership. Galle, meanwhile, has been earmarked as a "major area" for high value tourism.

"There will be more properties available in Galle Fort, and two big high value investments in Bentota and Balapitiya. That will become one big tourist zone for high value tourism."

The planned developments come on the heels of already stated plans for the Megapolis encompassing the entire Western Province.