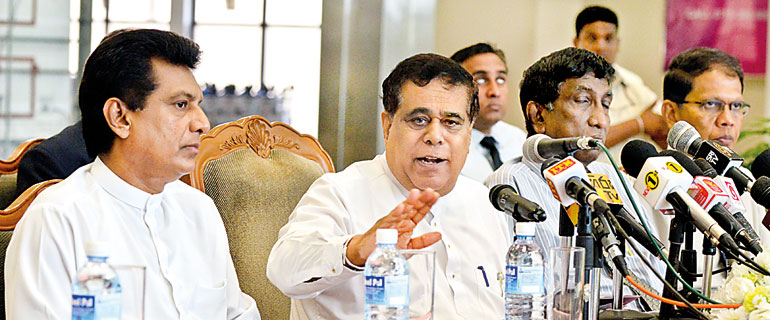 Transport and Civil Aviation Minister Nimal Siripala de Silva gestures at yesterday's press conference. Transport and Civil Aviation Deputy Minister Ashok Abeysinghe (left) also present - Pic by Daminda Harsha Perera
---
By Charumini de Silva

Sri Lanka's main gateway, the Bandaranaike International Airport (BIA) is bracing for the key runway revamp with a $ 41 million investment, though the move will see partial shutdown cancelling nearly 1,000 flights for three months.

Transport and Civil Aviation Minister Nimal Siripala de Silva told journalists yesterday that the BIA is scheduled to partially close from 8.30 a.m. to 4.30 p.m. daily for three months - from 6 January to 5 April 2017.

During this period, the Airport and Aviation Services (Sri Lanka) Ltd. (AASL) will complete the resurfacing of BIA's existing runway spanning 3,350 metres and 45 metres at a cost of Rs.7.2 billion.

The Minister said that a very transparent approved competitive procurement process was conducted, where around eight parties bidded.

"Previously, the contract was going to be awarded on an unsolicited manner at $ 86 million, but under the new Government we were able to get it for $ 41 million with a very transparent tender procedure," he added.

Noting that the resurfacing of the runway was recognised in the year 2001, none of the Government's that were in power attended to it and the Minister claimed that both UNP and UPFA Governments were at fault for not repairing the runway. The runway has been in use for three decades now without comprehensive resurfacing or overlaying other than regular maintenance.

The AASL has selected a joint venture with Netherlands Airport Consultant (NACO) and Engineering Consultancy Ltd. (ECL) for design review and construction supervision, and a joint venture with China National Aero Technology International Engineering Group (CATIC) and Shanghai New Era Airport Design and Research Institute Co. Ltd. of Civil Aviation Authority of China for the runway overlay and associated work in the form of design and building contracts.

A total of 300 Chinese and local workers will engage in the construction.

It was pointed out that January to April has been selected as the most suitable period for runway resurfacing on account of the lowest average rainfall expected in the country.

Admitting that the closure of BIA will affect airline operators, the minister stressed that that the national carrier SriLankan Airlines would have to bear a significant cost but insisted that the repairing of the airstrip was a national priority to attract other international airlines.

The minister said that six flights of SriLankan Airlines and four foreign flights per day have been cancelled for three months. Therefore, close to 1,000 flights will be cancelled during the resurfacing period from January to April 2017. However, it was noted that BIA will continue with almost 90% of its aircraft operations during the period of runway closure.

National carrier SriLankan Airlines said that it would incur a revenue loss of around $ 60 million from the closure of the Bandaranaike International Airport.

"We estimate an additional loss in revenue and additional cost of $50-60 million due to the partial closure of BIA," SriLankan Airlines CEO Capt. Suren Ratwatte said.

He also said that around 200 flights will be cancelled per month.

Capt. Ratwatte asserted that all weekly Shanghai and Beijing flights will go via Mattale Rajapaksa International Airport (MIRA) as they have not got an arrival slot into those airports.

"We will be stopping at MIRA for three hours. Passengers will be provided with an extra meal. It is going to be very inconvenient for everybody and unfortunately we will be paying for everything," he added.

The Minister said that although the option of using the Mattale Rajapaksa International Airport (MIRA) was considered by the Government, international airlines did not agree to operate from there due to the lack of capacity to handle the total traffic of BIA and other infrastructure facilities.

According to the BIA summer schedule of aircraft movements this year, 28 international airlines were operating in and out of Colombo, recording an average of 170 total aircraft movements per day. The airport serves an average of 60 movements of heavy aircraft, 100 movements of medium aircrafts and 10 movements of Sri Lanka Air Force which operates an average of five to seven movements per day. The airport handles an average of 25,000 passengers and 300 MTs of cargo at BIA on a daily basis.

During the closure of the BIA, all scheduled international operations to BIA will have to be rescheduled and the existing slots of all airlines for BIA are cancelled as totally new schedules need to be agreed upon for the period of runway closure. In addition, domestic aircraft operations as well as all business jet aircrafts will be handled at Ratmalana Airport. Military flights during day times will have to be operated from alternative bases. Training flights, including instrument training, will not be allowed to operate into, over or out of BIA during the runway resurfacing period.