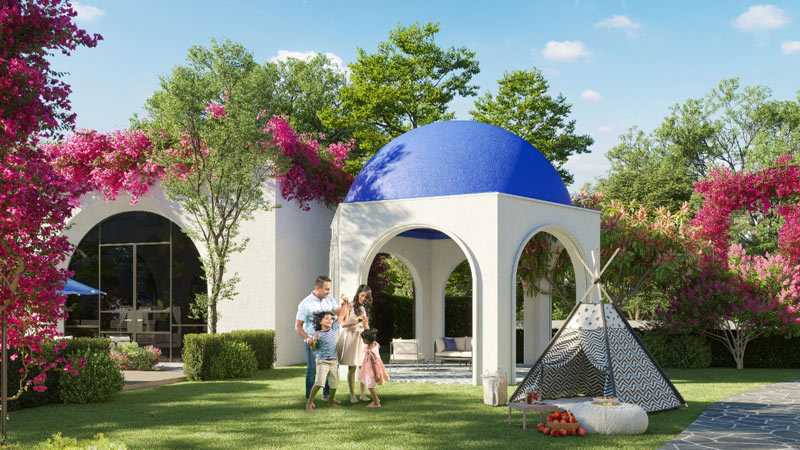 Santorini Resort Apartments and Residencies was launched by Homelands Skyline and is Sri Lanka's first theme park-style resort apartments and residencies project. The project was launched on the 27 March at the project premises.
This stunning apartment and residency complex is the 15th apartment project by Homelands Skyline and is based on the picturesque architectural design of Santorini – first of its kind in Negombo, and in the country. Not only does it offer 50-plus facilities but it is also designed with nine theme parks to ensure that life at Santorini is nothing less than a fairy tale.
This unique apartment and residency concept is located facing Baseline Road, Negombo, and was established and designed to reflect Santorini, an island in Greece that is known primarily for its stark, bright white walls and flashes of vivid shades of blue along with its discernable architecture. Homelands Skyline is proud to introduce this stunning apartment and residency complex based on the picturesque architectural design of Santorini, combined with Sri Lanka's first theme park-style apartments and residencies in Negombo.
The project will be designed on 17 acres of land in a prime location, in a highly residential area, with close proximity to the city. The new property is facing Baseline Road, Negombo, and is proposed to be developed into 384 architecturally designed houses and apartments with nine theme parks and over 50 facilities, uniquely offered by Homelands Skyline to their customers. Santorini - Negombo is located in an extremely well developed social and civic infrastructure with multiple schools, hospitals, and retail, residential, and commercial spaces in close proximity.
Santorini Resort Apartments and Residencies is located just seven minutes from the highway interchange of SEW (E01) and is surrounded by all the necessary infrastructure to provide potential customers with the highest level of convenience. Moreover, it is only five minutes to Negombo Town, seven minutes to the Bandaranaike International Airport, 10 minutes to the Katunayake Highway and only 20 minutes to the Colombo City limits.
In addition to its prime location, Santorini Resort Apartments and Residencies - Negombo will offer over 50 activities in addition to its theme park concept, which will be set up within the apartment and residency premises itself. This project is with designed with leisure, entertainment, luxury, and safety of its residents in mind.
Customers will have a large variety of housing styles to choose from, including two-bedroom and three-bedroom apartments, two-storey houses in the single and twin houses style, as well as serviced apartments and a commercial zone.
Furthermore, Santorini Resort Apartments and Residencies - Negombo offer a 'diplomatic zone' which will consist of one apartment complex as well as twin houses. Housing and apartments in this area will function as a serviced apartment/housing which offers services such as security, a butler service, cleaning/housekeeping services, maintenance of property and a host of additional facilities. Homelands Holdings, a leading name in the real estate industry in Sri Lanka has a long-standing reputation of breaking records and developing and constructing properties with innovative and cutting-edge technology and revolutionary concepts.
Both Homelands Holding Ltd. and Homelands Skyline Ltd. are the first companies in Sri Lanka to receive the highest grading from CIDA for the first time in Sri Lanka for 2021 (LB1 & L1) after being evaluated by CIDA (Construction Industry Development Authority) (successor to ICTAD), for maintaining the highest standards in real estate, and commitment to quality and excellence.
The repertoire of Homelands Skyline is known for its own unique identity. Ariyana Resort Apartment - Athurugiriya, which is the first resort concept apartment in South Asia with 352 apartment units, Canterbury Golf Apartment, Piliyandala - Kahathuduwa, which is the first golf apartment in Sri Lanka with 784 units, Elixia 3C's - Malabe, with 336 apartment units, Green Valley, with 354 apartment units, and their latest project, starting this year, is located in Negombo and designed with a brand new exciting concept with a total of 384 units.
Additionally, Homelands Skyline broke records by completing 590 apartment and housing sales during 2020 while the entire country was being affected by the COVID-19 pandemic, and recently celebrated the opening of Ariyana, which is the first resort apartment complex in Sri Lanka, to its residents.
In 2018, Homelands Skyline introduced the 'resort living' concept to the country with Ariyana Resort Apartment - Athurugiriya, and has also succeeded in including a variety of value additions to its projects with COVID-19 in mind, like the Wellness Center within the apartment complex premises – like at Canterbury Golf Resort Apartments - Piliyandala, Kahathuduwa. Ariyana, the first ever resort apartment concept in Sri Lanka, was introduced by Homelands Skyline, and has redefined apartment living. It is the most successful project handled by Homelands Skyline to date, and was completely sold out prior to the expected date of completion. Ariyana Resort Apartments was honoured with the 'Award for the Best Housing Development (Sri Lanka)' at the most prestigious 'PropertyGuru Asia Property Awards (Sri Lanka)' which was held in July 2018, and the accolade for the 'Best Housing Architectural Design'. It was highly commended by the 'Best Green Development' as well.