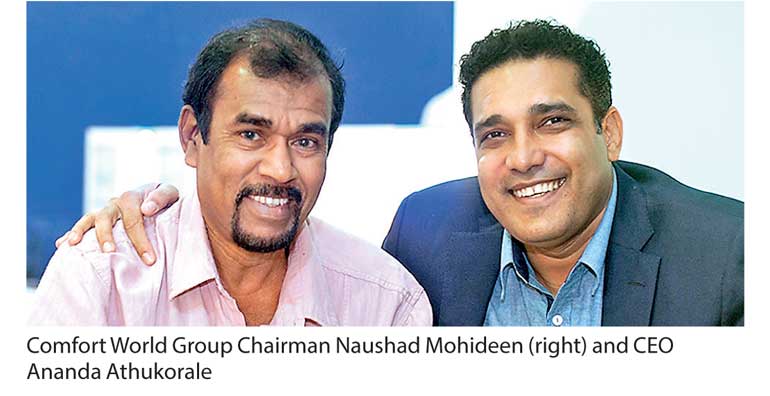 Rs. 350 million state-of-the-art factory in Ambathale
Comfort World International the market leader in mattress manufacture and retail in Sri Lanka, Maldives and Seychelles, will shortly introduce Serta Mattresses, the Emperor of mattresses to Sri Lanka.

Comfort World as a retail arm is the premium choice for a wide variety of sleep related products, while the American Spring Air range of mattresses have ensured that thousands of Sri Lankans get a good night's sleep over the past 12 years.

Comfort World is now the franchise manufacturer, with all products being manufactured in its state-of-the-art factory in Ambathale, for the best brands in sleep-related products such as Serta, Spring Air, Therapedic, Protect-a-bed and Pillow-pets.

"We are proud to say that we manufacture the world's number one mattresses here in Sri Lanka," said Comfort World Group Chairman Naushad Mohideen. "At Comfort World, we are all about comfort. That is why our customers rest easy knowing that we take care of what matters the most, a good night's rest. We are proud to be the largest supplier of spring mattresses to almost 90% of the hotels in Sri Lanka. In fact we also created the first range of Pillow Top Mattresses in Sri Lanka by Spring Air."

All mattresses are manufactured in Sri Lanka under franchisee license directly from USA and comply with international standards, backed by a 15-year warranty.

From Offset Coil Springs, individual Pocketed Springs to continuous Mira-Coil Springs from Legette & Platt USA and reputed raw material suppliers, the choice is endless when it comes to mattress materials. "We recognise that our customers are special with unique tastes, opinions, and sleep styles, hence the choice is endless. Moreover at Comfort World you are able to select the mattress best suited to your needs due to the wide range of products we offer."

Comfort World's range of spring mattresses comply with standards set by the International Sleep Products Association – USA (ISPA) and the National Sleep Foundation – USA (NSF).

Ranging from Tight Top Orthopaedic mattresses to Plush Pillow Tops, Comfort World's mattresses are made to order. "We believe that choosing the right mattress is essential and is directly related to staying healthy, therefore our mattresses could be custom made taking into consideration particular physical preferences," said Mohideen.

Comfort World's 15,000 square foot, state-of-the-art manufacturing facility in Ambathale which is leased and operated with an investment of Rs. 350 million, has the latest machines from Germany, Spain, USA and China to produce contemporary designs of mattresses, and cutting and sizing machines, which give them the ability to cater to all market segments. "We have also generated local employment opportunities to over 120 personnel, providing them with stringent training which enables them to achieve a better standard of living, whilst looking into their welfare facilities as well," said Mohideen whose staff strength numbers over 140, with many of them having been trained in China, Dubai and India.

Comfort World's factory in Ambathale has a manufacturing capacity of approximately 1,200 mattresses a month which can be increased up to 1,500 when required.

Having supplied well over 120,000 mattresses in Sri Lanka Maldives and Seychelles, Comfort World are the largest suppliers of spring mattresses to almost 90% of the hospitality industry in Sri Lanka including Jetwing Hotels, John Keells Hotels, Serendib Leisure and Gateway Hotel Airport Garden.

With regards to future plans, Mohideen said they intend to manufacture 'Transforming Space Saving bedding systems' such as wall beds, storage beds and pull out sofa beds. "Prototypes have already been made and we intend starting mass production by the 3rd quarter of this year."

Comfort World's showrooms have now expanded beyond Colombo to the hill kingdom of Kandy as well, while the close of 2018 will see a total of 10 Comfort World showrooms island-wide.

"In keeping with each brand's global vision of trust, innovation and support, we start each day with a commitment to the design and production of exquisite, superior, bedding systems that offer a truly unique experience," said Mohideen.